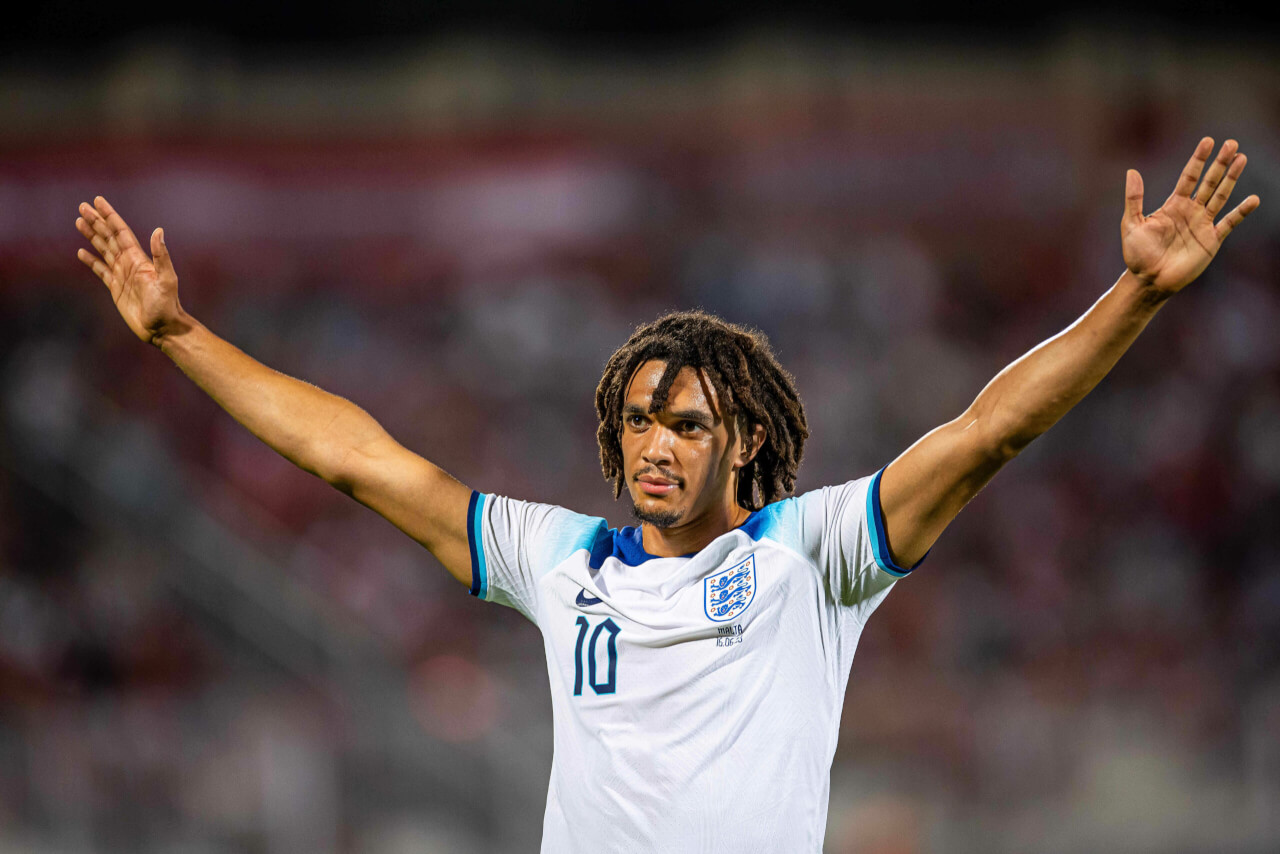 From LFC Right-Back to England Number 10: Alexander-Arnold
The Pride of Liverpool Triumphs as England's Midfield Maestro
Trent Alexander-Arnold: From Full-Back to Number 10
Trent Alexander-Arnold's journey from being an established star at Liverpool to demonstrating his remarkable versatility for England has been a testament to his unrelenting dedication and evolving prowess. Although the 24-year-old's initial appearances in the midfield for the national side left room for improvement, his recent performance against Malta during the Euro 2024 qualification proved otherwise.
These criticisms of his performance arose following a challenging match against Andorra back in September 2021, when England's manager Gareth Southgate made the bold move to try him in a midfield position. However, Alexander-Arnold's 19th cap against Malta saw a transformation of this talented young player, indicating that a midfielder might have been hiding in plain sight.
A Star Performance Against Malta
Throughout the first half, the Liverpool native played a hand in all three goals, demonstrating a finesse befitting a seasoned playmaker. He expertly curled home two goals on either side of a self-inflicted goal by Ferdinando Apap and a penalty taken by Harry Kane. The final touch to England's 4-0 win was a substitute goal by Callum Wilson, but the night undeniably belonged to Alexander-Arnold.

Fantastic strike, @TrentAA 👏

— England (@England) June 16, 2023
Post-match, Southgate elaborated on the potential of Alexander-Arnold in the midfield, highlighting that the decision was partially dependent on his current role at Liverpool. Having had some experience playing deeper in midfield, he has been adjusting to this new position. Unlike the relative freedom of the touchline, the Liverpool player has been working on receiving the ball in tight areas and with his back to goal, something he managed with ease against Malta.
Southgate's Vision: A New Midfield Prodigy?
Despite the complexities of this role, Southgate expressed his confidence in Alexander-Arnold's ability to adapt, emphasising his enthusiasm for the new challenge.
Southgate: "We talked about it about four weeks ago on the phone, and I think he's been excited by it and, yeah, he showed exactly what we think he could be capable of. He gives us something different to our other midfield players."
Comparatively, England's last encounter with Malta proved a tough slog, with the travelling support expressing frustration at the goalless first half. Fast-forward six years and this is a very different England side; their impeccable Euro 2024 qualification record was never under threat during the recent match.
Looking Forward: England's Road to Euro 2024
The impressive win over Malta, currently ranked 172nd in the world, saw the national side prevent any shots in their box, showcasing their defensive prowess alongside the impressive attacking display led by Alexander-Arnold. Next on England's agenda is a home game against North Macedonia.
Reflecting on the Malta match, Southgate praised his team's mentality and leadership, acknowledging the quality of the first couple of goals.
"In particular when we lost the ball, the reaction to winning it back was a sign that the team were in a good place mentally," Southgate noted.
Malta's head coach, Michele Marcolini, could only marvel at the relentless high press from England, which allowed no opportunities for his side. "To be honest, the difference physically was clear…this kind of match for us with this kind of behaviour from the opponent it's very tough," Marcolini conceded.
All in all, the England vs Malta match will be remembered for one thing above all else: the indomitable performance of Trent Alexander-Arnold. The Liverpool-born player has proven his versatility, adapted to a challenging new role, and shown an ability to learn and grow, displaying the kind of grit and determination that both England and Liverpool fans have come to adore.