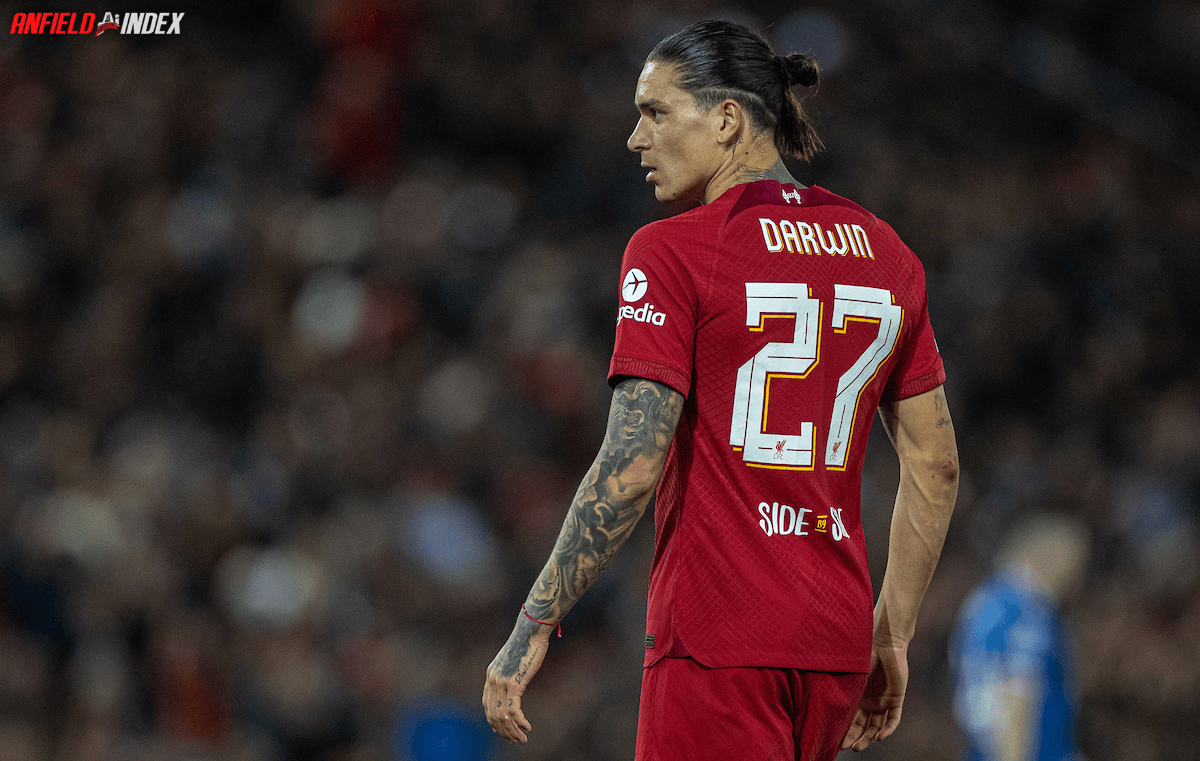 Darwin Nunez: A Now Or Never Season Beckons
A first season in the Premier League can be tough for any import, no matter their reputation. It easily gets forgotten how Didier Drogba and Thierry Henry didn't exactly set the world alight in their opening  year. Even an adaption to Liverpool can take time as the likes of Andy Robertson and Fabinho can testify to. This year feels like a pivotal one for Darwin Nunez though, whichever way you choose to cut it. Last year was pretty disastrous for anyone connected with the club and Nunez as much as anyone endured personal struggles along with the team. This coming season there will be no hiding place, excuses or mitigation for a man who is expected to assume the number nine shirt at Anfield.
There were some real positives from the now 24 year-old which shouldn't be forgotten or ignored. A haul of 15 goals and 4 assists over 2365 minutes (a contribution every 125 minutes) is a decent return in context of the season. Additionally, there were fleeting moments of brilliance such as the flick vs Real Madrid, the volley against Newcastle and a controlled double vs Southampton, his best performance in a red shirt. If anything the World Cup came at the wrong time for the former Benfica man, who quickly found himself a fan favourite due to his attributes, enthusiasm and ability to cause chaos for opposition defenders.

There are certain points that can't be ignored either. At the latter end of the season as Jurgen Klopp and Liverpool rallied, the team looked better without him as Cody Gakpo assumed the central attacker role. Additionally, whilst the Uruguayan did win a penalty in the Fulham game he looked largely toothless in both that one and the Brentford performance. Most remember the match for his inability to control a wonderfully sought out pass from Trent, which the majority of reds felt summed up parts of his season. When Nunez is confident and flowing he's a handful for any defender in the world. When his confidence dips though, the other end of the scale can be troubling at best.
Context is everything in any debate and it shouldn't be lost with a player that could eventually cost the Reds £85 million. A new league and new country where you don't speak the language often requires an adaptation period. Nor does being consistently compared to Haaland and expected to go toe-to-toe with one of Europe's best help either. Against the key backdrop of a team whose struggling and Jurgen Klopp's worst season at Anfield to date, it didn't make it easy for the Artigas native. Others can rightly point to the sending off vs Crystal Palace as the player not helping himself too, so there's huge work to be done on both sides.
There is understandable hope and expectation for the coming season around Nunez, coupled with a uncertain concern. Trent's increased freedom matched with the introduction of Alexis Mac Allister may well be to his benefit. The suggestions of a change to the number nine shirt, an improved comprehension and use of the English language, plus a year under his belt in England with Jurgen Klopp should all hopefully help. The price tag isn't his fault either, but if it did weigh on his shoulders at all, focus will have naturally moved elsewhere.
Nunez still ultimately has to deliver though. Not just in terms of goals but key contributions to the team, understanding what's required of a Jurgen Klopp forward and sometimes basic play. He may not be an immediate starter, so will have to take his chances when they come, force his way in if needed and make it an easy decision for the manager. Judgement should be fully reserved until the end of the second season, but it's understandable that in the current climate he may not be given that much time by all. There's no excuses or mitigation for Darwin Nunez this season. It really feels like now or never.