 Liverpool Eye Five U21 Euro Stars in Summer Shakeup
Liverpool's Pursuit: Analysing LFC Euro U21 Transfer Targets
So, with much anticipation it's all eyes on the U21 European Championship transfer targets for Liverpool fans over the next few weeks.
Scouting Liverpool's Future Midfield Maestros
Undoubtedly, Curtis Jones and Harvey Elliott's involvement has drawn Liverpool fans to the tournament, but the interest is far from restricted to these two. Four potential transfer targets – Khephren Thuram, Manu Kone, Ryan Gravenberch, and Gabri Veiga – are participating in the championship. But, will their performances significantly influence Liverpool's perspective? Only time will tell.
Jurgen Klopp seeks to bolster his squad following the recent signing of Alexis Mac Allister from Brighton & Hove Albion. Here, we delve into the profiles of these prospective acquisitions, including one from Romeo Lavia of Belgium who recently withdrew from the tournament.

Khephren Thuram: The Next Bellingham?
Firstly there's Khephren Thuram, the French central midfielder, a physically imposing yet technically gifted player, who often draws comparisons with Jude Bellingham due to his unique style.
Having starred in Ligue 1 last season, Thuram could potentially provide the dynamism that was absent from Liverpool's midfield. He could slot into the deeper, left-sided No 6 role alongside Trent Alexander-Arnold, offering an effective blend of defensive solidity and ball progression.
Manu Kone: Fabinho's Challenger?
Manu Kone, another French talent, is an active defensive midfielder who excels at progressive ball carrying. He stands out for his ability to retain possession and make significant defensive contributions.
Although Kone could potentially form an interesting midfield duo with Thuram, his optimal position overlaps with Thuram's. Could this cause a tussle for the same spot? His suitability for the No 6 role could even challenge Fabinho's place in the team.
Ryan Gravenberch: The Unleashed Talent
Ryan Gravenberch, the Dutch prodigy, didn't quite realise his potential at Bayern Munich. Nonetheless, his talent remains unchallenged, with the ability to combine defensive solidity with an aptitude for ball progression.
A move to Liverpool could provide the platform for Gravenberch to shine, though the major hurdle would be persuading Bayern Munich to let him go.
Gabri Veiga: The Rising Star
Celta Vigo's Gabri Veiga took La Liga by storm last season, offering a unique blend of fearless running and potent long-distance shooting. His potential inclusion in Liverpool could provide the team with an additional goal-scoring threat from midfield.
A price tag of around £34million might seem steep, but given his potential, it could prove to be a worthwhile investment for Liverpool.
Romeo Lavia: The Premier League Prodigy
Romeo Lavia, a youngster who shone amid Southampton's challenging 2022-23 campaign, combines maturity with technical prowess. A move to Liverpool could see him grow into an essential figure in Liverpool's midfield setup, with his defensive work-rate and ability to progress the ball making him a perfect fit for the No 6 role.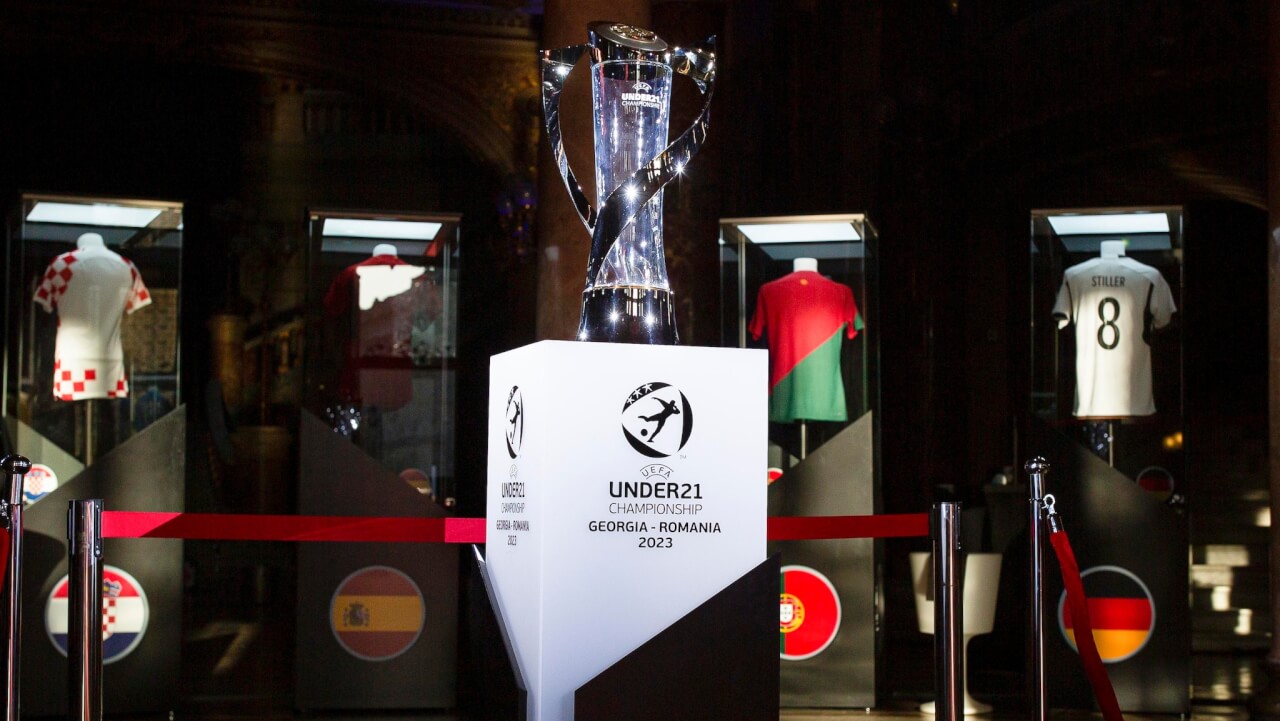 UK Fans Denied U21 Euros Screen Time as Broadcasters Snub Rights
Undoubtedly, Liverpool's pursuit of these talented individuals could significantly reshape the dynamics of their midfield. As the U21 European Championship unfolds, we will gain a clearer picture of how these prospective acquisitions might fit into Klopp's plans.
The English U21 team is all set to ignite their European Championship journey on Thursday, however, fans will be deprived of the joy of watching them on television.
The competition commences with Lee Carsley's crew facing off against the Czech Republic in Georgia, a match that will not be broadcast on any UK network. This unexpected blackout comes as no UK broadcasters showed interest in acquiring the rights for the tournament.
Despite being the broadcasters for the 2021 tournament, Sky Sports chose not to compete for this year's rights. The previous tournament saw the early exit of England from the group stage. However, as a late-night announcement from UEFA confirmed, games will be accessible to stream through their online service.
It's understood that The FA are frustrated with this disinterest from TV networks. However, due to UEFA regulations, they are not permitted to broadcast matches on their own YouTube channel. The decision to reserve broadcasting resources for the upcoming Women's World Cup in Australia seems to be a driving factor behind this scenario.
As Liverpool fas have become accustomed to with 3pm blackout laws impact Premier League games, it is highly fans will take to using VPNs from services such as Liberty Shield to bypass geo-blocks and access IPTV streaming from around the world.