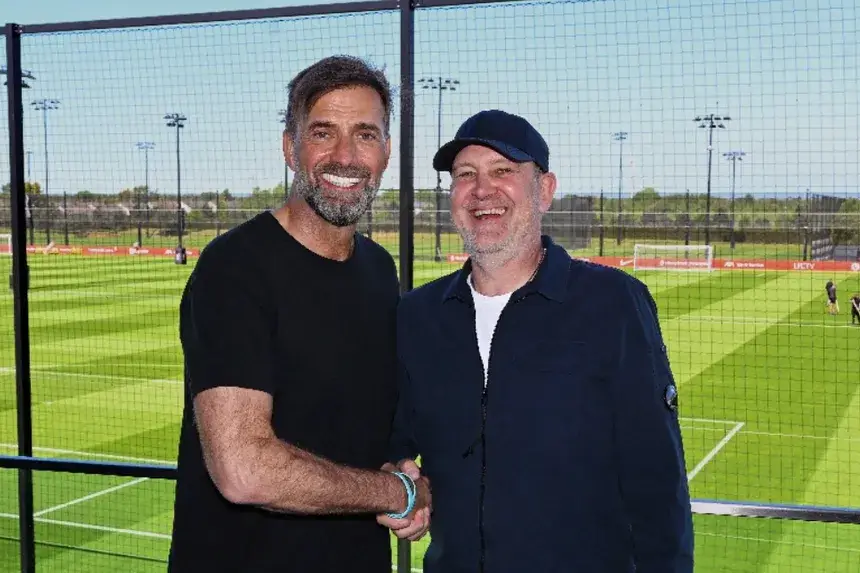 Balancing Act: Liverpool's Midfield and Defensive Dilemma
Liverpool FC's Transfer Strategy: A Balancing Act between Midfield and Defence
With the transfer window wide open, there is much speculation about the moves Liverpool FC will make. While midfield reinforcements may be a focal point for the Merseyside club, Jurgen Klopp's recent statements suggest that the defensive department isn't entirely off the table.
Klopp's Stance on Defence
Though Klopp's primary attention may seem directed towards strengthening the midfield, he didn't shy away from emphasising the importance of young rotational defenders. He has set his sights on the right defender, that too a young one capable of adding depth to Liverpool's defensive ranks.
Navigating Squad Dynamics
A major squad overhaul in both midfield and defence in one go may not be feasible. However, given the injury-prone histories of Ibrahima Konate, Joel Matip, and Joe Gomez, coupled with the recent shift in Liverpool's tactical approach, the defence warrants some bolstering.

Existing Defensive Resources
As it stands, Liverpool expects to retain all its senior defenders. Yet, decisions regarding younger squad members and 26-year-old backup Nathaniel Phillips, who clocked just 66 Premier League minutes last season, remain to be finalised.
Deciphering the Defensive Puzzle
Choosing the right candidate isn't a straightforward task. With Liverpool's recent switch to the 3-box-3 formation, each defensive position carries unique demands.
The Right Centre-back: A Role of Duality
With Trent Alexander-Arnold drifting into midfield, the right centre-back has to essentially cover the space of two players, demanding aggression, speed, and physicality.
Van Dijk's Resurgence and the Fluidity of Roles
The left centre-back transitions to the middle of the back three, the position where Virgil van Dijk rediscovered his form. The left-back then fills in at left-centre-back to ensure stability and occasionally join attacks.
Robertson's Shift: A Deeper Responsibility
Andrew Robertson, Liverpool's long-standing left-wing dynamo, has been entrusted with a deeper defensive role, akin to Manchester City's Manuel Akanji and Nathan Ake, and Arsenal's Ben White. Unlike these players, Robertson brings a touch more attacking dynamism to the game.
Liverpool's Transfer Plans: Current Outlook
Liverpool currently have no plans to sign a right-back this summer. With Kostas Tsimikas likely to stay, the arrival of a specialist left-back also seems improbable. There have been links to Benjamin Pavard of late but nothing too much to get excited about.
Decoding the Defensive Dilemma
This leaves either a right centre-back capable of fulfilling Konate's duties or a left-sided one who can step into Van Dijk's or Robertson's boots. These roles differ significantly in their demands. There have been links to Micky van de Ven of late who could fill both of the latter roles.
Contemplating the Future of Van Dijk's Role
With Van Dijk turning 32 soon and his contract winding down in two years, Liverpool will need to plan for his successor. Despite a minor dip in his form last season, he continues to perform at high levels. His successor would need to be left-footed, a trait currently absent in Liverpool's senior centre-backs.
Finding the Right Fit: Gomez's Role Reconsidered
Joe Gomez's versatility could be a key aspect in Liverpool's decisions. His ability to play as a right-back, left-back, and left-sided centre-back gives Klopp a plethora of options. Despite injury setbacks and inconsistencies, Liverpool's faith in Gomez remains strong.
The Essential Question: Backup or Specialised Defender?
Does Liverpool have enough faith in their backup options for Konate's role, or do they need a stronger, more specialised defender?
System Switch: A Test for Klopp's Confidence
With a dramatic switch in the system, Klopp may have to reconsider his squad choices. Can the likes of Van Dijk and Robertson be relied upon to remain fit, and can Gomez and Tsimikas adequately fill in when required?
Delving into Defensive Prospects: A Left-Sided Option?
There is merit in considering a young, versatile left-sided option who can play both left centre-back and left-back, eventually stepping into Van Dijk's shoes.
Balancing Quality, Role and Price
However, the high-quality players that Liverpool need come with a hefty price tag. The new defender, barring injuries, will have to settle for a non-starting role while getting acclimatised to the system in Europa League and domestic cup games.
The Anfield Dilemma
Liverpool will likely face some regrets about their transfer decisions next season. Yet, the allure of the transfer window is undeniable, and most fans might be secretly wondering – can Liverpool FC have the best of both worlds?