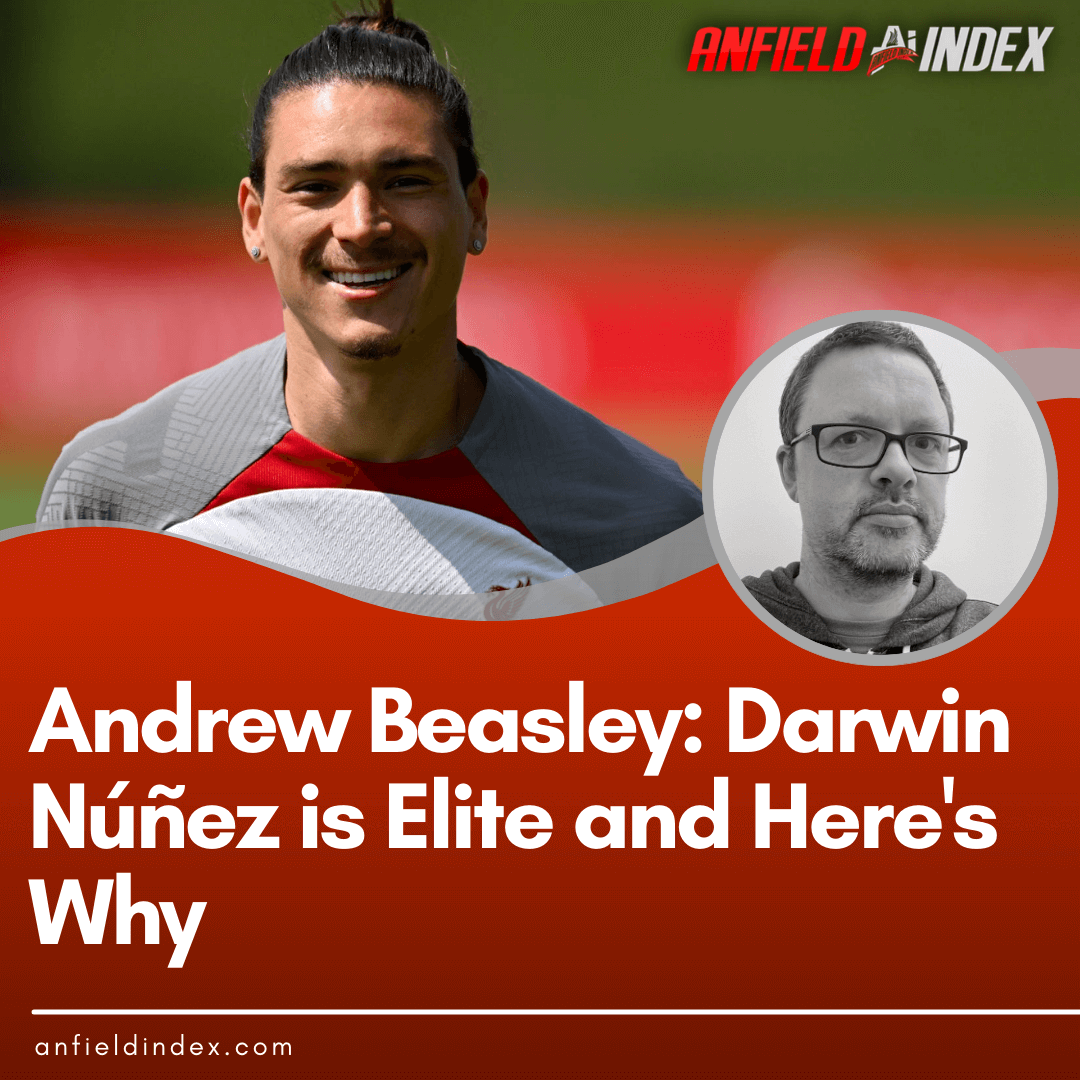 Darwin Núñez is Elite and Here's Why
After several years of having the front three set in stone, the Liverpool attack has undergone a major revolution in the last 18 months or so. It's not currently clear who the favoured trio are.
The man at the centre of the conundrum is Darwin Núñez. The Reds will be hoping he is their most expensive signing of all time, as for that to be the case both he and the team will need to have been successful enough to tick off the various add-on clauses in his transfer from Benfica.
Yet even before his first campaign in England was up, his role was already somewhat unclear. Mohamed Salah is nailed on to start on the right when available – which is pretty much always, Cup of Nations duty aside – while Luis Díaz was very impressive on the left prior to injury.

Núñez began 2022/23 as the main man through the middle, yet his place already looks uncertain. Diogo Jota ended his goal drought in style with seven goals in 461 minutes to round off the campaign, and as with teams ending on a very strong streak – hi, Liverpool – that always increases optimism ahead of the following season.
Then there's Cody Gakpo, who already looks to have replaced the departed Roberto Firmino as the presser-cum-midfielder who ties it all together. Whither Darwin?
His tally of 15 goals was encouraging enough; more than Sadio Mané, Firmino, Dirk Kuyt or Peter Crouch managed in their debut campaigns in red, for instance. But those players all provided more assists, even if such things rely upon teammates and Núñez deserved a higher tally than he got.
Equally, the Uruguayan was wasteful with chances himself and undoubtedly should've scored more. As much as all players can point to ifs and buts, nothing highlights Darwin's 'missing' goals and assists with greater brightness than a glimpse at his underlying numbers.
U24 Attacking Threats in the Top 5 Leagues

-Haaland, Mbappe, and Darwin the main outliers
-Osimhen, Balogun, and Openda among other good NPxG accumulators
-Trent, Doku, and Cherki the top creators pic.twitter.com/BL5CIS1RWX

— NL (@ftblnl) June 17, 2023
The chart in the above tweet shows non-penalty expected goals and xG assisted by players aged under 24 at the start of 2022/23 in Europe's top five leagues. The caption named "Haaland, Mbappé, and Darwin the main outliers" which is credit enough for the Liverpool man to be included alongside that pair. Notice too, though, that the former Benfica forward is the leader in that trio for creativity.
It makes you wonder how Núñez' underlying numbers compare to any player of any age, and not just from last season. We could set our filters at whatever level makes him look best, of course, but as he was the only player above the 0.5 xG and 0.25 xA lines on the above graph and those numbers go together nicely, let's start there. We'll also set the playing time minimum at 1,620 minutes, as that equates to 18 per 90s and is just 75 fewer than the total Darwin logged.
In England, France, Germany, Italy and Spain, there was just one other man to meet these filters last season: Karim Benzema. Not a bad start, is it?
If we go back across the last six campaigns, there are still only 28 examples other than Núñez, from just 22 other players. The obvious names are there; Lionel Messi, the only player to do this three times, while Benzema, Kylian Mbappé and Salah are there twice. Even the one-timer crew includes Erling Haaland, Gareth Bale, Neymar, Luis Suárez, Robert Lewandowski and Sergio Agüero, players you'd be delighted to see the Liverpool forward emulate.
To have reached this level is seriously impressive, and particularly in light of the Reds' struggles last season. In the last six years there have been 20 other instances of a player matching Núñez for minutes and combined non-penalty xG and xA, and 17 of them did so while playing for clubs which won the league. The other three finished in the top four, leaving Darwin as the only player to perform at his level without qualifying for the Champions League.
Having reached these rarified heights raises two hugely pertinent questions: is this sustainable, and what happens to his actual goal and assist output in 2023-24?
He looks to have part A of that query covered. Núñez averaged 0.60 non-penalty xG per 90 with Benfica – 0.50 and 0.69 in the two seasons – so the move to a higher standard league did not appear to have impacted him. Similarly, his xA was 0.32 in Portugal and 0.28 in England so the downward shift is minimal. The numbers may tail off over a larger sample size in the Premier League, but so far so good.
As for next season, let's review our 27 examples from 2017/18 to 2021/22 to see what they produced the following year. Seven players improved their xG per 90, just four were better creatively – two of whom were Mr L. Messi – and nobody improved on both fronts.
That's no shock when we're looking at the best of the best of the best, sir, with honours. It's more likely Núñez joins the group of 14 examples who got worse in both metrics the following year. If Salah can do it twice, and he has, his junior partner certainly can.
But here's the rub: the 22 players with Núñez-level underlying numbers who played at least 1,695 minutes the following season delivered an average of 25 goal contributions in that second campaign. Nothing is guaranteed but only a fool would write off Darwin at this point. He's mixing it with the elite.