 Liverpool Legends: Gerrard and Salah's Exclusive LFC Chat
When Stevie Met Salah: Encounter of Liverpool Legends
Liverpool FC boasts a rich history of icons who've donned the red jersey. Among them, two names resonate with particular vigor: Mohamed Salah and Steven Gerrard. As football enthusiasts, we often wonder what it would be like if footballing greats from different eras crossed paths. This dream became a reality in Liverpool FC's original series 'When Stevie Met Salah'. As a treat for all Liverpool FC fans, we delve into this encounter of legends.
The Historic Meeting
"Liverpool FC isn't just a football club, it's a way of life," says Steven Gerrard, a sentiment echoed by Mohamed Salah as they kick-start a profound discussion that ranges from personal struggles to the pressures and pleasures of being a Liverpool icon.
"I was born to play for Liverpool FC," claims Gerrard, who devoted the best years of his career to the club.
In contrast, Salah's journey to Anfield was less straightforward, encompassing spells in Egypt, Switzerland, England, and Italy before his triumphant return to the Premier League. His love for Liverpool FC, however, is as deeply rooted as Gerrard's.

Stepping into the Boots of Legends
Mohamed Salah admitted, "When I first came to Liverpool, I felt immense pressure. I was stepping into the shoes of legends."
His arrival was met with anticipation and scepticism. Many doubted whether he could fill the void left by previous stars. But fill it he did, and spectacularly so. As Gerrard points out:
"You didn't just fill the shoes, Mo, you made them bigger."
Steven Gerrard, Liverpool's local hero, also spoke of the burden of expectation, but highlighted the privilege in representing the city he loves.
"It's not just about kicking a ball. It's about wearing the hopes and dreams of millions on your shoulders," Gerrard said.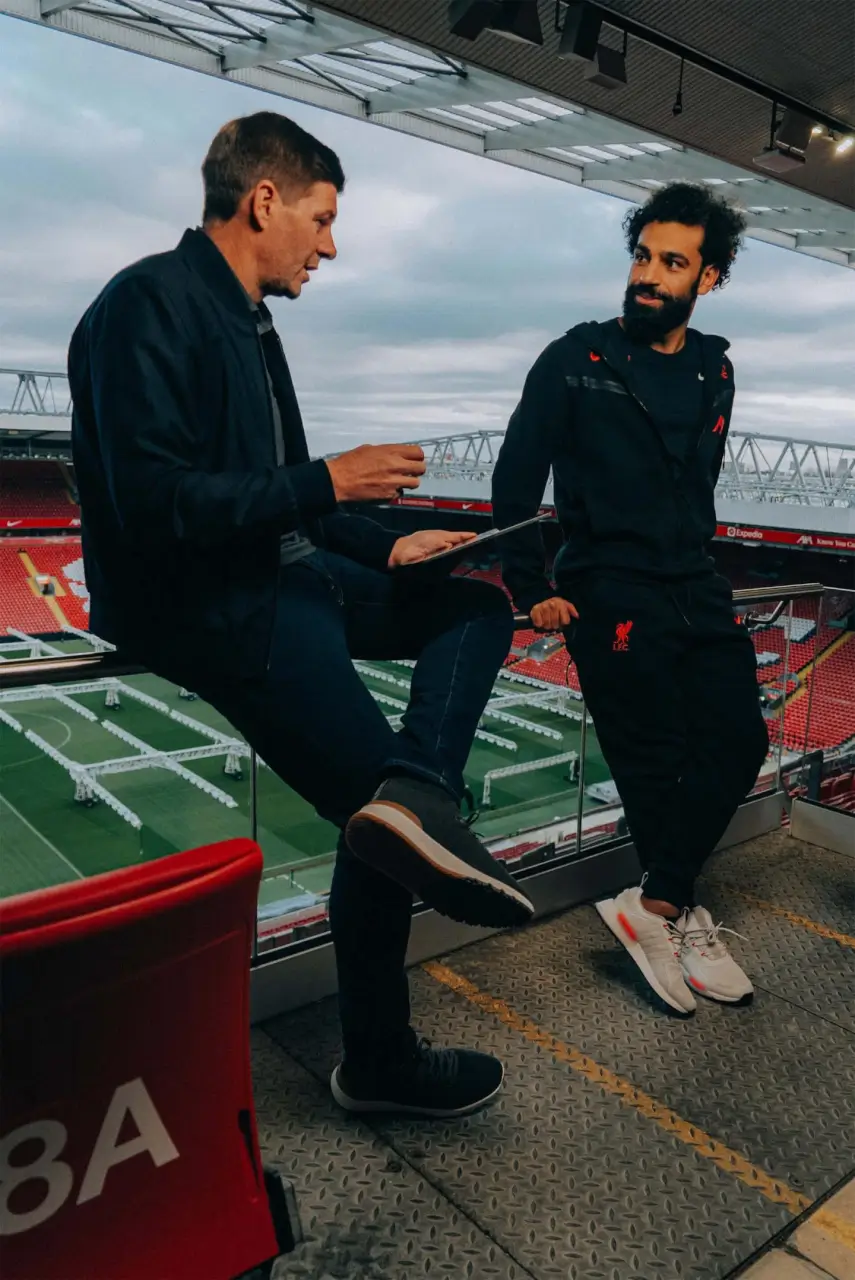 Triumph and Struggle
Both Gerrard and Salah have had their share of iconic moments and struggles. Gerrard's heroics in Istanbul, which gave Liverpool FC their fifth Champions League trophy, stand in stark contrast to his slip against Chelsea – a personal agony that still haunts him. Similarly, Salah's heroics in the 2017-2018 season that saw him score 32 Premier League goals, are offset by the shoulder injury that marred his Champions League final against Real Madrid the same year.
Salah reflects, "It's in our moments of struggle that we find our true strength. And Liverpool taught me that."
A sentiment that Gerrard resonates with, "Every setback has only made us stronger."
One aspect both Gerrard and Salah agreed on was the unparalleled support of Liverpool fans.
"The Anfield effect is real," says Salah, reflecting on the passionate support that has often spurred the team to defy the odds.
Gerrard nodded in agreement, saying, "Our fans are our twelfth man. They've helped us clinch many a victory that seemed impossible."
'When Stevie met Salah' is more than just a conversation between two Liverpool FC greats. It's a testament to the enduring spirit of Liverpool FC, a club that transcends geographical and generational boundaries to instil a shared sense of purpose and passion. It underlines why players like Steven Gerrard and Mohamed Salah become more than just footballers – they become symbols of a city's dreams and hopes, forever immortalized in the hearts of their fans.
In the end, as Gerrard pointedly notes:
"Liverpool isn't just about football. It's about passion, pride, and people."
And perhaps nobody exemplifies this ethos more than these two legends who, in their own eras, brought glory to Anfield.
So, here's to the enduring legacy of Steven Gerrard, the ongoing brilliance of Mohamed Salah, and the timeless magic of Liverpool FC. As the famous anthem goes: 'You'll Never Walk Alone.'