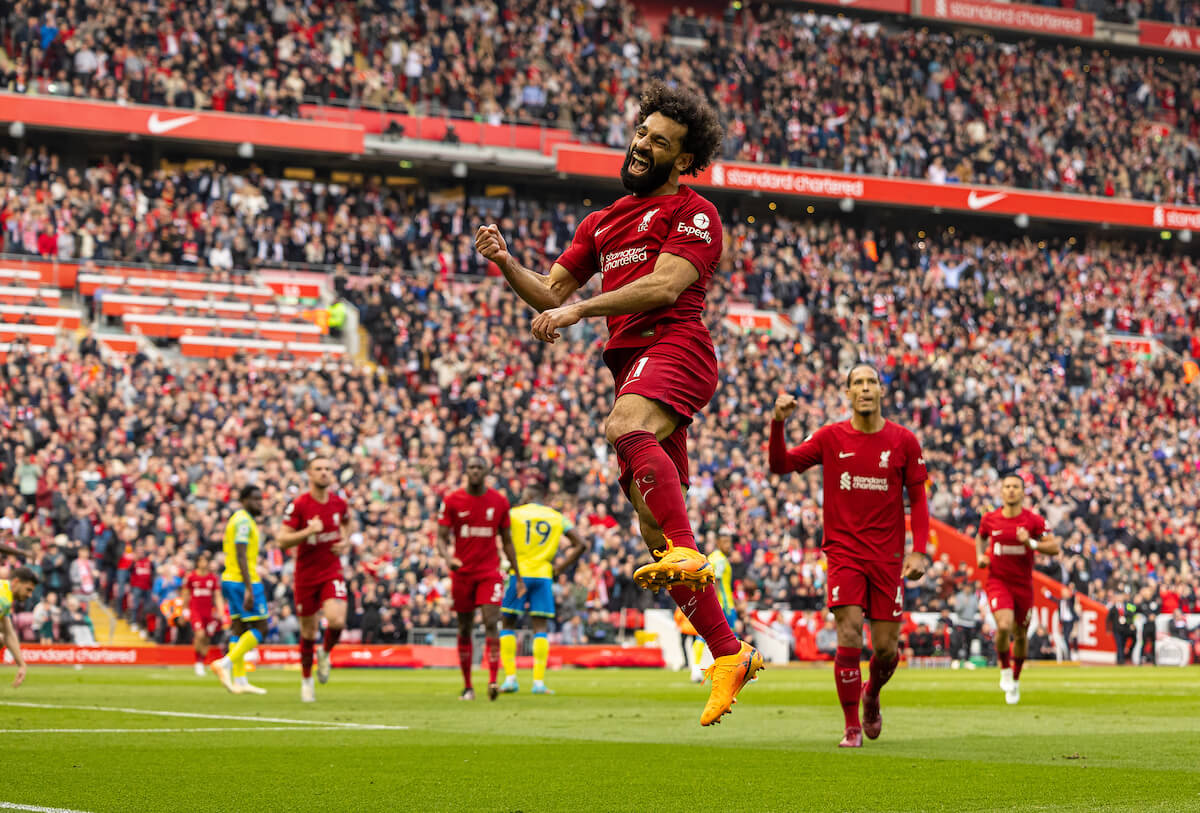 Will Liverpool's Salah Become Next Jewel in Saudi Crown?
"Saudi Swoop" – Is Mohamed Salah Destined for Desert Drama?
Liverpool's Mo Salah: A New Jewel for Saudi Arabia's Football Crown?
Liverpool's veritable king of the pitch, Mohamed Salah, has emerged as the latest lynchpin in the Saudi Pro League's meteoric expansion plans. In a revelation by Hafez Al-Medlej, who boasts a pedigree of running the Asian Football Confederation and the Saudi Pro League, the Saudi's football revolution could be poised to capture the Liverpool star at the zenith of his career.
This information comes courtesy of a report by Four Four Two.
Desert Dream or Anfield Anguish?
In a landscape increasingly dotted with European superstars, the Saudi Pro League is looking more and more like a football oasis, with the likes of Karim Benzema, N'Golo Kante, Ruben Neves and even Steven Gerrard succumbing to its allure. The quartet, amongst others, were lured to the Middle East under the auspices of the Saudi Arabia's Public Investment Fund's aggressive strategy, acquiring control over the big four clubs and lavishly courting Europe's brightest talents.

In the scorching Saudi Arabian heat of June 08, 2023, a special ceremony welcomed Real Madrid's French football gem, Karim Benzema, to Al-Ittihad. With the 35-year-old holding up his new team's jersey, the move undoubtedly signalled a new dawn for football in the desert.
"The Beginning of a New Era" – Al-Medlej
"All transferable footballers will from now on be targeted by Saudi clubs. We do not hire players who are already finished," Al-Medlej asserted in a conversation with Koura, a quote also reported by AS. As a testament to their strategic approach, Al Hilal is in the process of securing the services of 26-year-old Ruben Neves, who was on Barcelona's radar.
The recently crowned Ballon d'Or recipient, Benzema, has already docked at Al Ittihad, leaving Real Madrid with the gargantuan task of finding a suitable replacement. Al-Medlej's comments also included a hopeful nod to Manchester City's Bernardo Silva and, most intriguingly, Liverpool's Mohamed Salah.
Anfield to Arabian Nights for Salah?
The thought of Liverpool's talismanic forward Salah playing under the desert sun is likely to send shockwaves through the club's dedicated fanbase. Recognising Salah's unparalleled popularity across the Arab world and Europe, Al-Medlej seemed hopeful: "I think Salah still has records to break with Liverpool, so I hope that if he doesn't come now he will in the future."
It was only last year that Salah put pen to paper on a lucrative new deal with Liverpool, but the Reds' failure to secure Champions League football could put his Anfield tenure under the microscope. The rumour mill has already begun churning out whispers of a potential exit from the Kop, casting a shadow over his commitment to Liverpool.
Earlier this year, French media outlet FootMercato suggested that the Egyptian maestro was eyeing a move to La Liga. With two years remaining on his Liverpool contract, the prospect of a desert sojourn could prove too tempting for Salah. Liverpool fans will no doubt be watching the developing saga with bated breath.