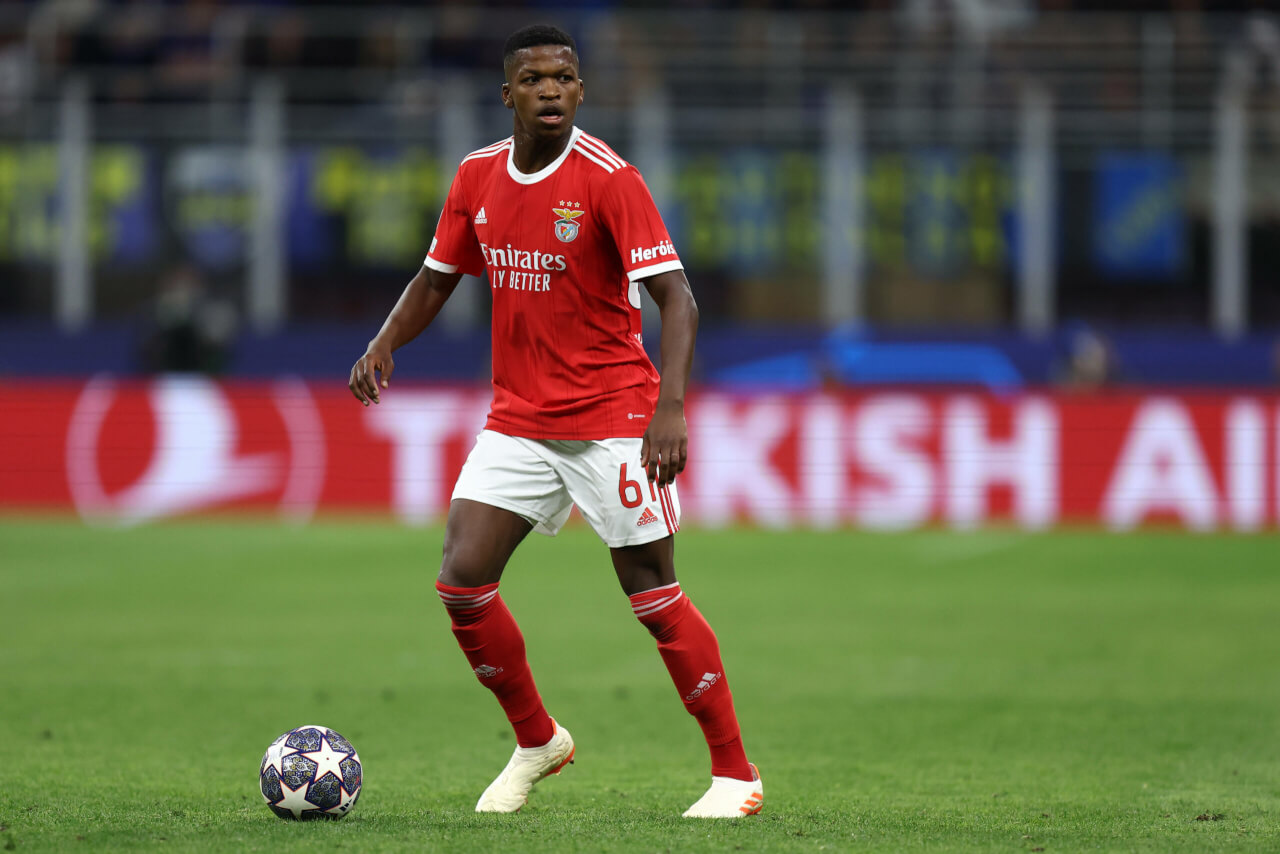 Midfielder labelled as a 'no-brainer' for Liverpool's midfield rebuild
Benfica midfielder Florentino Luis has been labelled as a 'no-brainer' by the Liverpool Echo, after recent reports suggested that the player could be available for just £25 million this summer.
Florentino Luis is reportedly available for just £25m this summer.

Is it a no-brainer for #LFC? https://t.co/nSjGxqTzis pic.twitter.com/ZeTqU9pBZv

— Liverpool FC News (@LivEchoLFC) June 25, 2023

The 23-year-old has been an ever-present in the Portuguese side's midfield throughout the 2022/23 season, which saw them lift the Liga Nos title and reach the UEFA Champions League Quarter-Finals.
Luis made an astonishing 54 appearances across all competitions for Benfica and started in all ten of their UEFA Champions League games.
The defensive-midfielder didn't manage to get himself on the scoresheet throughout the season, but did notch three assists.
Despite not getting the chance to represent the Portuguese National Team quite yet, Luis has made a huge 84 appearances in the nation's youth setup from Under-15's up to Under-21's football.
However, whether Luis would be a 'no-brainer' for Liverpool is certainly debatable and we're going to look at how he could improve Jurgen Klopp's squad.
How would Luis fit into Klopp's tactical setup?
Luis would fit into Klopp's setup as a deep-lying ball winner, which is the role typically given to Fabinho over the past four years.
However, it's crucial to note the technical ability that Luis holds in terms of his passing and contribution to not just winning back possession, but also maintaining possession afterwards.
As much as Luis could be a replacement to Fabinho, I believe if you were to play the pair of them alongside each other you would have the perfect balance of mobility, intelligence, strength and technical ability.
This would give the ultimate protection to the back three and could even allow Trent Alexander-Arnold to push higher up in the midfield box, in a similar way to his recent performances for England.
In comparison, it would be similar to the way Pep Guardiola has adapted his side for Rodri and John Stones to work together as a double pivot before getting the ball forward to Kevin De Bruyne and Bernardo Silva.
Crunching the numbers:
As mentioned before, Luis is a phenomenal ball-winner and has been well ahead of his competition over in the Portuguese league.
Here are his most notable defensive statistics from the past season:
Tackles per 90- 3.48
Dribblers tackled per 90- 1.95
% of dribblers tackled per 90- 69.7%
Interceptions per 90- 2.67
Tackles + Interceptions per 90- 6.16
These are some hugely impressive numbers for a defensive midfielder operating in a high-quality team that has massive control of most games in their competitions.
In terms of passing, here are Luis' most notable statistics in that department:
Passes completed per 90- 70.68
Pass completion % per 90- 89.7%
Passes into final third per 90- 9.68
Progressive passes per 90- 7.00
These numbers back up the point that Luis is much more comfortable and progressive on the ball than what Fabinho is, which has always been my most notable negative of the Brazilian throughout his time at Anfield.
Just for the sake of comparison, here are Fabinho's passing numbers from the past season:
Passes completed per 90- 55.10
Pass completion % per 90- 88.2%
Passes into final third per 90- 4.88
Progressive passes per 90- 5.34
Summary:
I personally agree that Florentino Luis could be an extremely smart purchase for Liverpool this summer, but it almost feels like a potential back-up plan should Bayern Munich's stance on Ryan Gravenberch remains unchanged.
Luis could potentially come in and work his way into replacing Fabinho potentially, but there is also negatives to that point.
Signing a player of Luis' quality and demands could massively hold back the progress of Stefan Bajcetic.
The big question for me around this summer transfer window is just how much trust is Jurgen Klopp prepared to give to the young Spaniard?
If the answer isn't a complete certainty, then a move for either Gravenberch, Thuram or Luis becomes absolutely crucial to the progress of Jurgen Klopp.