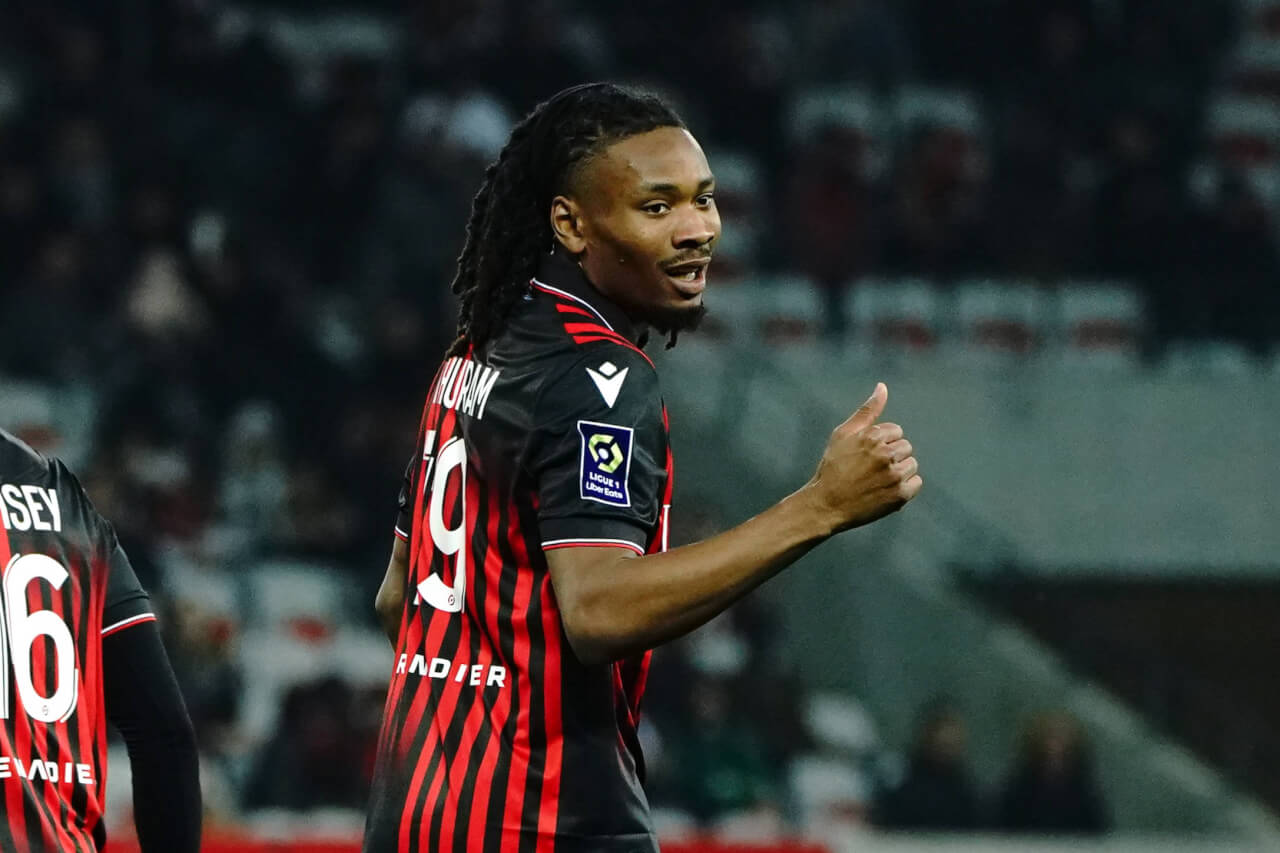 How Thuram Can Create the Carnage That Will Set Salah Free
Many a downhearted fan will have you believe that Liverpool's summer spending ended with the brilliant capture of Alexis Mac Allister, yet those dissatisfied supporters will soon be reveling in the next man to arrive at the AXA training ground. As gossip and speculation engulf the social media landscape, Jörg Schmadtke appears to be quietly lining up potential deals that can be rubber-stamped in the coming weeks. The ongoing UEFA European Under-21 Championship means that many of our targets are with their respective training camps, which creates the image of transfer stagnation. What many see as LFC doing little or nothing, is merely the calm before the storm. A few months ago, Mike Gordon employed a highly experienced and effective Sporting Director to undertake a summer of negotiations, with a successful period probably leading to a longer-term contract. Simply because our dealings and discussions are not being handled or publicised by the likes of Fabrizio Romano, is a good thing, one which means we are more worried about getting prospective deals over the line than about creating internet propaganda.
I, like many others in the Liverpool reporting community, see Khéphren Thuram as the next man to be unveiled as a Liverpool player. His own participation for France u21's this summer means a little patience is needed before this transaction can be pushed across the line and onto the Anfield pitch. Despite the likelihood that discussions have taken place around his nation's competition involvement, there will still be a requirement for our recruitment team to wait until his tournament is at an end. This scenario is much like when we watched Mohamed Salah representing Egypt at the African Cup of Nations, where there will be a raft of watchers desperate to see him come away both early and unscathed. That very process is that which our club currently finds itself in. What we do know, however, is this signing could be one that opens all sorts ls of opportunities for the next generation of our famous side.

Ibrahima Konate's response when asked if Kephren Thuram is joining Liverpool:

"Yes, I really hope so!" #lfc [telefoot]

— Anfield Watch (@AnfieldWatch) June 18, 2023
Here is the lowdown on the giant Frenchman:
Khéphren Thuram
Age – 22-years old (DOB 26/03/2001)
Current club – Nice
Nationality – French
Contract Expiry – June 30 2025
Height – 6ft 4inch
Weight – 80kg
Appearances – 165 games
Goals & Assists – 10 goals / 11 assists
Total minutes played – 9'763 minutes
International caps & goals – 1 game / 0 goals
Transfermarkt value – €32m
Though there have been many misguided views stating the once-capped France international will be the Fabinho replacement, those opinions hold no weight. This is a man that will operate in the RCM position, in either the customary three-man midfield or as the right-sided attacking midfielder in the newer found box midfield.
The former Monaco graduate is a monstrous specimen with a football heritage that supporters of my generation will smile knowingly at, given the fact his father is Lilian Thuram. Standing an intimidating 6ft 4 inches tall and possessing the athletic ability to match Yaya Touré, this is a young man who will add a physicality that has been lacking in the past season or two.
The Nice number 19 is a defensively able player that can offer assurance to his side (and essentially Trent), whilst harbouring a menacing ability to carry the ball and create havoc in the opposition half. It is this second component that intrigues me most, one which could unlock attacking opportunities higher up the pitch.
Last season (and probably the year prior), we saw a predictable element and pattern of play surround our free-scoring number 11, Mohamed Salah. With the former Basel man so commonly taking up an outside-to-in position (especially in transition), it would often see either Jordan Henderson or Harvey Elliott drive either inside or outside of him.
In either instance, neither RCM would rarely be in possession of the ball, therefore would become a problem in taking the spaces away from our legendary goal scorer. With neither midfielder offering too much in the way of defensive acumen, either would invariably find themselves either too high or too wide, which would then create more issues when teams countered our defensive high line.
In this common situation, Trent Alexander Arnold would find himself overloaded and pulled back, which is a continuing concern that forced Jürgen Klopp to drastically change shape in the final run of games last season. If this new shape and system placed Thurman into that right midfield spot, his ability to offer support and cover ground defensively, would increase our on-pitch control exponentially. The ball-carrying and unpredictable power with which he can enter the final third, however, will surely have Mohamed Salah salivating.
It is going to take a period of bedding in and some very in-depth tactical training sessions to get all the pieces around the board set. The transition of some players will be both methodical and strategic, with on and off-ball requirements key to the success of our evolving 3-Box-3 formation. What we can expect, is that more support and increased awareness will be offered to the new front three.
The mythical trio of Salah, Sadio Mané, and Roberto Firmino were once able to make many opportunities with just the assistance of our attacking full-backs, something which was rarely on offer last season. The tinkering that occurred in last summer's pre-season had our former Roma man ushered even wider, with an agenda to clear the middle ground for the incoming Darwin Núñez. The strengths of our record-breaking scorer were instantly nullified, as that system alteration saw him unable to consistently penetrate the opposing penalty area.
That blueprint and formation was torn up after the torrid winter results, as Cody Gakpo was brought in to add balance, thereby inviting Mohammed Salah back in from the far touchline. What will be happening now (alongside player recruitment), is finding a means to incorporate all our vital assets. The introduction of Mac Allister will see control and ingenuity brought back to our play so that not all the playmaking tasks land on the shoulders of TAA. Thiago Alcântara is a genius ball player that can be used when required, which then allows the rampaging Thurman more license to venture forward.
Trent Alexander Arnold looks primed and destined to continue within his new hybrid role, which will see him work (in possession) within a double six pivot. Once a destructive defensive midfielder has been brought in to play next to him (potentially Roméo Lavia or Manu Koné), he will then have the monstrous capabilities of Thuram ahead of him to help offer options and force the opposing midfielders back.
Our once relentless gegenpressing is realigned, spontaneous ball recoveries could see either Trent to be able to create swiftly (with his passing range), or Khéphren tasked with exploding into space with his powerful running. Either of these eventualities will benefit our 31-year-old Egyptian forward, as he will either be supported or found by what will almost certainly be our second summer signing.
Though it is true that Darwin's testosterone-fuelled play made last season's early campaign approach misshapen, the urgency and intensity of Khéphren would be applied amongst players with a remit to dominate possession. The variables in both styles and system setup will thus take away our previous predictable ways, instead allowing more incisive and effective patterns of play.
Last season, Mo Salah was misused and let down by the changes employed by the coaching staff. I believe the process of transition is looking good and is designed to emit the best of our elite players, especially last season's top scorer. In order to get back to the top of the Premier League, we must utilize the best years and best attributes of a man that has scored 305 goals as a red. Whereas the capture of Alexis Mac Allister was the perfect start to our window of change, I cannot wait to see how the Salah & Thuram link-up evolves, as it could just invigorate our Egyptian King to a whole new level.