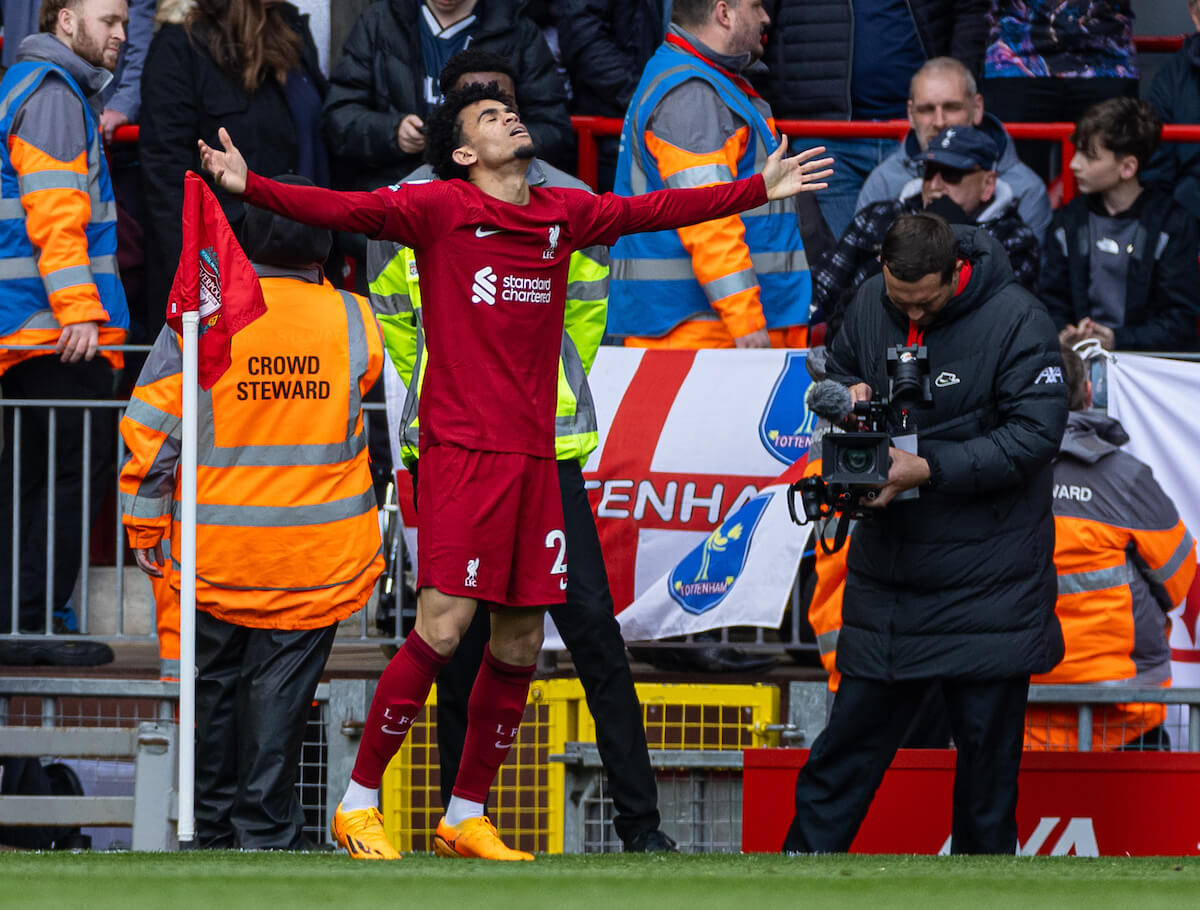 Can Luis Diaz join the list of great Liverpool No.7s?
No pressure, Luis Diaz – you're about to don the famous No.7 jersey that Sir Kenny Dalglish wore in such legendary fashion for so many years.
The Colombian's change of shirt number ahead of next season was recently confirmed, and while a bit of writing on the back of a player's kit can ultimately be meaningless at times, there is a level of significance to that particular top at Liverpool.
Dalglish is widely considered to be the greatest player in Reds history – if he isn't No.1 in your mind, he is almost certainly in the top three – and he will forever be remembered for working his magic in that iconic No.7.

There is also the small matter of Luis Suarez and Kevin Keegan wearing it, both of whom were Liverpool icons in their own right, while all-time appearance maker Ian Callaghan also starred in it before them.
Peter Beardsley and Steve McManaman were two creative wizards who followed suit, too, so it's fair to say that Diaz has plenty of pressure on his shoulders if he wants to join such illustrious company.
The 26-year-old's Liverpool career has been a curious one to date, having arrived in January 2022 and reignited the Reds' season that was threatening to peter out.
History will now tell us that Jurgen Klopp's side came agonisingly close to winning a quadruple, which suggests they were on fire throughout the campaign, but they were faltering when Diaz joined in the winter and he was a big reason for their resurgence.
Having gone into the 2022/23 season as a star man and many people's pick to be Liverpool's outstanding performer, a knee injury at Arsenal limited him to just 11 starts in the Premier League, ruling him out for many months.
Upon his much-anticipated return in the spring, it was clear that Diaz was rusty and lacking in rhythm, and Reds supporters never got close to seeing the best version of him in the run-in.
In typically knee-jerk fashion, there were even some dissenting voices toward the Colombia star, with some beginning to question if he should be a regular in Liverpool's strongest XI moving forward.
While it certainly shouldn't be seen as a given, he still represents the best option in that left-sided role, possessing the dazzling footwork, blistering pace and unpredictability to wow the masses like he did in those early months at Anfield.
Is Diaz perfect? No.
His end product has been a little disappointing overall, especially when compared to his relentless predecessor Sadio Mane, with 11 goals and six assists in 47 Liverpool appearances is not exactly a world-class return.
For all the tricks and flicks, a certain level of substance hasn't always been evident, with his finishing not always ruthless and a killer instinct to get into goalscoring positions not always on show.
But the positives outweigh the negatives by a country mile, and with a longer run in the team in a side transformed after several key midfield signings, there is no reason why Diaz can't be one of the Premier League's best players next season and beyond.
Some have short-term memories, focusing on the post-injury Diaz rather than the electric winger who burst onto the scene – he was also one of Liverpool's better players early in 2022/23 before the setback – but this is a spectacular footballer who is a worthy recipient of the No.7 shirt.
At 26, he could be about to hit his peak years – if he does, fans should buckle up for a fascinating ride, as he uses his street-fighting style of play to devastating effect and joins those past greats who wore the same jersey.
If he avoids another injury blow and shows that he has fully overcome the issue, Liverpool could have an absolute superstar on their hands.