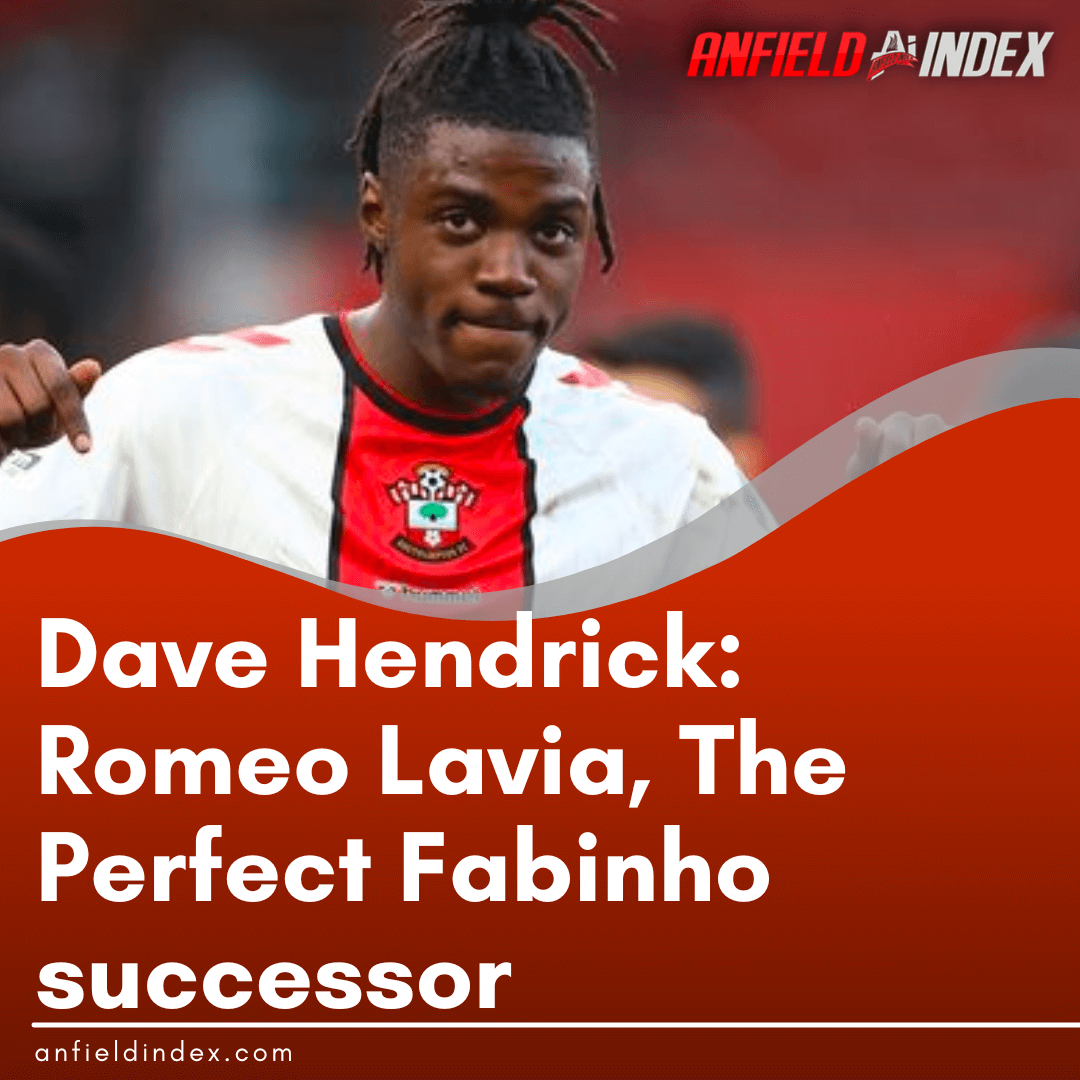 Romeo Lavia, The Perfect Fabinho successor
With Alexis Mac Allister and Dominik Szoboszlai in the door, Liverpool are well on their way to rebuilding their midfield. Mac Allister as the advanced, creative left-sided number 8, linking with the front three and manipulating defences by always thinking two and three moves ahead. I went over the reasons why he's ideal for the next version of Liverpool here. Szoboszlai can fill any attacking role but will likely take the advanced right-sided number 8, bringing huge amounts of creativity and a goalscoring threat that Liverpool have lacked from midfield since Alex Oxlade-Chamberlain's knee exploded that night against Roma
Getting Alexis and Szoboszlai give Liverpool great flexibility in midfield, and leaves Jurgen Klopp with hugely improved options compared to what he had available last season, but they don't fix all of the midfield flaws.
Thiago's injuries and Henderson's Hendersonness mean they needed to be replaced, but Fabinho also needs a successor. It would be fine to start, and potentially end, next season with the Brazilian still patrolling in front of the back-line but he will require rotation through the season and ideally replacing as first choice the season after. Fabinho began to struggle in the last couple of months of the 21/22 season and looked a shell of himself throughout 22/23.

The warning signs were there early, but as the season developed he got progressively worse. His form improved at the end of the season when Liverpool changed to the 3-2-2-3 shape, but he was still slow-footed and struggled to stop opponents from running through Liverpool's midfield. Liverpool have gotten five years of service from Fabinho, and he likely can continue to contribute for the next two seasons in a row that is scaled down considerably over that period.
There are a couple of options out there for Liverpool to pursue as Fabinho's successors, but the one that makes the most sense is Southampton's 19-year-old Belgian international Romeo Lavia. Lavia joined the Saints from Southampton last year and was the lone bright light in what proved to be a disastrous campaign for the south coast team who were relegated in May. In his first season at senior level, Lavia didn't just survive – he excelled. He was a regular man of the match winner, and his performances against West Ham and Arsenal were as good as any put together by a defensive midfielder in the league last season.
Lavia began his career with Anderlecht, joining as an eight-year-old and rising through the ranks over the next eight years. He was already getting significant buzz, and being viewed as a future international, when news broke of his transfer to Manchester City. Pep Guardiola watched him once, as a 15-year-old, and decided he had to have him. Lavia joined City in 2020 and immediately began making an impression for the academy sides. Guardiola regularly had him training with the first team and took a personal interest in his development, such was the talent and potential he viewed in the player.
Lavia progressed rapidly in City's system, too rapidly in fact. By the time he turned 18 he was good enough to be starting in the Premier League and everyone knew it, including both Guardiola and Lavia himself. Lavia wanted to test himself, and reluctantly Pep didn't stand in his way. The player wasn't interested in a loan move, he wanted something more stable, but City didn't want to completely lose the player. Southampton, without Lavia having played a minute of senior league football, paid a fee of around £14 million to get him. £14 mil based on 97 minutes of senior football players in the domestic cups. And nobody doubted it was a good deal for the Saints! Lavia's talent was undeniable.
He settled into the Premier League straight away, immediately establishing himself as Southampton's best player. Surrounded by underperforming senior players and other wide-eyed young players struggling to adapt to the pace of the league, Lavia immediately looked at home. He immediately began to show just why Saints had spent such a sizeable fee to get him, and why City had insisted on a buy-back clause and been willing to put that clause at £40mil. It's also worth remembering here that before the transfer window ended, Chelsea offer Southampton a fee close to £50m for the teenager. That's how impressive he was from the off, and how certain Joe Shields, who had signed Lavia for Southampton before moving to Chelsea, was of his potential.
Lavia helped the Saints take seven points from their first five games before suffering a hamstring injury. He would miss eight games, and Southampton would take only five points. By the time he returned, the rot had set in. Then came the disastrous Nathan Jones appointment, followed by his sacking and the decision to appoint Ruben Selles in February when ownership seemingly gave up on the possibility of survival.
Lavia did not give up though and continued to perform at an exceptionally high level for the remainder of the season. His performances away to Manchester United, West Ham, Chelsea and Arsenal, in particular, showed the character he possesses, as well as his immense quality. Unfortunately for Lavia, a combination of poor management and underperforming teammates meant that Saints did not get the results his performances deserved.
It's no surprise that his name has been linked to a number of other top clubs, with Arsenal and Chelsea being strongly linked. It would appear though that Liverpool might, because of the timing of such a deal, have a free run at Lavia if they can mobilize quickly and get a deal done with Southampton. Chelsea are trying to sell everything that isn't nailed down at Stamford Bridge in an attempt to balance the books after Todd Boehly's spending spree last year, and they are also trying to put together a deal for Moises Caicedo of Brighton. Arsenal meanwhile have overpaid for Kai Havertz, agreed to a huge overpay for Declan Rice and may be forced to overpay for Jurrien Timber. Having spent over what they wanted to pay for all three, the Gunners are already struggling to get the Rice and Timber deals across the line and likely won't have the money left to pursue Lavia without significant sales. The leaves the door open for Liverpool. And it's a door they should run through.
There's so much to like about Lavia in terms of his ability on the ball. He's a very good passer of the ball and a very good dribbler out of tight spaces. He's more than happy to receive the ball under pressure and he excels at turning away from that pressure and either progressing the ball or winning a free kick. He makes smart decisions with the ball, and has a good range of passing, while also displaying excellent vision and weight of pass. On the ball, there are a lot of similarities with Aurelien Tchouameni – a player Liverpool tried to sign last summer.
Off the ball, he's more Moises Caicedo than Tchouameni. A good athlete with deceptive speed who covers the ground well and reads the game exceptionally. He's very strong in terms of blocking passing lanes and disrupting opposition attacks.
Statistically, Lavia might not jump off the page for his defensive numbers but for a player who began the season at 18 years of age and didn't turn 19 until the midway point of the season, he showed plenty of promise as a ball-winner, a disrupter and a player who could be deployed as a man-to-man marker.
There are only two real weaknesses in his game right now and both can be put down to age. He's poor in air, largely because he has a tendency to mistime his jumps. But he doesn't compete for a lot of aerials, largely because he prefers to hunt the second ball. That might be seen as problematic but if Liverpool improve, collectively, in the air this summer then it shouldn't be a huge issue. If Lavia develops and continues to improve in terms of winning the second ball, then it becomes even less of an issue. The other weakness is simply physicality. He can be easily knocked off the ball at times or brushed away by powerful runners. As the season went on, that became a less frequent occurrence and isn't a worry long term. He'll get stronger as he ages, and Liverpool will no doubt work with him on a strength and conditioning programme to help.
Some people will say that £50m is too much for a 19-year-old with one season of experience, but Liverpool won't be looking at just the fee. They'll be looking at the total price of the deal. His current wage at Southampton is rumoured to be £25,000 per week. A £60,000 per week deal should be enough to get him to Liverpool, which would equate to £15mil over five years, add in agent fees and a signing bonus and it's probably a £75m commitment in total. For a player of this ability, that's a potential bargain. Especially in a league where Arsenal have spent £65m on Kai Havertz and agreed to pay him £340,000 per week, making that a £140m commitment over 5 years before factoring in wages, agents' fees and bonuses. Let's not even get into the Rice numbers.
Others have questioned signing a player from a relegated team. Where did Wijnaldum, Robertson and Shaqiri all come from? Relegated teams. Lavia was excellent for the Saints last season. For an 18/19 year to shine the way he did while playing under three managers, two of whom had no business managing in the Premier League while partnering abject dross in midfield, is very rare. This is a special player and one Liverpool should move heaven and earth to get signed.