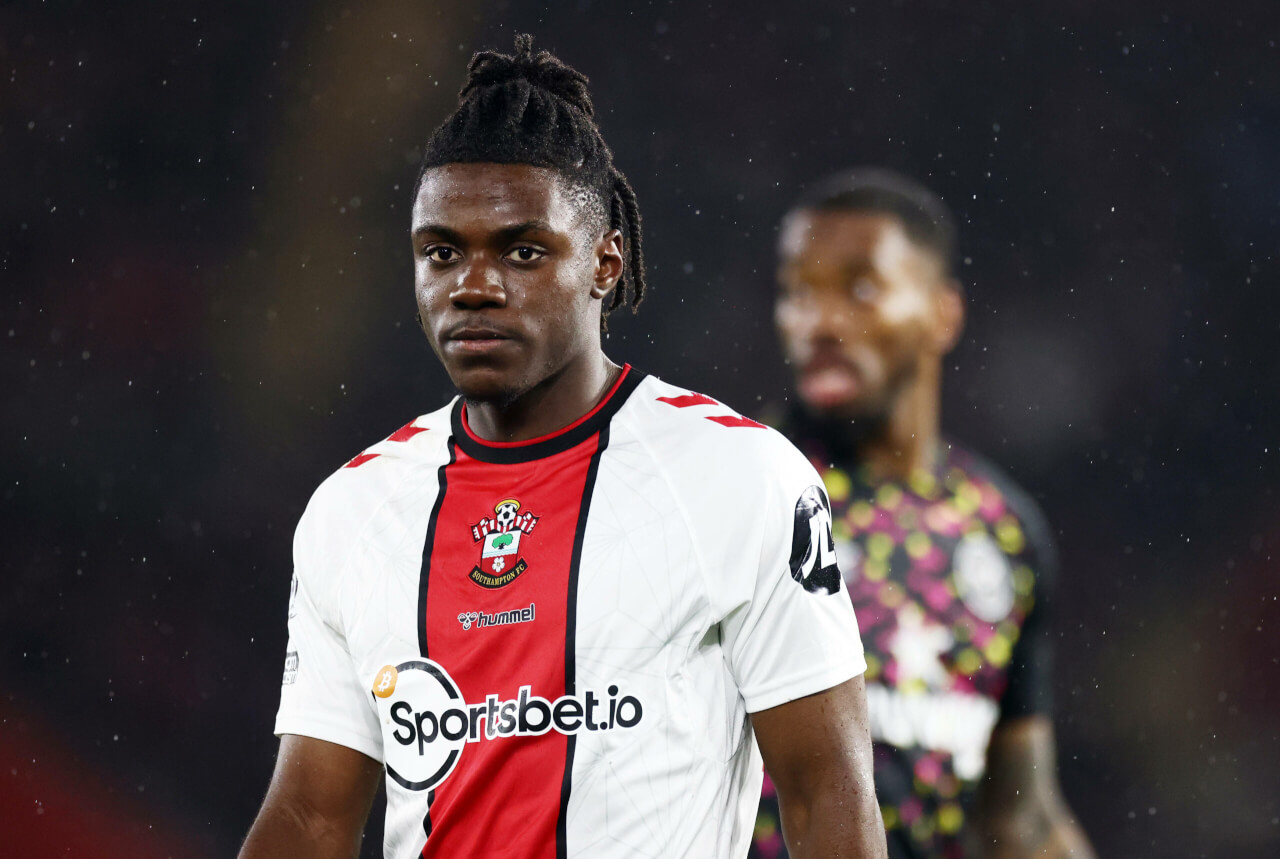 Roméo Lavia Would Be a Superb Signing for The Short & Long Term…
The early part of this week saw news circulating that Liverpool were making legitimate moves for the young Southampton starlet, Roméo Lavia. This is one of the many names that have been doing the rounds for months, with the Reds clearly intent on strengthening their aging and tired midfield. With Alex Mac Allister already on board and Khéphren Thuram expected to join him after the EURO Under 21 tournaments conclusion, the former Manchester City player could represent a brilliant piece of business for a player with an elite level ceiling. Though there will be grumblings and reservations over any business we carry out (no matter how impressive), everyone should be in no doubt that is a serious player, with a career trajectory that could see him become one of Europe's finest holding midfielders.
Moisés Caicedo, Manuel Ugarte, Aurélien Tchouaméni, Florentino Luís, Manu Koné, and Roméo Lavia, are the most prominent names of holding midfielders that have all had their names linked with a summer move to Anfield. As we zero in on the eventual targets of real interest, it does appear that Southampton's 2022/23 standout player could be the best long-term option, with a strong link now gaining credibility. Though Fabinho will probably resume next season's duties as the starting CDM, it may be that a project-type signing could be the best course of action in our ongoing regeneration.

Liverpool have informed Southampton of their intention to make a move for Romeo Lavia

🗣️ [@sachatavolieri via @TheRedmenTV] pic.twitter.com/28cviwwdt0

— Anything Liverpool (@AnythingLFC_) June 27, 2023
Here are some of the stats on the Belgium international.
Roméo Lavia
Age – 19 years old (DOB 06/01/2004)
Current club – Southampton
Nationality – Belgium
Contract Expiry – June 30 2027
Height – 5ft 11inches
Weight – 75kg
Appearances – 36 games
Goals & Assists – 1 goals / 1 assist
Total minutes played – 2,587 minutes
International caps & goals – 1 game / 0 goals
Transfermarkt value – €32m
Most will look at this player and point to the inexperienced career he has undertaken thus far. Some will say that this would be a strange and potentially expensive capture, given last season's emergence of our own Stefan Bajčetić. Though I can understand the reservations, these will probably be the same supporters that will have complained about not targeting the likes of Enzo Fernández or Moisés Caicedo, before they landed in the Premier League. Again, there is validity in such arguments, yet I am compelled to state that the £50m it would take to sign Roméo Lavia would still represent brilliant business.
Our stagnating transfer dealings over the past 2-3 years mean this window of opportunity is now critical to our success. With the likes of Moisés Caicedo and Aurélien Tchouaméni probably costing too much (either would cost close to £100m), they join Jude Bellingham on the list of desirables that we simply cannot afford. If the squad recruitment drive had been steady over that stated 2–3-year spell, it would not leave us needing three starting-calibre midfielders and a central defender. This is the scenario that we currently find ourselves in, therefore, I believe an excellent talent like Roméo would be a perfect candidate to succeed our current Brazilian enforcer.
In this new 3-box-3 shape, I do believe that with Alexis Mac Allister and (hopefully) Khéphren Thuram thrust into starting roles, to sign a teenage prodigy (additionally) and limit his initial exposure would be prudent. Our uplift in form (at the backend of last season) means it is more about replacing the jaded bodies with quality, however, the wholesale change would only create a long process of finding the required rhythm. I sincerely hope we manage to retain the services of Thiago Alcântara, with his experience and world-class credentials making him the ideal candidate (alongside Fab) to gently ease in new blood. This is a key reason to look at a man that would not need to be an immediate starter, merely one that is slowly brought along.
Much of our recent success was due to the arrival of Fabinho, after that infamous Champions League final loss to Real Madrid in 2018. His immediate impact and forceful play were one of the final pieces within the masterful Jürgen Klopp puzzle. In order to help push the German manager's side back to the pinnacle of European football, this decision (in finding an heir to the former Monaco man) needs to be made with enormous thought and consideration for the player that will inevitably be replaced.
With a highly intelligent and mature style of play, you can absolutely see why Pep Guardiola was so keen on his Etihad employers signing Lavia from Anderlecht in 2020. It was a mere two years before the teenager demanded a move to the South Coast, showing a clear desire to further his career rather than get lost in the sports washing shuffle of players in Manchester. This type of player is highly regarded among the heavyweights of the Premier League, with both Manchester United and Arsenal both showing keen interest.
The North London side seem intent on their pursuit of Declan Rice, whereas City's neighbours already have Casemiro, which may give Liverpool a better chance of gaining his signature. If history tells us anything, then this young prodigy will be looking for a defined pathway and the right project to suit his lofty ambitions. In Liverpool and our illustrious head coach, we can offer clarity and assurances over our future, of which he would become a major part. Trent Alexander Arnold is primed to take on a leadership role in a new-look midfield, which is why signing a raft of young and hungry elite players is a tantalizing prospect.
I do not know for definite who will eventually arrive, but I am more than happy with the level of player we are now seeing linked. Roméo Lavia would be a sensational capture for reasonable money, who could offer great value in the short term and world-class performances over the long haul. If this is the man we want, then I am all in, as he could become the type of generational talent we have been crying out for.