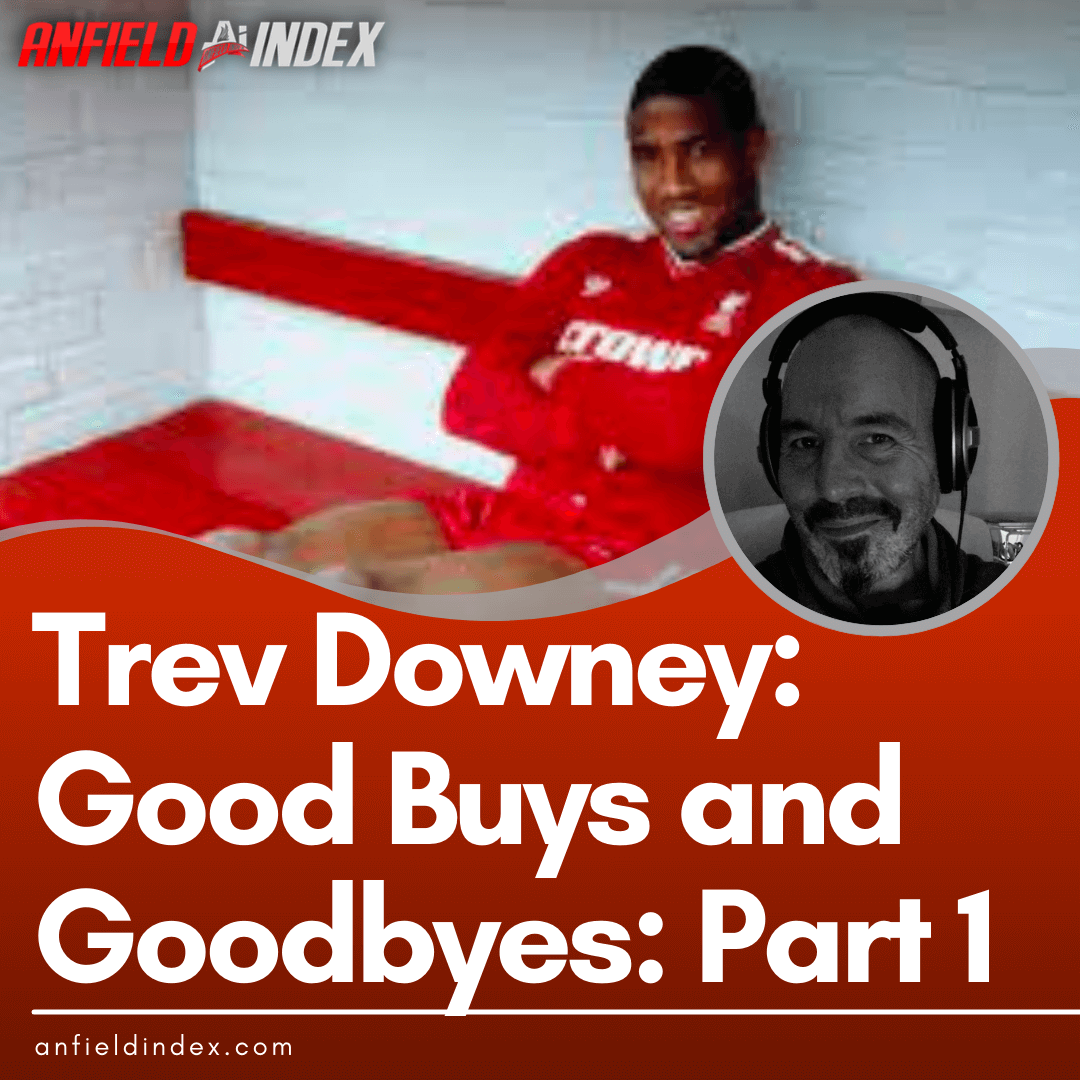 Favourite LFC Signings And Worst LFC Departures: Good Buys and Goodbyes: Part 1
I assume, gentle reader, that you, like me, are a hopeless consumer. It's not our fault. Decades of crass commercialism, manipulative media advertising and force-fed capitalistic ideology have taught us to crave the next purchase and moulded us into believing that the next shiny thing will be the one that finally fills the yawning void in our cynical 21st century souls. Cars, clothes, books and kayaks are how I self-medicate, for example. I know, it sounds just as mental to me, reading it back.
So yes. We love to buy things. Of course, we also prefer it if somebody else procures those things for us which is a neat segue to the guilty pleasure of all football fans: the vicarious thrill of our club acquiring new players. Now, it's safe to say that this is something of an obsession for some folk. There are even podcasts about it, if you can believe that.
Lest you feel misled, this article will not include a tirade about the penny-pinching parsimony of FSG and neither will it feature a hagiography of John Henry and his Bostonian saviours. I know how much you all love to pick a dog in that particular fight but that will be the topic of my scribbles in the future, so we can all savage each other mercilessly then. For now, let's focus on something pleasant, shall we? Allow me to present my favourite Liverpool signings.

One last thing before I begin.
The following will be the transfers that made me the happiest when they happened. I'm not talking about how the players performed thereafter. Such a list of objectively excellent buys would obviously feature the likes of Sami Hyypia, Xabi Alonso, Fernando Torres, Andy Robertson, Alisson Becker, Sadio Mané and Mo Salah. All of these rank amongst the greatest players in club history and yet none of them made my heart sing on arrival, whereas signing Harry Kewell did. You see where I'm going, here.
Similarly, as I was only four at the time and almost entirely unaware of Liverpool Football Club, I cannot include the greatest signing in Reds' history, Kenny Dalglish.
The following, then, will be a discussion of the player arrivals that gave me the greatest thrill; the ones that I was most pleased by personally. If you're looking to me for a soulless Top 5 Best Ever Reds' Signings type of thing, you're barking up the wrong Trev.
John Barnes
In the wake of the glorious Double-winning '85/'86 season, the following campaign was a comparative disaster. Kenny's Reds were only second. Unacceptable. A rebuild was needed. (That was the bar for a rebuild back then. Second. I'll stop now. I did promise) With £3.2 M in the bank from the sale of Ian Rush to Juventus, Dalglish spent a combined £3.6 M on Ray Houghton, Peter Beardsley and John Barnes to add to the recently acquired John Aldridge in a complete overhaul of the attack. To say these signings were a success would be an epic understatement. The brightest of the diamonds, however, was John Barnes.
After seeing his goal in the Maracana stadium in 1984, I was in awe of the Jamaican-born wing wizard. Barnes was part of an exciting Watford side under Graham Taylor and the young version of your scribbler dreamed of him donning the Liverbird. When Kenny signed the thunder-thighed maestro for £900,000 it honestly felt like a personal gift. Happily, Barnesy then went on to become an all-time club great, man who features in almost everyone's top 3, but the sheer joy of him joining us was a visceral thrill I'll never forget. One of the few men who could get away with short shorts, Digger was my favourite signing of all time.
Gary McAllister
I used to be a football nerd. I could tell you stats and stories about players from across the divisions and decades. I'm no longer that man. These days I'm more myopic in my focus but back when I was scanning every edition of Shoot, Match and World Football I had a solid knowledge of the game and its personnel. For various reasons, I had favourite non-Reds. Gary McAllister was one of those. After learning the game at Motherwell and Leicester, the Scot was a central figure in the Leeds side that won the last ever First Division title in 1992. He was 26. In '96 he moved to Coventry and continued to impress me every time I saw him.
In July 2000, at the age of 35, Gary Mac was brought to Liverpool by Gérard Houllier, a move the Frenchman would later call his "most inspirational signing." That the veteran came in and played a vital role in the hugely impressive Treble season that followed is a matter of common knowledge. Who can forget his song inspired by the visceral impact he had on the team, typified by the stunning 40 yard free kick to seal victory against Everton? However, at the time he arrived, I was beaming contentedly, safe in the knowledge we had added a gem.
Jari Litmanen
From the aforementioned hipster years of my football fandom there was one player I coveted more than almost any other; the gloriously gifted Jari Litmanen. Arrigo Sacchi's Milan side of the late 80s and Louis van Gaal's Ajax team of the mid 90s are the greatest non-LFC teams I've ever seen regularly and in the latter of those, Litmanen was my favourite. Surrounded by the stellar likes of Rijkaard, Seedorf, Davids and Overmars, the majestic Finn was always the one I enjoyed watching the most. When he followed Van Gaal to Barcelona, it didn't go well for various reasons, injuries chief amongst them, and he fell out of favour completely after the Dutchman's departure. Liverpool beckoned
When he arrived on a free transfer in January of 2000, Houllier hailed Litmanen as "one of the most exciting signings we have made." Like me, Jari was a boyhood Red who'd worshipped Kenny Dalglish and he was disappointed to find Vladimir Smicer had taken the number 7 jersey. He settled for 37 and I cannot fully explain to you the feeling of glee I had at his unveiling. Obviously, as with his Barca stint, Litmanen's time at Anfield would be plagued by injury but I think he certainly showed what a talent he was over the course of his tragically brief 43 game stay. His goals against Roma and Bayer Leverkeusen were my highlights but nothing matched the joy of the day he became a Red.
Robbie Fowler
There are some players who should only ever play for one club. Robbie Fowler, my second favourite Red of all time, was one of those. Robbie was the most exciting young strikers of the Premier League's early years. Regularly touted as the most natural finisher since Jimmy Greaves, the Toxteth Terror was simply the best attacker in the league, scoring 31, 36 and 31 goals in 3 consecutive seasons from '94 to '97. The following season saw an ACL injury that ended his season and his World Cup '98 dreams. Despite retaining his outrageous technique and being an integral part of the successful '00/'01 campaign, it was a case of diminishing returns for Robbie after that. An increasingly fraught relationship with Houllier and his relegation to the bench saw Fowler leave Liverpool for a paltry £12 M in November of 2001.
It jarred horribly to watch Fowler scoring goals for Leeds and Manchester City but in January of 2006 something magical happened; Rafa Benitez took 'God' back to Heaven on a free transfer. After a frustrating start, Robbie was soon back in the goals for Liverpool and managed 12 in 39 appearances in this brief second spell. None of that really matters because I can honestly say that when I found out at work that the left-footed genius was a Red again, it was genuinely one of the happiest moments of my life as a fan. I remember feeling light-headed with happiness. I make absolutely no apologies for the emotional aspect of this pick. I loved Robbie as a player and a man. He was back. All was right with the world.
Virgil van Dijk
As Thomas Magnum used to say, "I know what you're thinking and you're right." You, gentle reader are irately shouting something about how it's about bloody time I finally got one of these that you agree with. This particular signing was a very happy day for a lot of people, your scribbler included. I think it's fair to say that not many folk could have predicted what massive impacts Sadio Mané, Mo Salah or Alisson Becker would have on Klopp's Liverpool but many of us knew exactly what adding this Dutch Master would do to the team. All of those players were crucial in their own ways but in terms of being transformational van Dijk stands above them all.
Of course, the headlines were all about the reported £75 M record fee for a defender and all the Manc idiots with platforms were gleefully predicting an embarrassing outcome. That monumental embarrassment did indeed happen but it was Mancunian blushes that were on display soon after a record fee of £85 M was paid for alleged defender Harry Maguire. Those of us who craved his presence in the Liverpool side knew that VVD was always going to come in and Rolls Royce his way through games. In fact, he was so good that it often looked as though he was a dad out having a kick about with his kids.
He scored a winner on his debut and ended up in the CL team of the season after only half a campaign, leading the Reds to the final. His contribution since is the stuff of legend but after it was announced on December 27th that we had finally landed the defensive colossus, the joy I felt was massive. Then, on the 1st of January 2018, we got to see the handsome devil in all his glory holding aloft his new kit in front of a Christmas tree. Transfer Santa had done his best work.