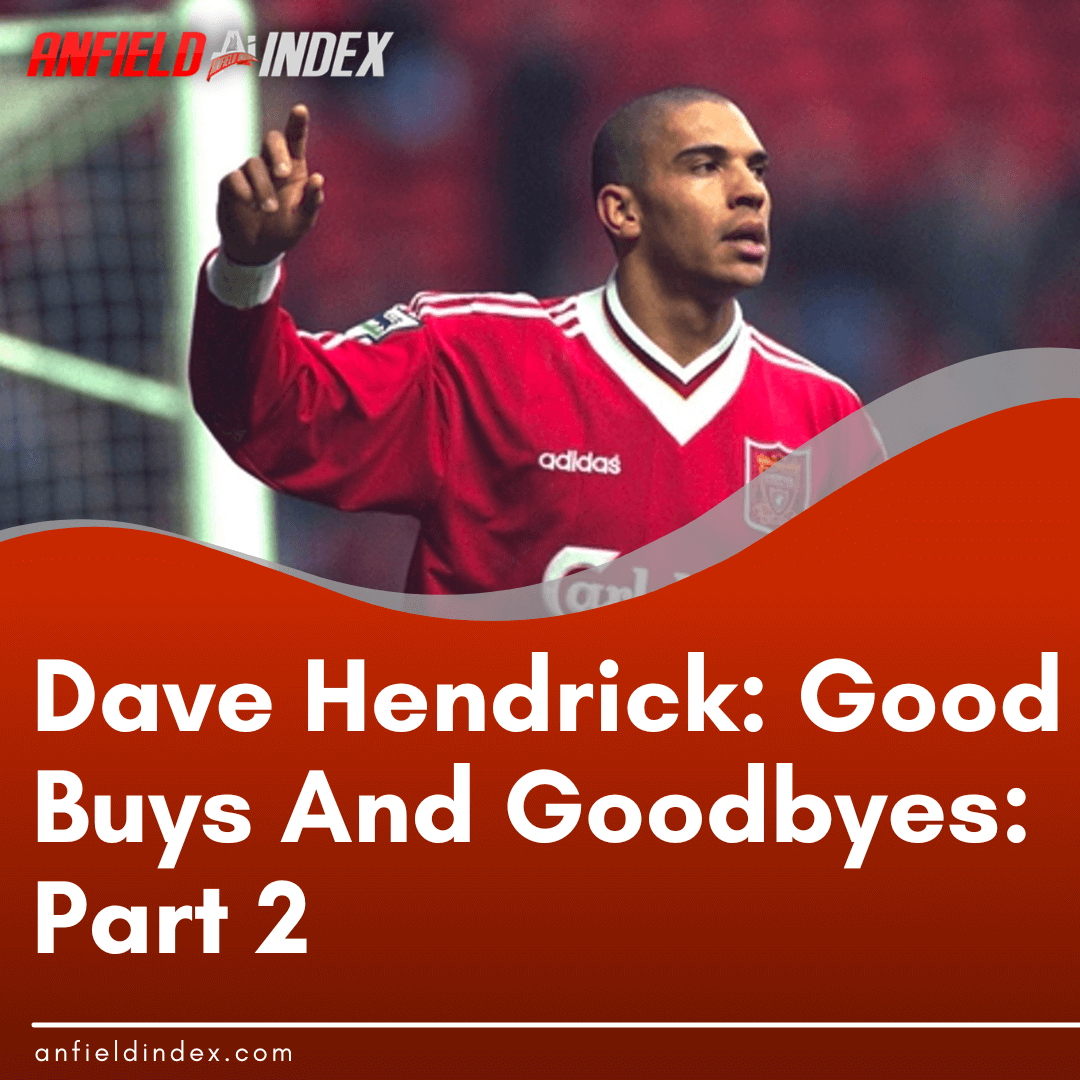 Favourite LFC Signings And Worst LFC Departures: Good Buys And Goodbyes: Part 2
So myself and Trev were having a chat because neither of us could think of what to write this week. We'd both had ideas but none of them seemed to be worth pursuing at this moment in time. It's the transfer window, people want transfer related content and being the kind, considerate lads that we are we thought it best to give the people what they want.
We settled on the concept of favourites signings and least favourite sales, with Trev coming up with the clever title. Good buys and goodbyes, it's clever isn't it? If you heard it, you might be confused but when you see it, it makes all the sense. I'm a fan of the title.
We decided to play to our strengths on this one, with Trev being the nicer of the two of us and more effusive in his praise of players and me being full of gnarl and anger, finding my version of joy in misery. So as I sit down to write about my least favourite Liverpool departures, somewhere in a field in rural Ireland Trev is crafting a masterpiece about his favourite Liverpool signings. Bare in mind that it is favourite, not best. It's what effected us the most, what made Trev smile and what fueled my intense dislike of everything. Trev's piece is part one, it's going to released before this so make sure you read it. It will be better written and it will contain memories that will make you smile. If happiness is your bag, then this one will not be for you. Happiness is not my brand.

I should point out at this stage that I am a wannabe hoarder. Not in the sense of keeping all manner of shite all over my house, but in terms of footballers. I want to hoard good players. The more the better. Bad players, no thank you. Sell, sell and keep sell. But good players, I'd keep them all forever if the budget allowed.
Let's start off with the first departure that I remember really upset me, which was Peter Beardsley. It seems like a good place to begin.
I was born in 1982, so it wasn't until the late 80s that I really began to pay attention to football that was happening in places other than my back garden or my friends gardens. Football had become important to me, because it was important to my Dad. I was a Liverpool fan, because he had told me I was a Liverpool fan. It was that simple really. In Ireland, in the 80's, kids tended to support Liverpool, Manchester United or Arsenal, with the choice largely being pre-decided for them based on who their fathers supported. For me, it was Liverpool because my Dad refused to allow my Grandfather and Uncles on my mam's side to poison me with their United loyalties.
That late 80s team is obviously one of the best teams we've ever had, so I was very lucky in that regard. Imagine if my earliest memories were the early 90s with Souness in charge and yard dogs like Julian Dicks and Neil Ruddock volleying people up in the air! Instead it was John Barnes, Peter Beardsley and Ian Rush, with the Irish contingent of Steve Staunton, Ronnie Whelan and Ray Houghton.
That Liverpool team, who I have watched extensively as an adult and come to the realization that six and seven year old me was spot on, was the best team in the world as far as I was concerned at the time. They were fantastic, they were fun. They scored goals, the dominated teams and John Barnes and Peter Beardsley had no equals.
When Souness made the decision to sell Beardsley to Everton in 1991, it crushed me. I can neither confirm nor deny rumours that I cried but as a nine year old seeing one of his favourite players sold to a club I had been informed I hated, I was too young to fully comprehend the notion of rivalries but knew that I hated Everton and Manchester United, and Arsenal and Forest and a few others, and it was completely unacceptable that Beardsley was being sold.
It was made worse by the fact that he was brilliant for Everton and would then go on and be sensational for Newcastle. A bad transfer became much worse as Beardsley excelled in the league for six years after leaving.
I'm going to go in a slightly surprising direction with this next one, a player who's not the most popular among the fanbase but one who's signing delighted me and I was pissed when we sold him only two years later, Stan Collymore.
It's hard to put into words how exciting a signing Stan Collymore was when Liverpool paid £8.5million to bring him in from Nottingham Forest in the summer of 1995. I remember exactly where I was when I heard the news on the radio, standing in the kitchen of my gran's house in Carlow. It was a British record deal at the time. He was coming off an incredible season with Forest where he seemed, based on Match of the Day, to be scoring or assisting an incredible goal each and every week. Big, strong, fast, a great dribbler, a good passer and capable of scoring absolute worldies with either feet from seemingly anywhere on the pitch.
I'll die on the hill that Stan is the single most talented English striker of all time. He had everything from a physical and technical standpoint. And he was brilliant in his first season. 19 goals and 11 assists across all competitions, forming an incredible partnership with Robbie Fowler. It was such an exciting team, especially with Steve McManaman playing in a free role behind them. McManaman and Collymore were 24/25, and Fowler was 20. And there was a kid called Owen in the academy that was going to be incredible. These four were going to be the basis of the next great Liverpool team. How it would have worked, God only knows, but that was the thought process at the time.
Except they were. Collymore wasn't as good in the second season, though 16 goals and 5 assists was still a pretty good return. There were rumours about Collymore not turning up for training, constantly being late and not really giving a shit. He was shipped out in the summer of 1997 with the official party line being that it was to create more minutes for Michael Owen, but travelling over for games you'd hear different things from the locals who you just assumed knew everything that the club had just cut their losses because he wasn't worth the hassle. The anger around his departure was mostly aimed at him. Why couldn't he have tried harder? He had let us, the fans, down. It wasn't until years later that Collymore opened up about his mental health struggles, and my anger shifted from him to the club. Possibly irrationally.
Collymore doesn't seem to have told anyone at the club what he was going through. It was the 90s. Men didn't speak about their feelings or mental health. If you told someone you were depressed you were told to "cheer the fuck up". That's just how it was. Men were men. The had two feelings. Happiness and anger. There was no time for sadness or anything else.
I loved Stan Collymore the player, and even though I was pissed that he had left I still rooted for him for the rest of his career. He's one of the greatest "What If" players in Liverpool history, and in the history of football in general.
The first departure that really broke me though, came when Collymore's former strike partner Robbie Fowler was sold to Leeds in 2001. We'd just won the cup treble. It had been the best season the club had had since 1990 when we'd last won the League. Gerard Houllier was the manager and he had put us back on the map. He'd overcome the departure on a free transfer of McManaman to build a team that wasn't pretty to watch but was incredibly effective. In 01/02 we were going to win the lot. We'd found really good form after a shaky first three games and looked every bit the title contender, for the first time since 1990 we looked a team capable of winning the league.
And then Fowler was sold to Leeds. It seemed to come out of the blue, but in truth had been on the cards for months. He'd been linked with a bunch of different clubs, mainly in Italy and Spain, but he was 26, and he was God. He was ours. Liverpool born and bred. A born goalscorer, a scoundrel who always looked like he was up to divilment and without question the most popular player among the fans. Injuries had slowed him, without question, but he was really good and really effective in front of goal. Word of the bust up with Phil Thompson came out after he'd left, so Phil Thompson was put firmly at the top of my shitlist. Especially when Fowler banged in 12 goals in his first 22 games for Leeds.
In the end, it turned out to be the right move to sell him. After that good start at Leeds, Fowler endured an injury plagued season and was never quite the same. He came back in 05-06, and while he wasn't the same player as he had been it was still great to have him at the club.
He remains an oddity of my Liverpool fandom, as my fondness for him has never dropped – I've even gone out of my way to follow his managerial career which has involved watching some absolutely shocking football, but when I look back at his career it's apparent he's definitely held in higher regard than his actual production warrants. The last great season of Fowler's career was 1998-99. He was 24 years of age. His three best seasons all came by the age of 22. But Fowler was bigger than football. He was the fan who'd made it. He was the normal bloke who never forgot where he'd come from. Unlike England's Michael Owen, he was Liverpool's Robbie Fowler.
After Fowler I never really allowed myself to get too attached to players, but there have been too exceptions. Two players I adored and was devastated when they made what were predictable departures. The first is Javier Mascherano.
I'm not here to relitigate the circumstances of how he left and why he left. There are two sides to it, and I'm going to believe the side that was not crafted by Roy Hodgson, Tom Hicks, George Gillet and Christian Purslow. You see, those four gentlemen can fuck all the way off. And once they've done that, they can fuck off some more. Pricks.
Mascherano didn't cover himself in glory with his departure, regardless of circumstances, but we knew from the minute we signed him that Real or Barca would come calling at some point and that he'd want to go. I just adored the lad as a player. He'd run through a wall, crawl across broken glass and break his mothers leg just to win a throw-in. He was obsessed with winning, and he deserved more from his spell at Liverpool. He was incredible in the 08/09 season, and while Gerrard and Alonso got the plaudit it was Mascherano who did all the dirty work which allowed them to shine. We got a good fee, but we didn't replace him. That's what really infuriated me. He'd been so important, and we didn't replace him. Instead the likes of Christian Poulsen and Lucas Leiva was expected to suffice. Lads who wouldn't have looked out of place at Hodgson's previous club Fulham. Midtable mediocrity. A disgrace. We didn't replace Mascherano until Fabinho arrived. Eight years and four managers later. And people wonder why I'm angry all the time? Look what I've been forced to put up with.
The final sale I'm going to mention was nine years ago, and even though I knew it was coming it devastated me. Luis Suarez. The manic Uruguayan is the best player I've ever seen in a Liverpool shirt, in my view the best to ever play for the club. Not the greatest, because he doesn't have the longevity, but the best. Nobody we've ever had has reached the level Suarez did in 13/14. That is the single best season any player has had in the Premier League, and I'd argue the best any player has ever had in English football. 31 goals and 19 assists across all competitions, in just 37 games. And he didn't take penalties! Steven Gerrard took 12 penalties that season, many of them won by Suarez. If Suarez took them, he almost certainly gets to 40 goals in all competitions.
It was outrageous how good he was, but we knew before that season that he was special. He'd gone to a new level in the second half of 12/13 when Coutinho and Sturridge arrived, before he bit Ivanovic of course. He'd wanted to leave after that season, and who could blame him really? The team were miles from competing and managed by Brendan Rodgers. Suarez's instinct was to run for the hills, and they were right. But he would have made a mistake had he gone to Arsenal, and of course that Arsenal fiasco led to one of the all-time great tweets from John Henry enquiring about the potential use of copious amounts of weapons grade cannabis at the Emirates.
Suarez simply put his head down, served out his suspension and then loaded a team that shouldn't have had any business finishing higher than sixth, given the comically poor defense, onto his shoulders. He almost singlehandedly won us the title with his brilliance. He made every single player in that team better, most of them have never had a better season since. His departure was inevitable. His wife's family lived in Barcelona, she wanted to be closer to them and he was, and remains, completely devoted to her. But even though we knew it was coming, the departure was still infuriating for two reasons. First, we got a far lower fee than he was worth. Gareth Bale had moved to Real the previous year for £85million. Suarez was far better than Bale, but Liverpool could only get £65million for him. There was, of course, another biting ban to content with after he'd chomped on Chiellini at the World Cup, but still. He was worth far more.
Worse yet, Liverpool took that pile of money and put it in the hands of a fool who proceeded to light it on fire. Brendan Rodgers wasted it most of it on absolute dross from Southampton. £50 million for three lads who spent a combined 13 years at the club and barring four good months from Adam Lallana in the first half of the 16/17 season, under a different manager it must be pointed out, were largely awful. Jesus Lord wept. Dejan Lovren still gives me nightmares. The man Rodgers said was the Rock he'd build a defense on, who turned out to be more of a pebble who frequently eroded into dust when asked to defend.
If Brendan Rodgers ever wonders what the moment was when his tenure of Liverpool turned around and heading towards its conclusion, it was when he decided to sign three lads from a midtable club who had no business at Liverpool to replace Luis Suarez. We had Coutinho, what did we need Lallana for? What was the sense in it? Lovren when we had Sakho. Why? Why not sign a central defender to partner Sakho, rather than one who played the same side as him? What's worse is that Southampton signed Alderweireld to replace him. Why didn't we just sign Alderweireld? He was much better than Lovren! I better stop before this becomes a 4000 word diatribe.
Anyway, away about the rest of your days now folks. Make sure you read Trev's part, it will be better than this was.