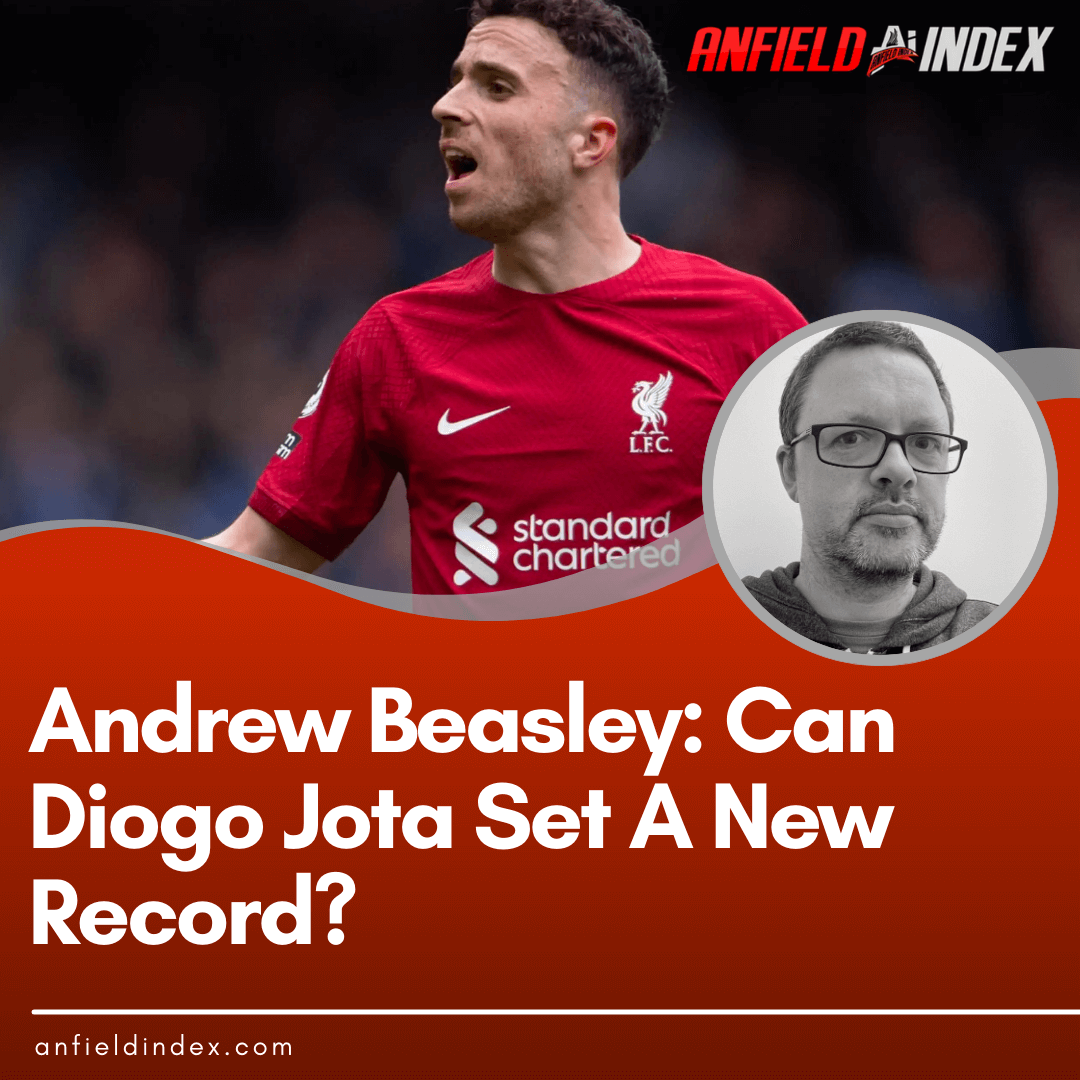 Can Diogo Jota Set A New Record?
Diogo Jota is a man with high ambitions. You can't reach the levels he has without having a burning, endless drive and an insatiable thirst for improvement.
He was recently talking to FourFourTwo and spoke of how he hopes for two major things next season. For starters, Jota wants the Reds to compete seriously for silverware, something they failed to do in 2022/23.
The former Wolves man was also asked if he could return to the levels he reached the season before in which he bagged 21 goals. "I hope that I can score that number or more," he said. "The season before last was very successful – almost the most successful ever in English football – and for me it was great as well."

Jota has now been with Liverpool for three years and it's remarkable how neatly the middle campaign compares to his combined efforts from the seasons either side of it. In 2021/22, he made 55 appearances and scored 21 goals; across his first and third years he played 58 games and found the net 20 times.
Considering he had a yearlong drought in there, such symmetry shouldn't be possible. The obvious question his record raises is this: as Jota wants to match his goal haul from two seasons ago, does he need to play almost every game in 2023-24? How realistic is that, and what other factors will be at play?
Before we look at Jota specifically, it's fair to ask if Liverpool will contest enough matches. They played 52 games last season in what was a largely unsuccessful campaign. The domestic cup draws will be relevant and the Reds will not compete in the Community Shield this year but it's reasonable to expect them to go deeper into the Europa League than the first knockout round they reached in the 2022/23 Champions League.
As things stand, Jota can perhaps expect to feature in the European games early on too. With six goals in 375 Europa League minutes for Wolves in 2019/20, that should be no bad thing with an eye on his target.
Would it be fair to list Jürgen Klopp's first choice front three from right to left as Mohamed Salah, Cody Gakpo and Luis Díaz? Once the latter returned from a lengthy injury, either he or Liverpool's Portuguese forward started every match but never together.
If being outside the leading trio restricts Jota's playing time to some extent, he should get more opportunities when Salah is at the Cup of Nations in Ivory Coast. Egypt will expect to go deep into the tournament – they are currently fifth in the FIFA rankings among African nations – and he missed six Liverpool games when they reached the final in 2022.
Aside from Ben Doak or Kaide Gordon, Jota looks the obvious choice to deputise. Núñez has just 154 career minutes on the right wing with Díaz having just eight minutes more, so we can discount them. Both Gakpo and Jota have 20 appearances in that position, though per Transfermarkt the latter has twice the goal contributions (10 to five) and has already played there for the Reds.
Many reading this will acknowledge these factors but will also be wondering about the 26-year-old's fitness record and indeed that will likely hold the key to his quest. While injuries restricted Klopp's options at times last season, there wasn't a single instance of him leaving any of his six senior forwards as an unused substitute. If Diogo is available, he should play.
His Liverpool career backs up that sentiment. Jota was able to make 55 appearances in 2021/22 because he was out injured for just two games. The previous campaign saw him miss 20 and that figure was four higher last season. While he played far more games than Alex Oxlade-Chamberlain in the last three years, he missed more through fitness issues too, a statistic which many might think requires double checking.
Let's assume for now that Jota makes 50 appearances, how many goals are out there for him next term? Salah has been top scorer for all six campaigns he has been with Liverpool and with his availability record there's no reason to think his streak won't continue.
Since 1990, there have only been eight instances of the Reds' second-best goal-getter racking up at least 21; Sadio Mané did it three times, with one each for Jota, Roberto Firmino, Daniel Sturridge, Steven Gerrard and Emile Heskey. It's been more common under Klopp than prior to his arrival but it won't happen unless his side has a seriously impressive campaign.
And if they do, Jota stands a chance of matching his previous best mark. His xG per 90 in league and Europe was 0.47 last season, 0.56 in his first campaign and 0.60 in the season he is looking to emulate. The goal rates don't track – he was hottest in 2020/21 – but Jota has 0.55 per 90 across his Liverpool career from 0.56 expected goals. His figures were just 0.01 apart with Wolves too.
He can be streaky, no question. A strong total record concealing a 32-appearance goal drought is proof enough of that. But his career shows that he'll put away as few or as many chances as he gets. Jota should be able to at least compete for his ambitions in 2023/24 and that bodes well for the Reds.