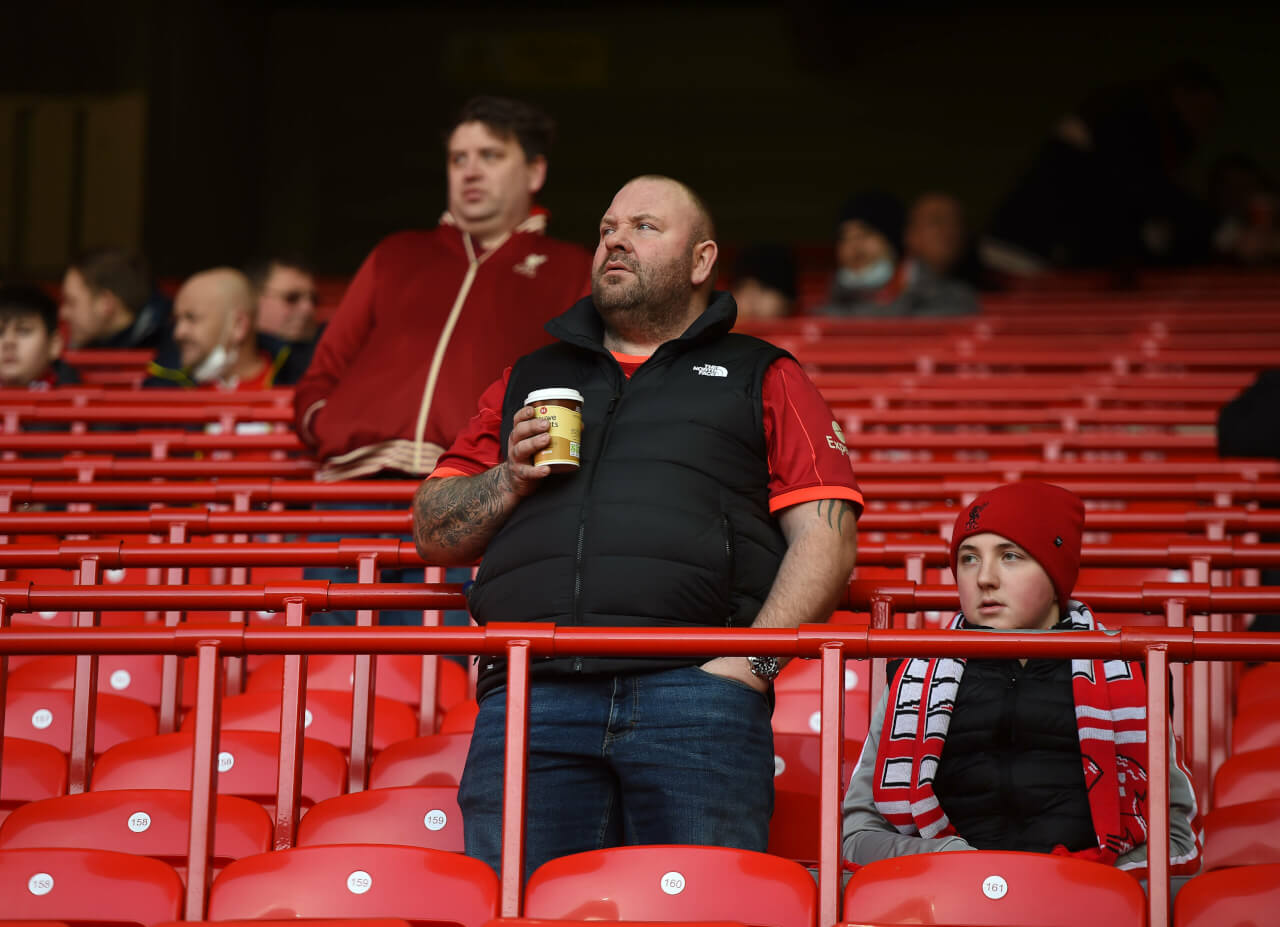 Anfield Awaits Licence for Safestanding Expansion
Safe Standing Evolves at Anfield: Liverpool to Pursue Licence
In the heart of Anfield, Liverpool FC is moving forward with plans to augment their safe standing areas. Reportedly, the club aims to obtain a licence for 13,300 rail seats, up from 7,800 installed in 2021. This endeavour comes in the wake of various Premier League clubs that have successfully incorporated the initiative over the past couple of years.
The Expansion: A Gradual Undertaking
In a quest to boost fan safety and atmosphere, Liverpool set up 7,800 rail seats in the summer of 2021, adding an extra 2,500 during the World Cup break that same year. According to BBC Sport, an additional 3,000 rail seats are scheduled for installation this summer.
This will result in safe standing sections at both the iconic Kop end and the newly redeveloped Anfield Road end. The latter is set to open for the 2023-24 season, increasing the ground's capacity to 61,000.

A Standing Kop: The Safe Standing Impact
The upcoming rail seat installations will exclusively expand the Kop's capacity, taking it up to 7,425. This accounts for approximately 55% of the capacity of this famous stand, known for its passionate and vocal supporters. Furthermore, Liverpool has future plans to add more rail seats within the Kop.
The Safe Standing Licence: A Necessity for the Club
The Sports Ground Safety Authority (SGSA) has recommended that venues with rail seating for more than two years should apply for a licence. Liverpool's move towards securing a licence places them alongside six other Premier League clubs that have already obtained one, namely Brentford, Chelsea, Manchester City, Manchester United, Tottenham, and Wolves.
Anfield's Future: An Emphasis on Safety
Liverpool managing director Andy Hughes announced the club's commitment to ensuring a safe environment for their supporters. He declared, "Following an extensive review of our rail seating trial we're delighted to confirm it has been successful and is now a permanent feature at Anfield Stadium," adding that fan safety is, and always will be, paramount.
The SGSA, in their 2021 review, pointed out issues of "persistent standing" among supporters in the Kop and Anfield Road stands. The proposed rail seat installations intend to address these concerns effectively.
Safe Standing Across the League: A Growing Trend
Chelsea's Stamford Bridge was the first top-flight stadium to allow licensed standing in almost three decades. This move, initiated as a trial in January 2022, showcased a shift in matchday regulations and was swiftly followed by several other clubs.
The necessity for all-seater grounds was cemented by law in 1994, a result of the Taylor Report recommendations following the Hillsborough disaster of 1989, in which 97 fans tragically lost their lives.
However, with guidance from the SGSA, rail seating has evolved in recent years to offer seats that can be transitioned into standing areas when required. In a show of respect and remembrance, Liverpool reached out to all the families of the Hillsborough victims prior to installing the first rail seats at Anfield.
As Anfield continues to evolve with the times, the club's dedication to fan safety and stadium experience remains paramount. The expansion of safe standing areas and the pursuit of the requisite licence is another testament to Liverpool's commitment to its fans and the Premier League at large.