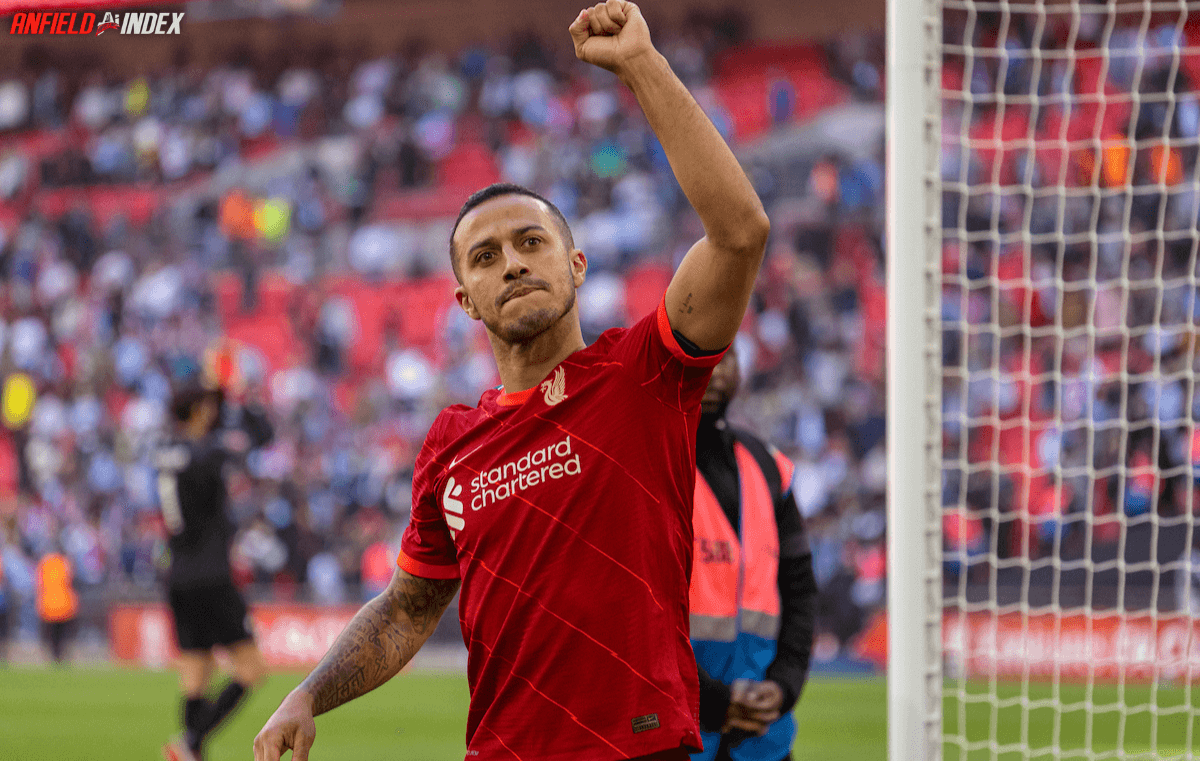 Why Thiago Alcantara's time at Liverpool may be coming to an end
Whilst Liverpool have been actively looking at bringing new players to the club in the current transfer window, speculation has continued to grow around Thiago Alcantara's future at Anfield.
The Reds have already secured the signings of Alexis Mac Allister and Dominik Szoboszlai so far this window, and are also heavily linked with a move for Southampton midfielder Romeo Lavia over the past few days.
However, in the background Spanish midfielder Thiago Alcantara has been linked with a move away from Liverpool with numerous Saudi clubbs and Turkish side Fenerbache interested in the 32-year-old.

Since joining the Reds for £25 million from Bayern Munich back in 2020, Liverpool fans have been in awe of the quality of Thiago Alcantara but continuous injury issues have proved to be a big issue since the move.
Thiago now only has one year left on his current contract at Liverpool and is currently expected to leave on a free transfer next summer.
The Spaniard has missed a total of 66 games through injury in just three seasons, averaging at over half of Liverpool's games since his arrival.
This has been the major reason behind the speculation surrounding Thiago's future at the club, especially with the club now only having one non-home-grown spot left at the club following the recent midfield signings.
With Liverpool ideally needing at least one more midfielder and a defender this summer, if a solid bid was to come in for Thiago the club could be pushed to take the money whilst they can.
Where would Thiago fit into Klopp's 23/24 plans?
Thiago has always been deployed on the left-hand side of Klopp's midfield three, but will likely find it harder than ever to start regular games in the upcoming season.
Alexis Mac Allister, Dominik Szoboszlai, and Curtis Jones are all natural choices in that midfield role, which could provide huge competition to Thiago Alcantara next season.
The price tags of the two new signings would suggest that they will feature regularly in Klopp's plans next season, whilst Curtis Jones' phenomenal form at the end of last season kept that Spaniard on the bench for the final run of games.
If Klopp is looking for more creativity and direct goal creation from his advanced midfielders, then unfortunately all three players would suit that demand more than Thiago.
Arguably, Thiago could feature deeper in Klopp's midfield alongside Fabinho, but that would be an extremely slow midfield with a severe lack of mobility which has been a major criticism of Klopp's midfield in recent times.
One reason to keep Thiago would be due to the importance of having experience in the dressing room. Below are the ages of Liverpool's midfield options next season:
Stefan Bajcetic- 18-years-old
Harvey Elliott- 20-years-old
Tyler Morton- 20-years-old
Dominik Szobozslai- 22-years-old
Curtis Jones- 22-years-old
Alexis Mac Allister- 24-years-old
Fabinho- 29-years-old
Thiago Alcantara- 32-years-old
Jordan Henderson- 33-years-old
If Thiago was taken out of that lineup of midfielders and replaced with 19-year-old Romeo Lavia, Klopp would be left with an extremely young and largely unproven selection of midfielders.
However, if a fee of around £20 million came in for Thiago it would be a hard offer to turn down for the Reds in a summer where huge change is needed.
The horrific injury record, high wages, and risk of losing money on the transfer fee is hard to be justified but it is crucial to also point out that when he stays fit, Thiago is a world-class midfielder with a winning mentality that is hard to come by.
Whichever decision the club makes regarding Thiago, it would be understandable but I personally can't help but feel like time might be running out for the Spaniard.