 Stats Analysis: How Dominik Szoboszlai Can Reignite Liverpool's Key Playmaker
How are your dopamine levels, Liverpool fans? Those of you who live for transfers must have enjoyed a sweet, sweet hit last weekend when the Reds announced the signing of RB Leipzig midfielder Dominik Szoboszlai.
It's early in the transfer window, granted, but at the time of writing only Tottenham have a bigger net spend in the big leagues this summer, and about half of their outlay went on securing two loan players who were already at the club (Dejan Kulusevski and Pedro Porro). With World Cup winner Alexis Mac Allister also on board, it has been an encouraging start to the much needed rebuild at Anfield.
You'll have done plenty of reading up on Szoboszlai, with your YouTube algorithm no doubt polluted with his pretty face too. Different Kopites will have taken something from different aspects of his play but to this statto there's one thing which stands out a mile.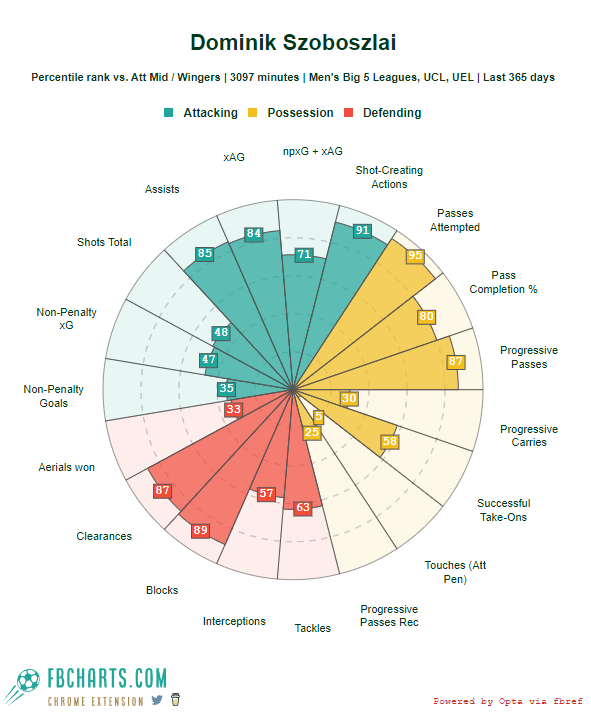 Before we get to that, we must set the scene for the problem which the Hungarian international is set to address.
In 2021/22, Liverpool were the masters of the final third press. They forced 443 high turnovers, which in Opta-speak means that's how many times they started open play sequences no more than 40 metres from the opposition goal.
It was the most any club mustered in the Premier League that season, and Jürgen Klopp's side made good use of these opportunities too; 71 led to shots with seven resulting in goals, best and joint-best figures in the division respectively.
The Reds were far less effective last season though (as you probably noticed). Their high turnover tally dropped by just shy of two per game despite their possession average also falling, meaning they had more opportunities to regain the ball but did not take advantage.
Where 16 per cent of their recoveries in the final 40 metres were translated to shots in 2021/22, 14.1 percent were last season. Most importantly of all, only four of the efforts were converted when both Arsenal and Manchester City scored nine times in this manner.
A further five goals wouldn't have put the Reds in the title race but one of their key strengths clearly deserted them. It's not coincidental that their high turnover figures were near identical to their numbers from 2020/21, another campaign in which the structure of their team fell apart.
While only Harvey Elliott had a higher average for final third regains per 90 minutes than Alexis Mac Allister, Szoboszlai should make an even greater impact than the former Brighton man. The Hungarian's rate dipped last season but the 1.3 he posted the year before would've been the sixth best in the 2022/23 Premier League. Under Klopp's wing, he should fly.
This is an area in which the Reds could benefit from consistency. In each of the last four seasons, City have made an average of between 5.7 and 6.3 final third regains per match; Liverpool have fluctuated wildly between 5.5 and 7.6.
The latter figure occurred in 2021/22. That season, the Reds' opponents had an average of 30.6 touches in their own defensive third for each time Klopp's side recovered possession there, the lowest figure recorded by opposition to any Premier League club in the last six seasons.
A rate that high was always likely to prove unsustainable, but by dropping to 38.8 last season it effectively meant that teams facing Liverpool had 27 per cent more time on the ball than they had enjoyed the year before. For all the issues with the Reds' midfield and their back line, their first line of defence was nowhere near as efficient either. Klopp needs players who can make regular final third regains and Szoboszlai has proved that he can.
The former RB Leipzig man should also make the Reds productive from pressing once more. A recent Opta Analyst article praised the 22-year-old in many different ways, not least in his ability to win the ball at the business end of the pitch.
Szoboszlai made the sixth most high turnovers in the Bundesliga last term, with only three men making more which led to a shot.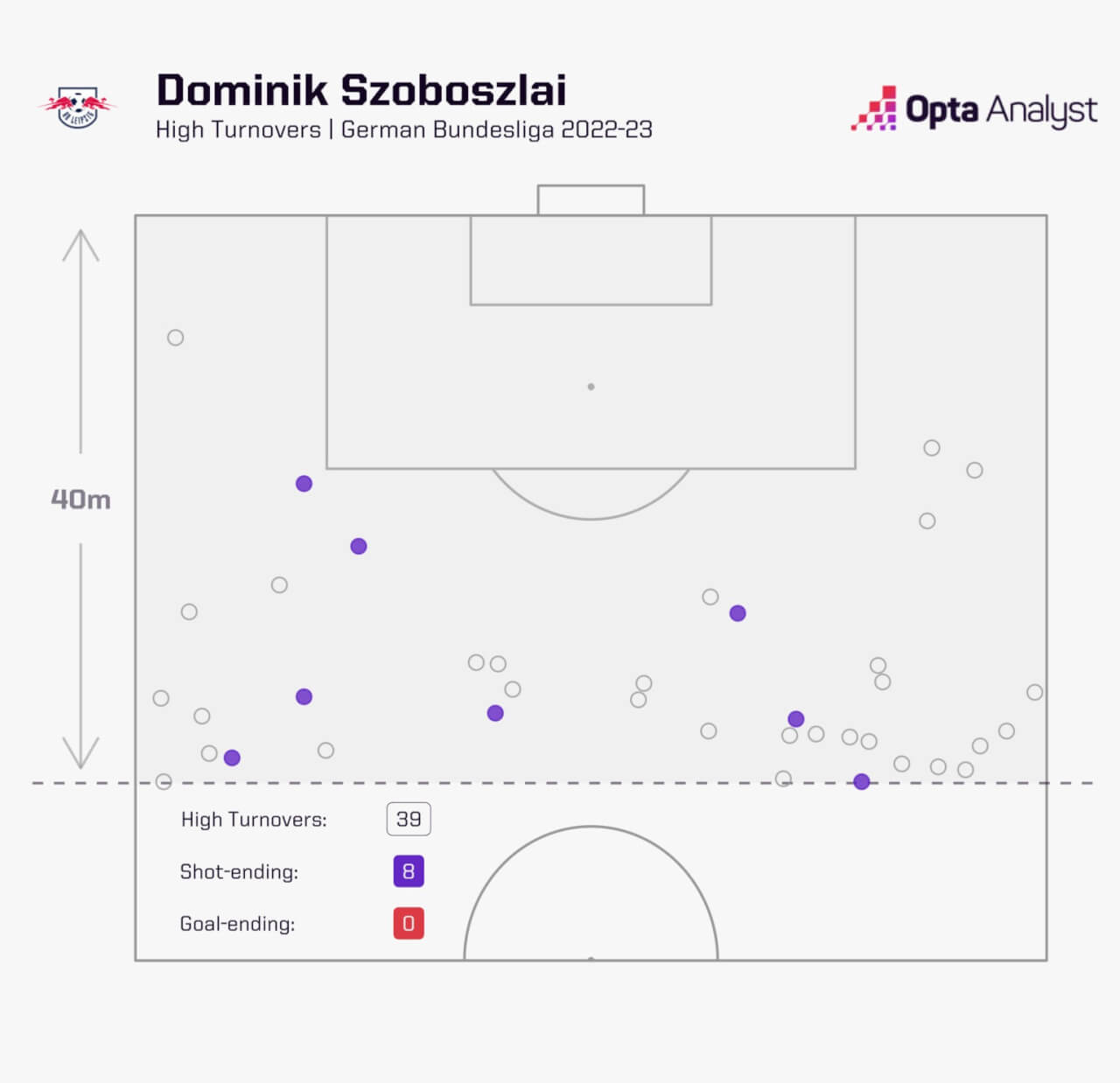 Opta's study also noted that "only Bayern's [Joshua] Kimmich (53) started more open-play sequences that eventually led to a shot than Szoboszlai at RB Leipzig (37) across 2022-23." Whether in the final third or not, this is what the Reds need from their midfielders; players who can recover a loose ball and immediately start an attack.
Klopp has uttered many memorable lines during his time in England, from being 'the normal one' at his first press conference and onward from there. Arguably the most important in defining his ethos was when he described a good counter press as being better than any playmaker. Szoboszlai may be able to help his new manager prove the point.