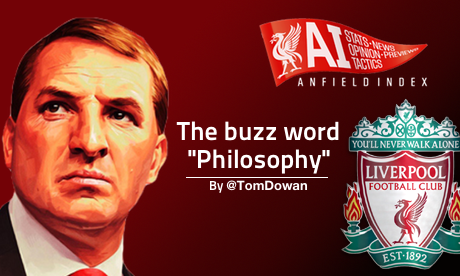 The buzz word | 'Philosophy'
Brendan Rodgers is regaled for his brilliant man management and fundamental belief that a sociological approach to nurturing talent is key to development. One can be forgiven for seeing shade of the great Bill Shankly in Rodgers, arguably one of the great mans most charismatic of quotes reads as follows:
"The socialism I believe in is everybody working for the same goal and everybody having a share in the rewards. That's how I see football, that's how I see life."
It seems that this year we are getting a glimpse of this socialism as our manager prepares his troops for the battle, against weighty odds, for a top four finish and a return to the glorious nights at Anfield that European football brings. A new mentality surrounds the team, Rodgers is building a team of winners – all technicians of the game, each possessing tactical awareness and what looks to be a high level of understating of the other.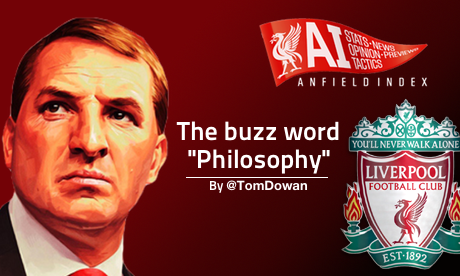 The Cattenaccio approach we have observed on occasion this season suggests that Rodgers himself has developed pragmatism in his tactics as he continuously looks to instill his second favourite phrase (after 'okay' of course) into the team. When first joining LFC it seemed that Rodgers was set on a fluid pass and move system, that while still a focal point of the attractive brand Liverpool Football Club plays, is tailored to his squad.
Indeed, Rodgers' ability to take a dynamic and evolving view of the game without losing his desired passing and possession philosophy has been seen with the most recent switch to a '3 at the back' variation in 3-4-1-2 (on average Liverpool have had a pass success rate of 83% and 54% possession). This formation has allowed the deadly Suarez and Sturridge partnership to blossom centrally (this can be seen with 64% of this seasons shots being taken from the middle channel). This system also allows our very attacking full backs to adopt a wing-back role with 71% of our touches coming from either flank and 44% of our 'action' coming from the middle third. It would be dishonest to pretend I am a big fan of Jose Enrique but he has made a decent start to this season – creating 2 goals and completing on average 1.4 tackles per game, being dribbled past a measley 0.3 times p/g.
Players improving under the stewardship of Rodgers is far from new however, and one must look no further than Jordan Henderson to see how the managers tactical dynamism and management can bring the best out of individuals. Henderson's pass success rate is at a pleasing 86.5% as he completes 1.3 key passes per game, however, it is Henderson's defensive stats that perhaps best show his improved tactical awareness. Jordan Henderson is only dribbled past 0.4 times per game on average this season (Lucas 1.5 times p/g), this for me is a clear indicator of Henderson's improved positional awareness and understanding of the game. These two examples are just one of the many indicators that Rodgers' man management is really paying dividends.
So, what is Rodgers philosophy? It's taking the best of every man he has and squeezing every last drop of it out through a 'socialist' approach. Is Rodgers the right man for the job? For me, the answer is yes, with a few tweaks here and there, it is no secret we need a bit of midfield control, Rodgers' could take Liverpool back to the summit of English football.
This is the Liverpool way, Brendan Rodgers' way.