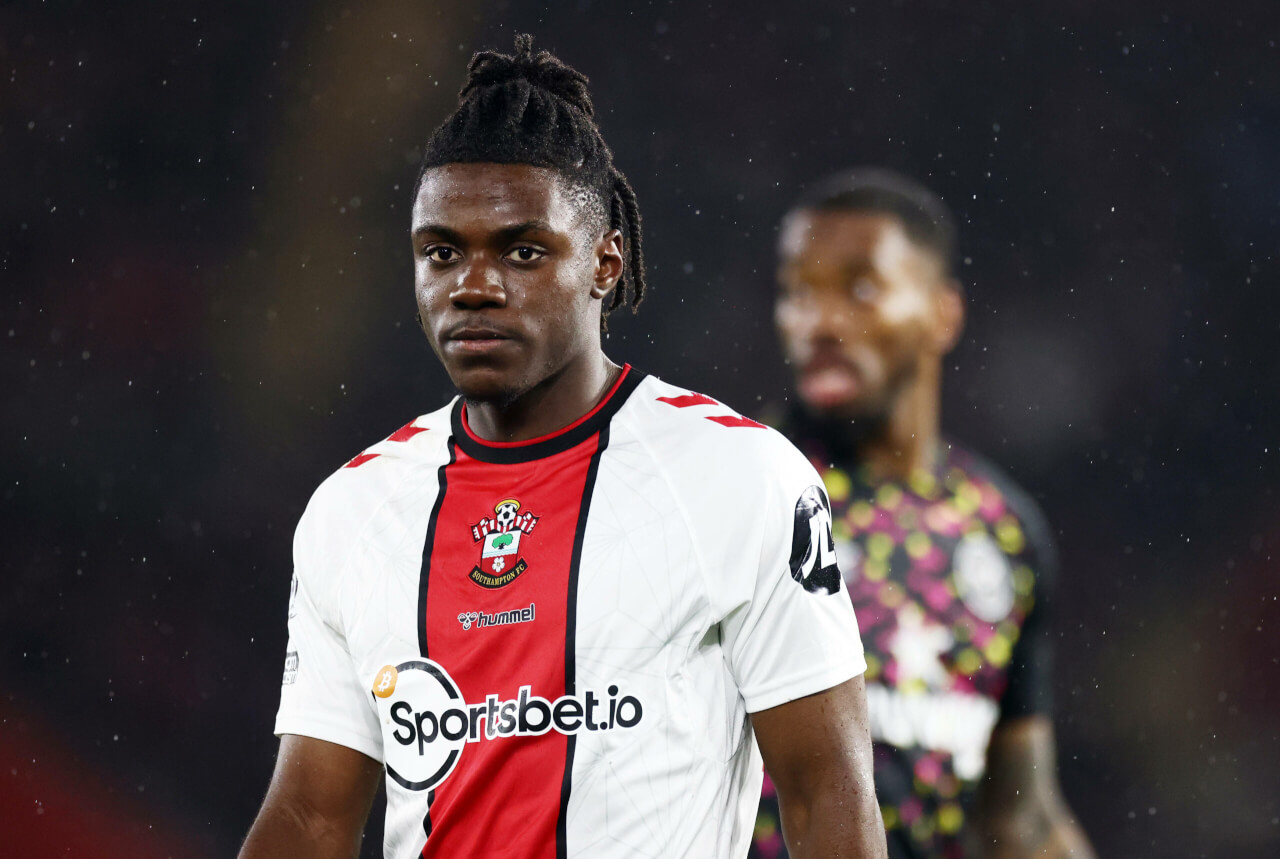 Analysis: Lavia vs Thuram - Who should Liverpool sign next?
Following the arrivals of midfielders Alexis Mac Allister and Dominic Szobozslai, Liverpool are expected to pursue a defensive midfielder this summer.
Southampton's Romeo Lavia and Nice's Kephren Thuram are the two names heavily linked with a move to Anfield, with both players, expected to cost around £45 million.
Today we're going to look into which player would prove to be a better option at the base of Jurgen Klopp's midfield, whilst looking deeper into the background of both stars.

Romeo Lavia:
Romeo Lavia is a 19-year-old defensive midfielder currently playing for Southampton, who were relegated from the Premier League last season.
The teenager was a standout performer for the Saints last season, making 35 appearances in all competitions including 29 in the Premier League.
Lavia would be a perfect fit to Klopp's system, as a defensive machine with an abundance of strength and mobility.
Interest in the Belgian is extremely high at the minute, with Manchester City, Chelsea, and Arsenal all targeting Lavia.
Lavia's talent hasn't gone unnoticed on the international stage either, as the 19-year-old was rewarded with his first senior cap last season.
Southampton are currently holding out for £50 million, but with none of the linked clubs willing to pay that much they will have to adjust their stance eventually.
It does seem like a lot of money to spend on a 19-year-old with just one good season to his name, but there's a reason why all of the top English clubs want him.
Kephren Thuram:
Kephren Thuram is a 22-year-old midfielder, currently playing for OGC Nice in Ligue 1.
Since graduating from the Monaco Academy, Thuram has went on to make 138 appearances in total for Nice as well as one cap for the France Senior National Team.
Last season Thuram made 49 appearances across all competitions, scoring two goals and assisting four.
Although Thuram may not be a holding midfielder in the same way that Lavia is, the tall midfielder could definitely provide a fantastic defensive option in Klopp's midfield.
Interest in the 22-year-old isn't quite as high as it is for Lavia either, but Chelsea have been mentioned as a potential suitor for the Frenchman.
Thuram would likely cost around £35-40million, so would probably end up being a cheaper option than Southampton's Lavia.
Who do Liverpool need more?
Liverpool are in desperate need of a physical presence in the midfield that can break up the play before it reaches the back line.
The midfielder would also need to be able to keep the ball moving and be secure with the ball to keep the chances of suffering a counter-attack as low as possible.
So now we're going to look deeper into the numbers of both players, in the stats that I believe should be at the top of Liverpool's priorities when looking for a defensive midfielder.
Romeo Lavia:
Pass completion %- 86.2% (1st)
Tackles per 90- 2.43 (1st)
Interceptions per 90- 1.34 (Tied)
Blocks per 90- 1.90 (1st)
Dribblers challenged per 90- 2.15 (1st)
Ball recoveries per 90- 7.58 (1st)
Kephren Thuram:
Pass completion %- 85.1% (2nd)
Tackles per 90- 1.80 (2nd)
Interceptions per 90- 1.34 (Tied)
Blocks per 90- 1.17 (2nd)
Dribblers challenged per 90- 1.52 (2nd)
Ball recoveries per 90- 5.16 (2nd)
Summary:
Personally, I believe that Romeo Lavia would be a much more effective signing for Liverpool to make this summer.
He's definitely more suited to the role that needs filling in Liverpool's squad, which Fabinho has played regularly since his move from Monaco back in 2018.
After a poor season from the Brazilian in the 22/23 campaign, Lavia could come in and work his way into the starting lineup and provide competition for the holding midfield position that Fabinho has never had since arriving at the club.