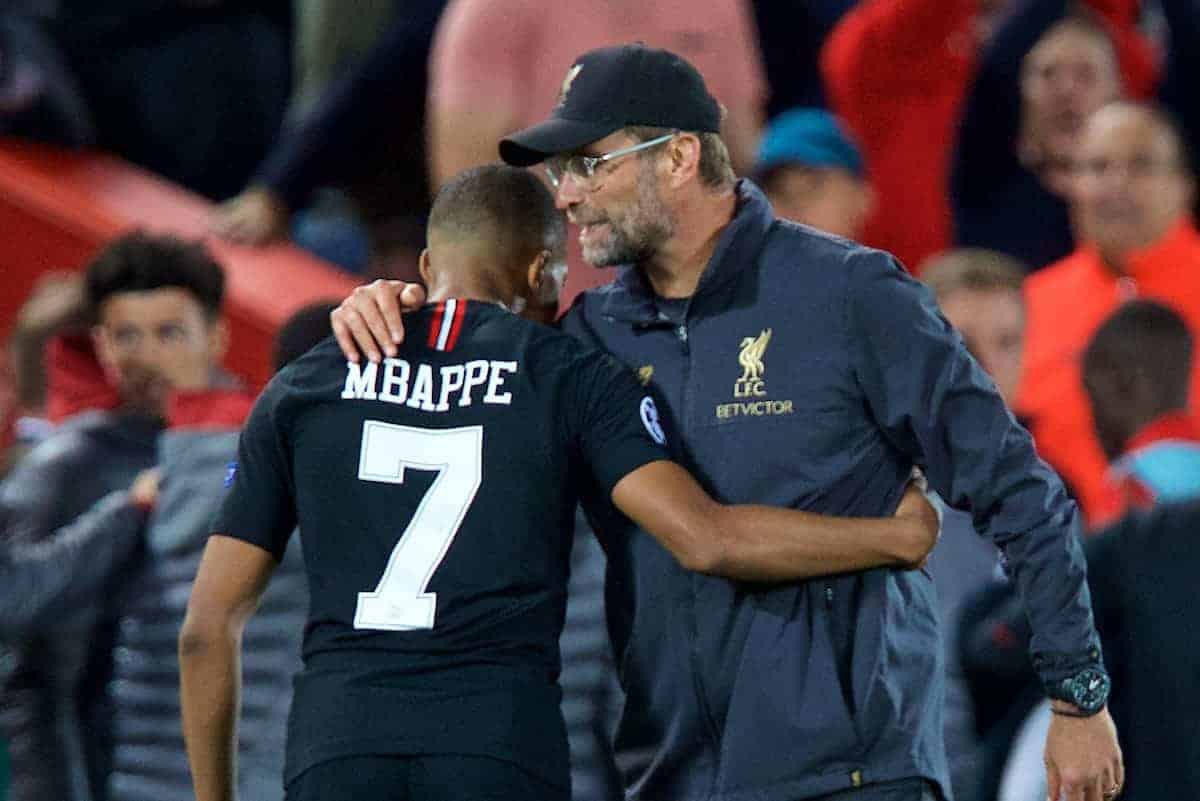 Liverpool Launches Record-breaking Mbappe Pursuit
In a stunning turn of events, Liverpool FC, the beloved Merseyside titans, have reputedly put forth a monumental €200m (£170m) offer to acquire the prodigious Paris Saint-Germain (PSG) forward, Kylian Mbappe.
An Anfield Arrival?
Perennially cast as a potential new home for Mbappe, the prospect of Liverpool being his ultimate destination has gained fresh impetus. The football scene was recently abuzz as reporter Edu Aguirre unveiled an astonishing revelation.
According to Aguirre, "What has occurred, in the last few hours, in the offices of PSG is that an offer from Liverpool has arrived. Liverpool have entered the scene, Liverpool have made a €200m offer for Mbappe. The offer from Liverpool that has arrived in the last few hours in the offices of PSG is of €200m. Al-Khelaifi has put Mbappe up for sale."

Bold Claims Await Confirmation
In the face of such an audacious assertion, the legitimacy remains to be verified. A staggering bid from Liverpool, bordering on the realms of the fantastical, would be a definitive pronouncement of intent. Mbappe, considered by many as the finest player in the contemporary world of football, would certainly justify such a bid.
However, one should approach such claims with a healthy degree of scepticism. Especially considering the whisperings of Liverpool's desire to offload players before welcoming any fresh faces, a £170m plunge for Mbappe seems a touch implausible.
An Unprecedented Summer Saga?
Long-standing speculation linking Liverpool and Mbappe has set the stage for a potential dramatic culmination this summer. The rumour mill has churned out a fresh narrative, suggesting PSG's openness to parting ways with their esteemed captain. A move to Liverpool, however, would still be a curveball that would catch many off-guard.
Despite the Merseyside behemoth's reputation, a substantial obstacle lies in their path. The fiscal constraints plaguing Liverpool's coffers currently pose a considerable challenge to the deal's feasibility. Furthermore, the tantalising prospect of Mbappe signing for a club that missed out on UEFA Champions League qualification the forthcoming season might appear far-fetched. Regardless of the stature of Liverpool, the lure of Europe's elite competition could be a deal-breaker for the French international.
The coming weeks will reveal whether the world of football is about to witness one of the most sensational twists in recent memory.