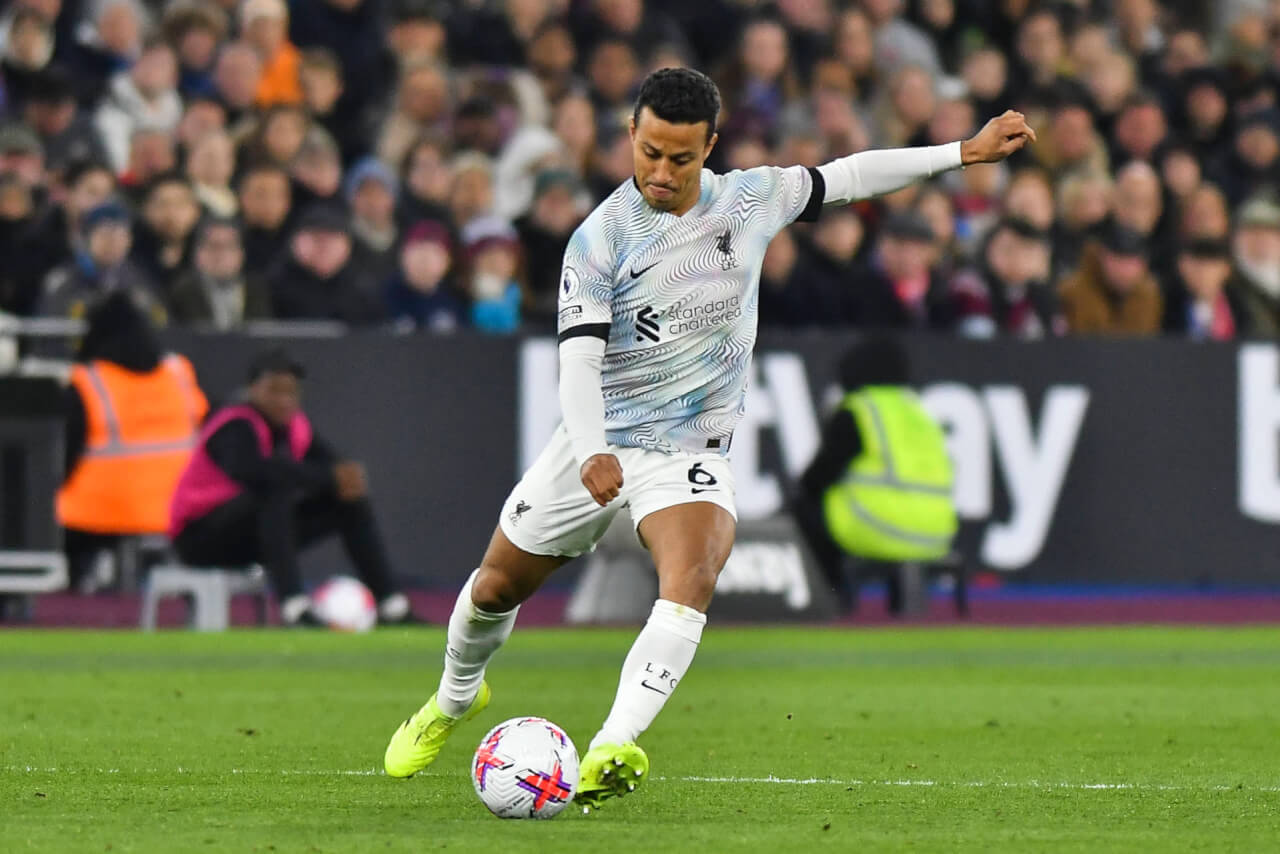 Farewell to Thiago? Our World Class Magician 
I have argued the case of Thiago Alcântara, as a player that should stay at Liverpool and help the team's much-needed regeneration. Ultimately, I would be delighted if the former Barcelona man was to stay at Anfield, yet it feels like the controlling master is primed to secure his next move. News is circulating alongside Instagram bio adjustments which are adding fuel to the speculation, that we are about to bid farewell to one of the Reds finest ever midfielders.
With the Saudi Arabia money allowing teams to recruit a melee of international stars, it was inevitable that the Reds would soon have one of their more celebrated assets approached. Though I feel like a move for Jordan Henderson would be more beneficial to both club and player, you get the sense that the Reds skipper is intent on reaching 100 international caps, therefore, would need to be prominent within a competitive European league. With 77 England appearances to his name and the Euros set for next summer, it is doubtful that even the call from new Ettifaq FC, Steven Gerrard, will entice him to Arabian pastures new.
I have no issue with the silverware-laden captain staying on as a rotation piece and Europa group stage regular, though I do feel like his heavily reduced dynamism means he should not be a common first-team starter in the Premier League. Many Reds fans will disagree with this notion, yet I look less at loyalty to the man and more towards the success of our club. In part, loyalty is what has driven the squad into this enforced and large-scale regeneration.

If Michael Edwards had been allowed to consistently turn over the squad and move on aging assets who were past their footballing prime (before walking away for free), then the money and the squad places would have been there to replenish. It has taken a horrific season of woe for our German manager to realise the limitations within his group, which has led to the wonderful acquisition of both Alexis Mac Allister and Dominik Szoboszlai. Those two players have been brought in to start as the more advanced left and right-sided midfielders, in that four-man box midfield. The realization is that something may have to give if we are to recruit one or two more central midfielders, which in essence is the topic of this piece.
Thiago Alcântara
Barcelona Achievements
4 x La Liga
1 x Copa del Rey
1 x Supercopa de España
1 x Champions League
1 x Super Cup
1 x FIFA World Club Cup
Bayern Munich Achievements 
7 x Bundesliga
1 x DFB-Pokal
1 x DFL-Supercup
1 x Champions League
1 x FIFA World Club Cup
Liverpool Achievements 
1 x FA Cup
1 x Community Shield
Spain Under-17 Achievements 
1 x European Championship
Spain Under-21 Achievements 
2 x European Championship
On top of this extraordinary list of achievements, the serial winner has been awarded multiple Team of the Year inductions and has been brilliant at all avenues throughout his career. This is an all-time great player that is still often the best player when he walks onto any pitch. The genius and talent are undeniable and often unmatched, yet his body is something that can no longer take the rigors of elite-level football. As a celebrated and world-renowned star of the most popular sport on the globe, the Liverpool number 6 may now be destined for a far less energetic league, whilst still being part of an entity that will have millions of eyes captivated.
On top of the lure of Saudi riches, such a transfer would also enable a good lengthy contract that would set him and his family up for generations to come. The chance to be one of the leading lights in the growth of this new era could be too good to turn down, especially if his first team starts at Liverpool are limited by more than just those injuries.
Ultimately, I would like to see the Brazilian-born maestro awarded a two-year contract extension and used accordingly. Huge games and tight situations are perfect for his sublime talents, with his role becoming one that suits his bespoke abilities. This type of move is the kind of pathway Real Madrid have taken with Luka Modric and Toni Kroos, with physical monsters surrounding them. Special talents should be awarded special allowances in order to extract their brilliance over a longer period.
I would have absolutely no issue in seeing this man start one out of every three Premier League games, whilst being a solid contributor (as needed) in the other two. I would hold him far period away from the Europa League competition, until the latter stages at least. This kind of workload would allow 30-40 odd appearances over a season, with maybe just the 15-20 starts. The heavy workload from last season would be put on the shoulders of those that are more durable, which would allow an elite-level player to be properly managed. Whether or not he would accept that role remains to be seen, however, if the opportunity is there, it should absolutely be explored.
My opinion is that he will not want to be that sporadic element, which is entirely understandable. Given that and in the scenario where he will not sign a new deal, now should be the moment to take a big fee from a new venture that would happily pay over the odds to acquire him.
At the season's close, I was expecting a team like Barcelona to try and temp Thiago back to the Nou Camp for a moderate fee, given his 32 years of age. In that situation, I would have repelled all advances and tried to extend him. If the said extension is not forthcoming, then Jörg Schmadtke must try to emit £30m from a Saudi Arabian club, so that all parties (though mainly the Reds) are satisfied. With a very heavy heart, I can admit that this money would secure a Manu Kone or go some way towards the signing of a Roméo Lavia. It would be ignorant of me to lambast the Jordan Henderson loyalists if I were to stand in the way of other logical maneuvers on Thiago.
The Reds have begun their preseason schedule and Thiago has joined them, it'll be interesting to see how long he stays.
https://twitter.com/LFC/status/1677689612657913858?s=20