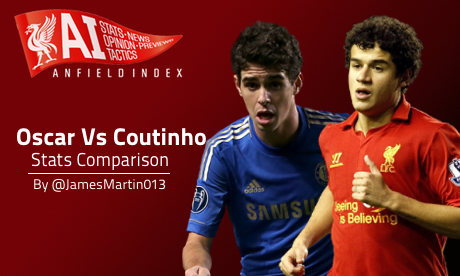 Coutinho Vs Oscar | Stats Comparison
At the age of 21, Philippe Coutinho has already won the Coppa Italia and Supercoppa Italiana with Inter Milan, as well as the U20's World Cup with Brazil. Fellow countryman Oscar (aged 22) has also won the U20's World Cup as well as the 2013 Confederations Cup, and has also won the Europa League with Chelsea. There is no denying that they are two of the brightest young talents in the Premier League, but the rivalry between Chelsea and Liverpool fans always sparks the same question: who's better?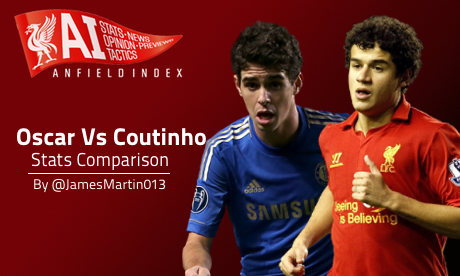 On looking at the statistics, the natural first reaction is to say Oscar is the better player. He has already won a major European trophy, and has been capped 26 times for the Brazil senior team, compared to Coutinho's 1 call-up. He also has a higher 'goals per game' career average, 0.22 compared to Coutinho's 0.14. However, when non-Premier League clubs are factored out of this, Coutinho's record is much better. Despite starting double the amount of games Coutinho did in the 2012/13 season (as he signed earlier), he got the same amount of assists and scored only one more goal. Also, Oscar is a year older than Coutinho, and Oscar has only become a regular in the Brazil senior squad in the last year. It is unsurprising that Coutinho hasn't broken into the regular team yet with the wealth of talent that Brazil has, and at the age of just 21 he will almost certainly break into the national team sooner or later.

It is clear to see that when Premier League goal/assist records are compared, Coutinho comes out on top. However, a player's talent and worth cannot, obviously, be judged purely on how many goals and assists they get; it is about their contribution to the team as a whole. There is no doubt that Oscar fits into the Chelsea setup extremely well. His combination with Hazard is superb, and he generally links up well with the front man as well (insert Torres/Ba/Eto'o here depending on how the Special One is feeling). Indeed, in the 2012/13 season, he created a chance with more regularity than Coutinho, one every 47 minutes compared to one every 55.
His pass accuracy was also higher. However, Coutinho also slots nicely into the Liverpool system. His link-up with Sturridge last season was superb, resulting in an astonishingly low number of minutes per clear cut chance created: just 96! This is compared to Oscar's 705.2 minutes per clear cut chance created in the 2012/13 season; the difference is astounding, and says a lot about the quality of the chances that the two players set up. Coutinho's crossing accuracy is also marginally better- 29% compared to Oscar's 26%.
These statistics clearly show that Oscar and Coutinho are both extremely good young players who have very positive impacts on their club, and it is hard to separate the two of them. However, from watching the two of them play, it is possible to see a slightly different mentality. Coutinho is the epitome of a team player- he receives the ball, looks up, and nearly always makes the right decision (be that a pass, shot or dribble). Oscar, though not by any means a selfish player, does have the tendency to be over-elaborate. For example, I went to see Reading play Chelsea last season at the Madjeski. At 2-0 up, Oscar was presented with a very good chance. Had he gone for the header it would have been an almost certain goal, and at 3-0 the match would have been won. Instead, he opted to go for the bicycle kick. There was absolutely no questioning the technique; his contact with the ball was sublime, and it very nearly ended up in the back of the net. However, it flew just wide, and Reading went on to score 2 late on and force the draw. This one incident sums up Oscar in some ways- his skill is prodigious, but on occasion his decision-making is not.
To sum up, I have huge respect for both Coutinho and Oscar, who considering their respective ages have achieved a huge amount thus far. They both make invaluable contributions to their team, and I am sure they will both go on to be some of the best midfielders in the world in a few years time. However, if I had to say who I thought was better I would have to go with Coutinho. Although Oscar has had more success with the national team (which is to be expected given the fact he is older than Coutinho), the statistics show that Coutinho has had a slightly larger impact in the Premier League. Now Liverpool just need him to return from injury so he can start having that impact again!