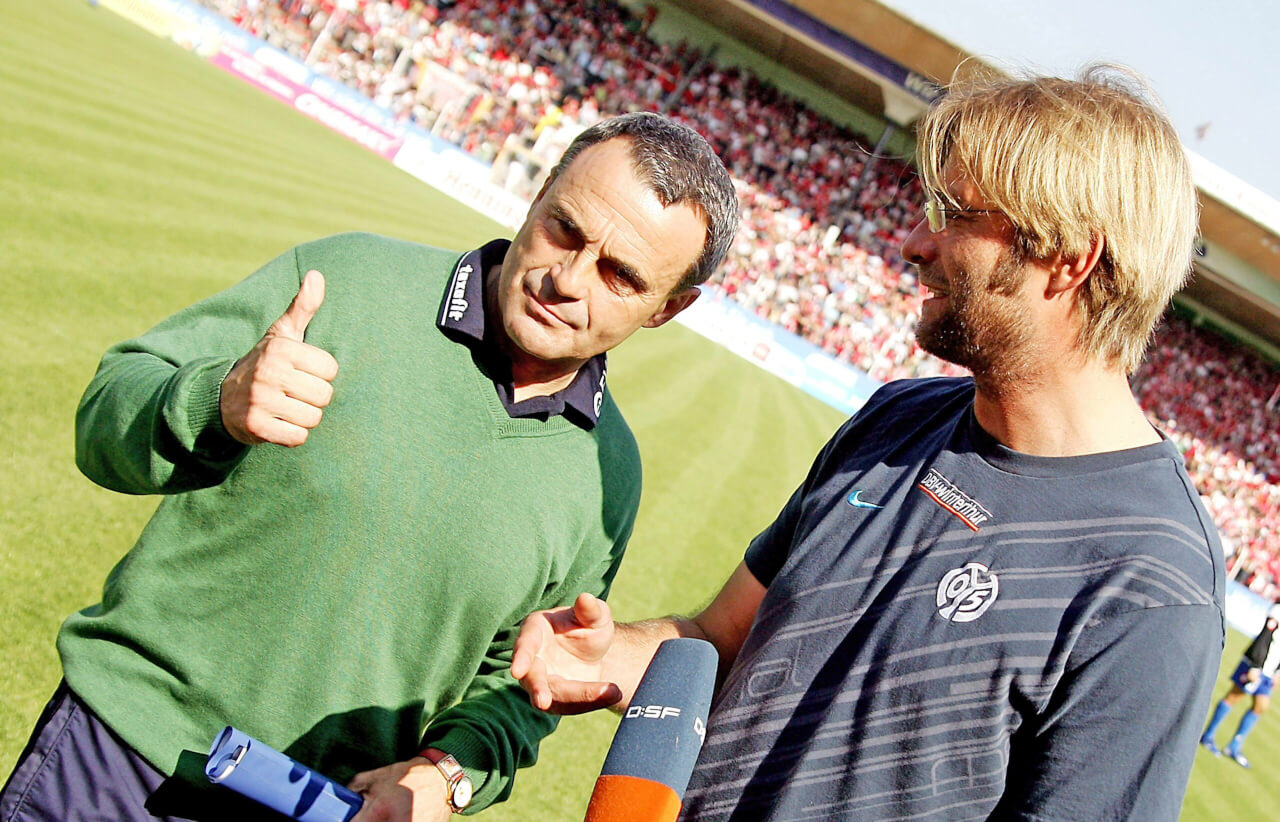 Honigstein: Wolfgang Frank Shaped Klopp's Liverpool - Journalist
Wolfgang Frank: The Mentor Behind Jurgen Klopp's Liverpool Success
Unveiling the Hidden Layers
Jurgen Klopp, the maestro behind Liverpool's dramatic resurgence, remains a source of fascination for fans and pundits alike. One significant influence on Klopp, often overlooked, is Wolfgang Frank, a figure pivotal in shaping Klopp's footballing philosophy. Rafa Honigstein, renowned football journalist, recently discussed this connection in an enlightening podcast with The Anfield Wrap's Neil Atkinson.
The Influence of Wolfgang Frank on Jurgen Klopp's Career
Honigstein shares:
"Klopp always speaks with reverence when he talks about (Wolfgang) Frank."
He points out that Klopp's formative years as a player at Mainz were under the mentorship of Frank. This experience sowed the seeds of Klopp's managerial style, seen later at Borussia Dortmund and now Liverpool.

Frank introduced a more strategic and analytical approach to the game, arguably a forerunner of Klopp's gegenpressing system.
Honigstein notes, "Frank was the one who brought the four-man defence to Germany, something Klopp has adapted and perfected at Liverpool."
Klopp's Unique Adaptation of Frank's Philosophy at Liverpool
Klopp's effective blend of passion, tactical ingenuity, and team building mirrors Frank's influence, but with an added Klopp trademark.
"He's taken Frank's approach and added his unique touch," says Honigstein.
Klopp's successful tenure at Liverpool, with its pressing style and high-tempo game, is a clear reflection of this.
Honigstein adds, "Klopp has never been one to merely emulate. He absorbs, adapts, and then innovates."
This approach has led to the likes of Liverpool's famous "heavy metal football," a thrilling and high-energy style of play that has redefined the club's identity.
Jurgen Klopp: The Transformation of Liverpool
Jurgen Klopp's arrival at Liverpool in 2015 ushered in an era of hope and potential. His unique style and philosophy soon transformed a team struggling for identity into UEFA Champions League and Premier League winners.
It's evident that Klopp's managerial prowess, greatly influenced by Frank, has significantly impacted Liverpool's fortunes.
"The change at Liverpool since Klopp arrived is palpable," Honigstein tells Atkinson.
"Klopp's stamp is clear in the style of play, the players' mentality, and the atmosphere in the stadium."
An Unmissable Connection
In understanding Jurgen Klopp, it is impossible to overlook the profound influence of Wolfgang Frank. Frank's philosophy paved the way for Klopp's unique adaptation and evolution, culminating in the thrilling spectacle that is Liverpool under his management.
The next time we witness the reds charging forward in a seamless, high-tempo press, remember – this is not just Jurgen Klopp's Liverpool. This is also a fitting tribute to Wolfgang Frank's influence.
As Honigstein succinctly puts it, "Klopp might be the face of Liverpool today, but the echoes of Wolfgang Frank can still be heard."