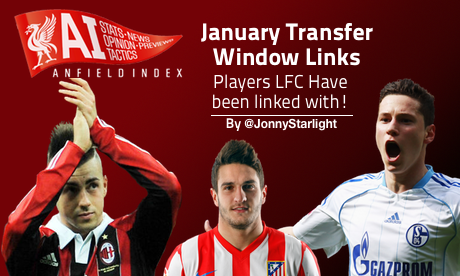 Liverpool's January Window Links
Although the transfer window has been shut for nearly two months, it's slowly beginning to rise and before you know it players will be wearing a new kit and possibly a new number. Liverpool should look to be active and not only continue to add depth to the squad but also add some players of a certain quality.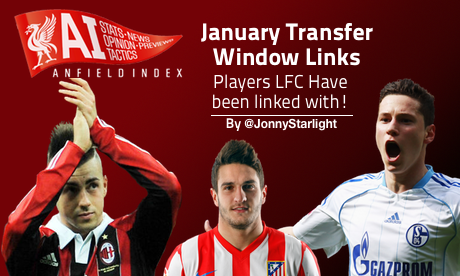 Liverpool supporters are well aware how awful the Redmen's first window under manager Brendan Rodgers went and I think Rodgers hasn't forgotten and learned quickly from his mistakes. There is no doubt last January saw two bright young players come into the team right away in Daniel Sturridge and Philippe Coutinho. Rodgers and company got off to a fast start in his second summer window bringing in Kolo Toure, Simon Mignolet, Iago Aspas, Luis Alberto, and Mamadou Sakho.

They also added Aly Cissokho and Victor Moses on season long loans. The two players that have made the biggest impact in my opinion are Belgian shot stopper Mignolet and veteran defender Toure. Sakho has also played well while Alberto and Cissokho to their credit haven't had enough games to start making assumptions. Cissokho had the injury in the Capital One Cup and Alberto has played sparingly in the first team. Moses had the goal against Swansea and hasn't had the chance in many games to play further out wide where he is more accustom to playing. Liverpool must look to add a couple more permanent options that can make an impact early on. Below are a few players that Liverpool have been linked with this coming window and a few that might be long-shots but I think could make finishing in a Champions League position a more common thing on Merseyside.
Will Hughes- Midfielder- Derby County
Will Hughes stands out on a football pitch; not only because of his bright bleached blonde hair but also due to the fact he is an excellent young talent. The left-footed attacking midfielder could benefit moving to Liverpool as much as Liverpool would, Rodgers has a knack for molding young talent and playing alongside Steven Gerrard never hurt anyone's game. Hughes plays the game with a sneaky almost deceptive like pace, switching to a higher gear when he need's to go by two players. He looks like a natural attacking midfield player but he also knows when to be a patient player knowing when to hold the ball up and let the play in front of him develop. When he doesn't have the ball, Hughes fights tooth and nail to get it back in his possession. I've seen multiple highlight reels of Hughes sliding in from behind to cleanly snatch the ball away from an opponent, downside of sliding in from behind is the risk you run of piling up yellow cards and seeing red. Playing in the center of the park at Derby, Hughes may be asked to play further out-wide, when imagining the link-up play with Coutinho mouth's begin to water. Manchester City has also been rumored to be interested in the 18 year old and though he may not see the first team right away but could grow into another legendary English midfielder to wear the famous Liverbird. I highly expect Hughes to make a Premier League January move, hopefully to the men in Red.
Julian Draxler- Winger- FC Schalke 04
I know a lot of you are thinking, "Draxler just said he's not moving to the Premier League until after the World Cup, you mong." I'm well aware, but it's nice to dream isn't it? If Liverpool could somehow pull off a massive surprise move for the 20 year old German international, there's no doubt he would start right away. Played mostly on the left side of the pitch, Draxler was heavily involved in the few bright spots Schalke had in their recent Champions League fixture with Chelsea. Draxler looks equally strong with right or left foot, though is he listed as a right-footed player. A move from the Bundesliga could be more likely after this summer's World Cup in Brazil and if Liverpool manages to hold their position in the table and qualify for European football's biggest prize. With Victor Moses returning to London at the end of the season, Liverpool must find players that can score goals while playing out wide.  Draxler had 13 goals and five assist in all competitions last season and could add support to Liverpool's SAS firing squad. He's one of the brightest young German players and fits Rodgers mold of players that are hungry to be stars.
Stephan El Shaarawy- Striker- AC Milan
The currently injured 20 year-old Italian international has recently been mentioned with both Liverpool and Manchester City. Scoring less since the arrival of Super Mario Balotelli, El Shaarawy has a nose for goal scoring and has pace for days. The player hasn't personally hinted preferring to leave the Italian giants for England. Curious to know whether manager Massimiliano Allegri see's the striker with an eye-striking haircut in Milan's future.  El Shaaraway loves to play with the ball at his feet and is a nightmare to mark for most defenders. His game has been called flashy at times, but there's nothing wrong with playing the game with a bit of flair. Like Draxler, El Shaarawy would offer an attacking option from out-wide where Liverpool are in desperate need of depth and improvement. My fear is Liverpool will let the young superstar slip out of their grasp much like Willian and Henrik Mkhitaryan did this summer. It would show FSG's willingness to splash cash when the right talent comes along if they are able to secure Stephan's signature on a contract. I'm hopeful Liverpool will beat other Premier League rivals to El Shaarawy, but would also not be shocked if the player stayed in his home country to wear Milan's red and black.
Koke- Midfielder- Atletico Madrid
The current La Liga leader in assist Koke is more of a creator like Hughes and has been brilliant this season for the "other" team in the Spanish Capital. His field vision and ability to find other players on the pitch is supreme. With Liverpool failing to snatch away teammate Diego Costa in the summer, Koke could be a nice alternative, especially with Costa going nowhere after signing an extension. Again this a young player that would flourish under Rodgers and staff but if Liverpool are going to make a move they face some pretty stiff bidding from rivals Manchester United. United's manger David Moyes has reportedly said he is willing to spend nearly 30 million pounds on the five time Spanish capped international. Again when it comes to spending money when the right talent comes along FSG may shy away from a price tag that high for the player, but if Moyes is blowing smoke, Liverpool could be laughing all the way to the bank.
By Jonathan Moore