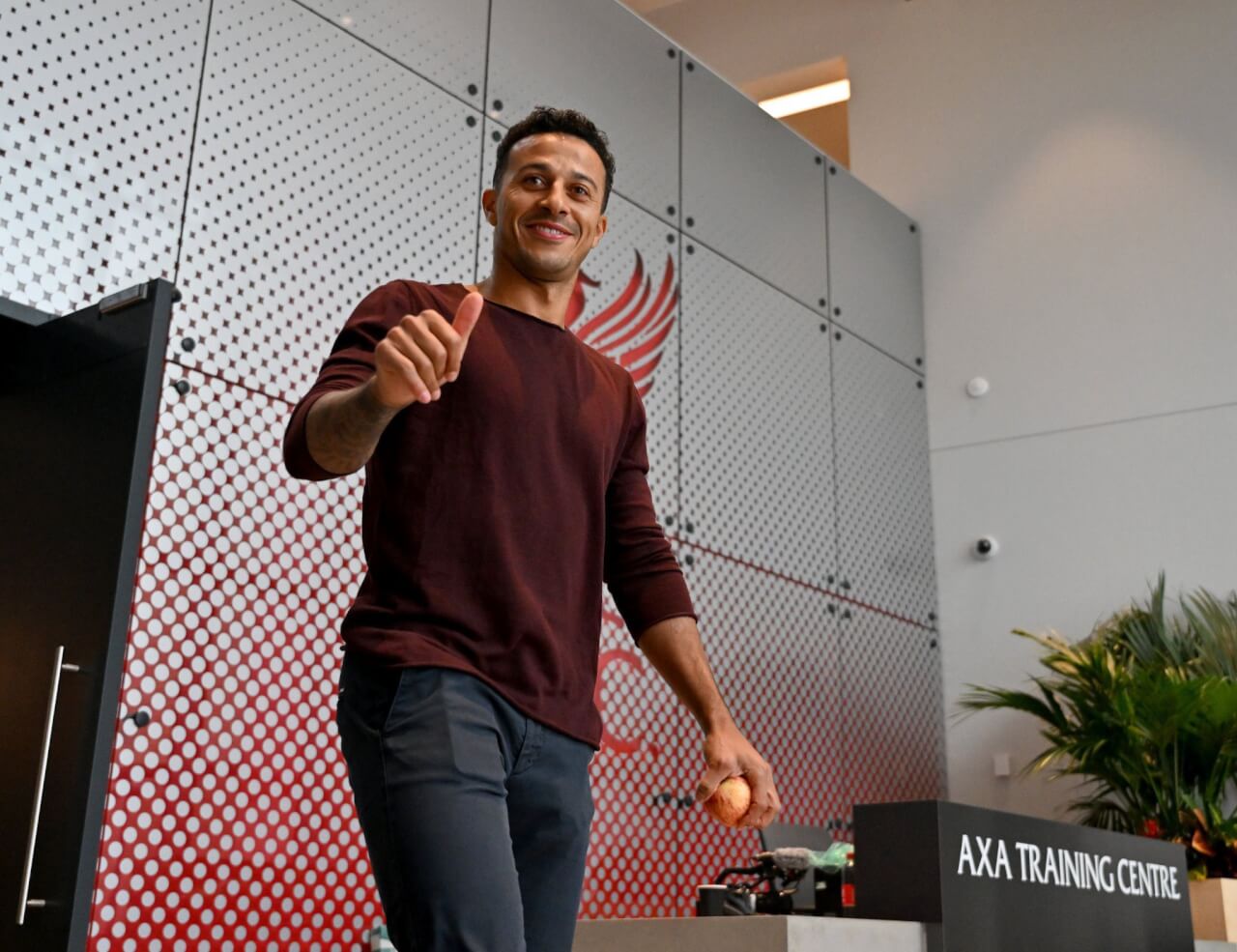 David Lynch on Thiago's Mysterious Training Absence - Journalist
The Intricate Dance of Thiago Alcantara's Preseason
Thiago's Absence from Liverpool Training
Fans and pundits alike shared a moment of bewilderment as Thiago Alcantara, the midfield maestro of Liverpool, remained absent from the lactate fitness test during the first day of pre-season under Jurgen Klopp.
An ensemble of Anfield devotees and football spectators noted this enigma, instigating whispers of a potential fitness hiccup or possibly even a transfer rumour. Many pondered whether this silence marked the signal of a move away from Anfield for Thiago, who at the time had an uncertain future painted before him.
https://twitter.com/Thiago6/status/1678352726651011074?s=20

Thiago attended  the Formula One British Grand Prix at Silverstone on Sunday.
Clarifying The Clouds Around Thiago's Training Absence
However, as we decipher the code, courtesy of the lens provided by journalist David Lynch writing for This Is Anfield, we learn that the 32-year-old's absence was solely due to a bespoke training regimen. This program, tailored specifically for Thiago, aims to prepare him for the upcoming season. It's all part of his meticulous final phase of rehabilitation from a hip surgery he's recently undergone.
Thus, the Spaniard remains firmly on track to be perfectly fit for the 2023/24 campaign, regardless of whether he stays at Anfield or takes his magic to another stage.
The Uncertain Future of Thiago Alcantara
The rumour mill churns with mentions of interest in the Liverpool star from Turkish titans Fenerbahce and several top-tier clubs from Saudi Arabia. As of now, Liverpool appear content to let Thiago play out the remaining year of his contract, then possibly bid farewell on a free transfer.
Nonetheless, should an attractive offer cross their table, and the player exhibits a desire to part ways, Liverpool wouldn't be a hurdle on his path.
Any doubts over Thiago's presence at pre-season training has been put to bed after Liverpool tweeted a revealing picture. #LFC https://t.co/BcvBHT07mc pic.twitter.com/lVv2GLNdGf

— Liverpool FC News (@LivEchoLFC) July 8, 2023
Liverpool's Midfield Conundrum and Possible Additions
The Reds remain eager to bolster their midfield options. Young talent Romeo Lavia from Southampton has reportedly caught their attention. Simultaneously, the roster competition has been intensified with the introduction of Dominik Szoboszlai and Alexis Mac Allister.
The arrival of these new prospects could potentially sway Thiago's decisions regarding his future. The midfield maestro graced the pitch 28 times last season, the least in his three-season tenure with Liverpool, managing just 22 starts across all competitions.
The future of Thiago Alcantara with Liverpool remains veiled. But one thing is certain, wherever he ends up, his elegant control of the midfield will continue to captivate audiences.