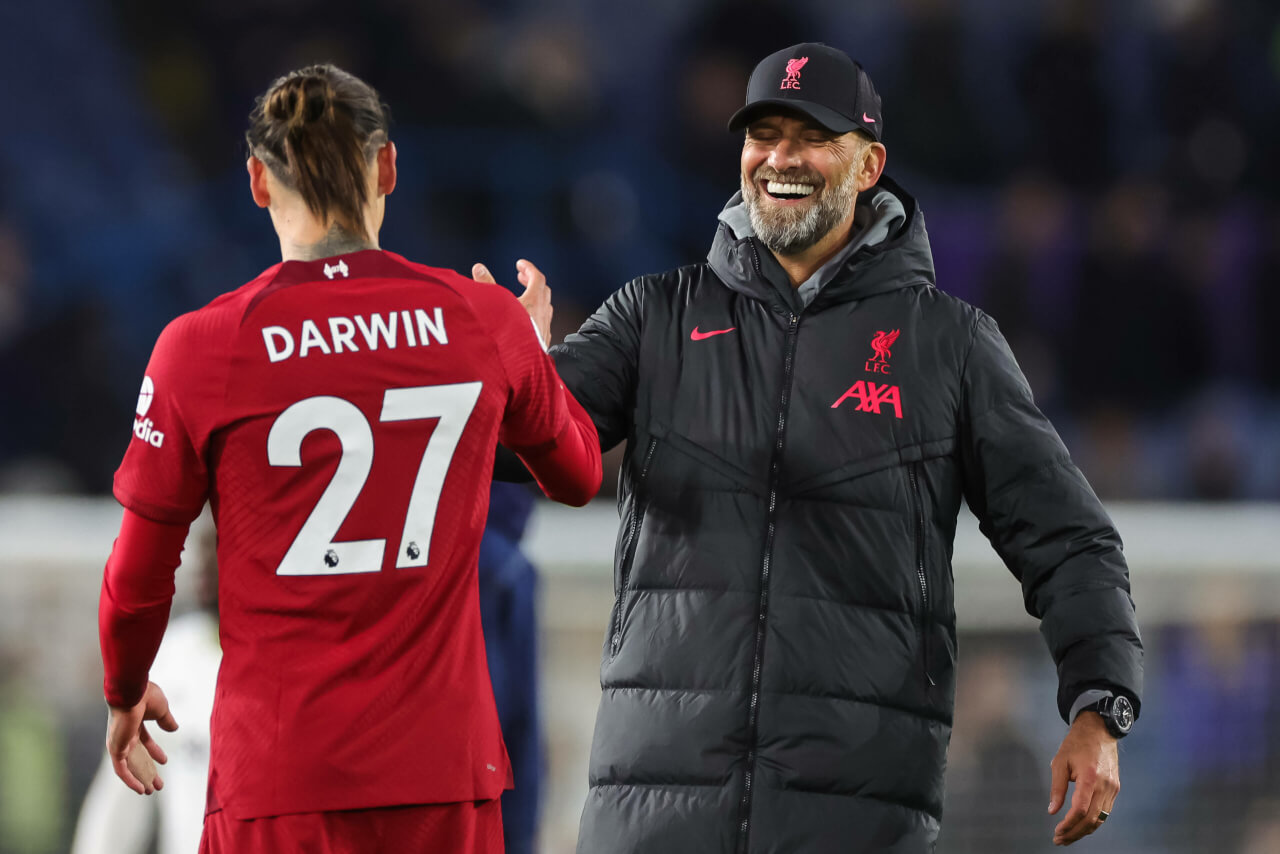 Liverpool's Darwin Nunez: A Bright Spark Ignites Anfield's Pre-Season
The aura surrounding Darwin Nunez, Liverpool's promising 24-year-old forward, has been notably electrifying of late. Picked up from Benfica just a year ago, the Uruguayan international is exhibiting signs of exceptional progression in the current pre-season campaign, as he ascends the ladder of success with his Liverpool team-mates.
Nunez: At the Heart of Pre-Season Prowess
With his maiden Anfield season behind him, and teeming with skyward ambition, Nunez is already demonstrating why he was such a desirable target for the Merseyside club. Liverpool's social media channels have been awash with insights into their notorious pre-season lactate test, revealing Nunez's commendable adaptability and fitness level. While fellow team members might have been wilting, Nunez displayed a level of endurance that surpassed expectations.
The visual proof is striking: Nunez pacing ahead of Joe Gomez, known for his second-place finish to James Milner in a previous annual lactate test. The scene had the Uruguayan looking anything but burdened. Comparatively, his teammates, including the likes of Fabinho and Joel Matip, were visibly digging into their energy reserves.

Pre-Drill Pep Talk: Nunez's Emergent Leadership
A video snippet shared on Twitter, showing Nunez alongside his peers as they readied for a drill, offers an intriguing glimpse into his developing leadership skills. Beyond his heightened focus, Nunez displayed an encouraging mastery of English, a considerable leap from his prior Spanish-dominated sessions.
His motivating words are worthy of noting: "[We've] finished our holiday, guys, come on." Nunez's newfound command of the language, along with his call to arms, showed his growth both on and off the pitch.
Filling the Void: Nunez's Task Ahead
Following Roberto Firmino's departure, the task falls to Nunez, who netted an impressive 15 goals across all competitions in his Liverpool debut season, to pick up the mantle. While his position, either as a starter or bench option for Jurgen Klopp, has been an asset, the question remains as to whether he can bolster his stats this season.
Nunez isn't without his critics. Some supporters expressed their disappointment last season, lamenting the shortfall in expectations that preceded his arrival. Yet, it seems Liverpool's management is poised to adopt a nurturing approach, helping him refine his skills and reach peak performance in due course.
Patience and Potential: Stevie Nicol's Insight
A critique of Nunez's premature critics came from none other than Reds legend Stevie Nicol. Speaking to ESPN, he condemned those who wrote off Nunez hastily:
"You want the finished article, but at the same time have a look around the Premier League and the money people are spending on players that maybe don't even have that potential. The guy has had one season… This guy has never been given a chance by anybody… When he was signed, did anybody at Liverpool tell us that 'this guy is the present, this guy is going to start now?' The transfer fee doesn't always tell you that… Four months! And they were told that the guy is the future."
Nicol's words underline the club's vision of Nunez not merely as a quick fix, but as a project of promise. Darwin Nunez is undoubtedly a work in progress, but Liverpool's patience may well pay dividends in the forthcoming Premier League season.