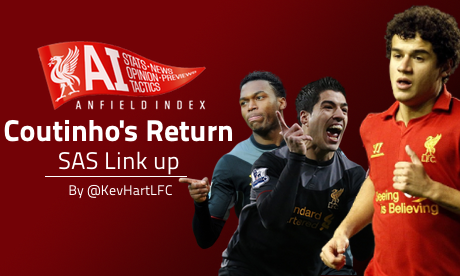 Coutinho's Return | Suarez and Sturridge Link up

This weekend marks the almost imminent return of our Brazilian starlet Philippe Coutinho; who has been injured over the past few games after sustaining an injury during the league match against Swansea in mid September and undergoing shoulder surgery. I'm sure we're all eager to see him back in action and linking up with our SAS partnership for the first time this season and here is an article on just why his return will be vital to our cause and fight for top 4.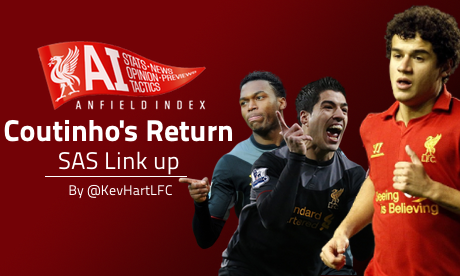 Coutinho started his Liverpool career in great form since joining in the January transfer window by making seven assists and scoring 3 goals last season, including a skilful debut goal against Swansea. He also created a total of 20 chances, one every 47 minutes and acquired a 58% shot accuracy. In eleven out of his twelve starts last season the Brazilian either scored, made an assist or created a clear cut chance, he created nine clear cut chances overall last season for the Reds with an average of 103.6 minutes per CCC.
Since the return of Suarez during the defeat to Manchester United last month he and Sturridge have been linking up and providing Liverpool with the goals that we need to win games. In three Premier League starts together Suarez and Sturridge have racked up six goals between them, scoring three apiece and with Sturridge currently being top goal scorer in the league and looking to keep it that way I can't see a dip in this magnificent form for our prolific goal scorers Suarez and Sturridge.
The Coutinho – Sturridge – Suarez trio can easily turn out to be the greatest strike force in Liverpool history provided they work hard, stay fit and work together as a team. Using Coutinho and Suarez's creative skills and Sturridge's unbelievable goal scoring skills this strike force can wreak havoc in the Premier League and help fire Liverpool back into our rightful top 4 spot and European football.