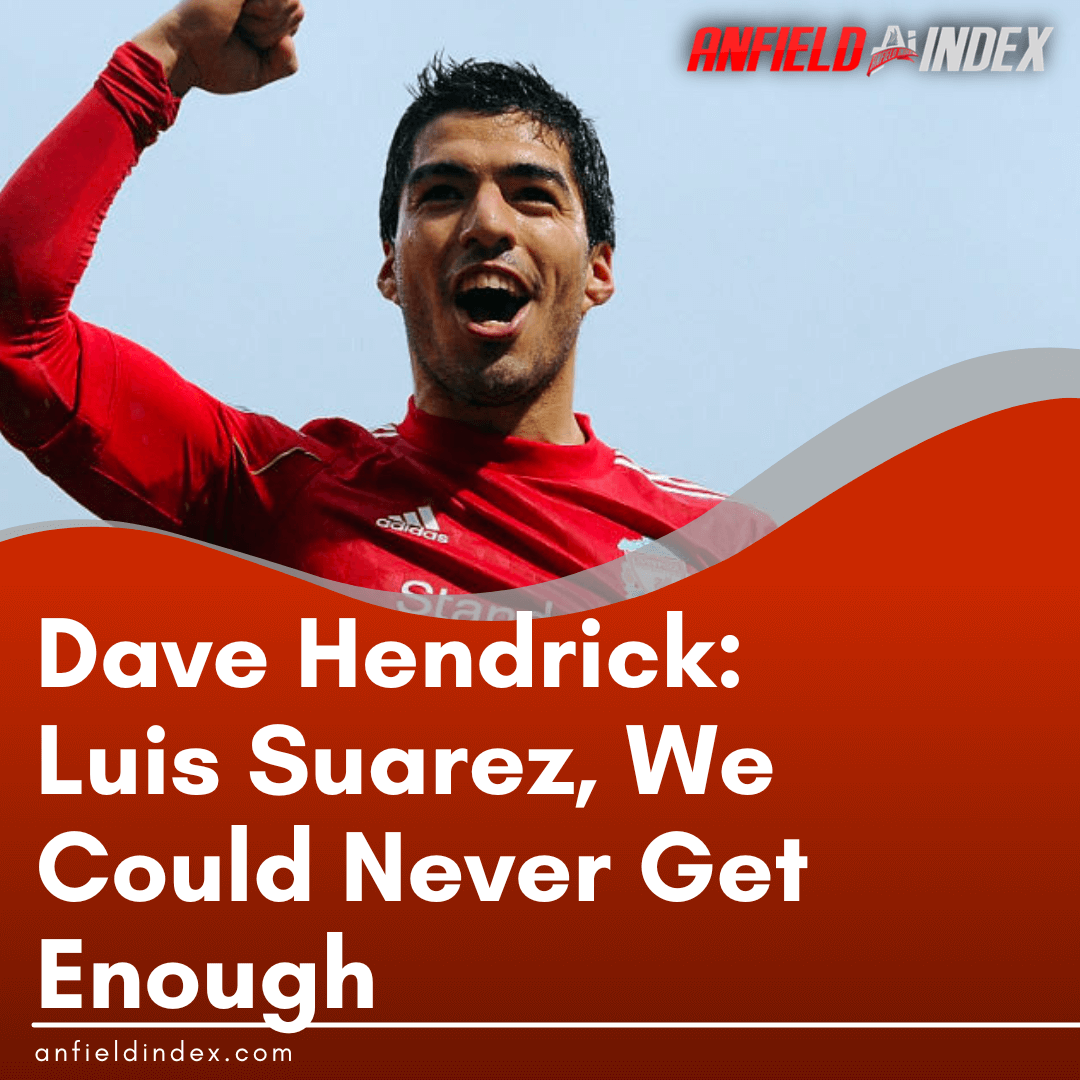 Luis Suarez: We Could Never Get Enough
The Controversial Yet Genius Career of Luis Suarez
As Liverpool fans, we've been lucky to witness an amazing collection great players throughout the history of the club. No matter your age, you'll have seen great players wearing the famous red shirt. Everybody has their favourites, everyone has their own choice as to who the best they've seen is.
Often, people's views on who the greatest player in club history is will be influenced by their age and the era they became fans or the era in which they first developed a true understanding of what they were witnessing in front of them. When we talk about the greatest players to play for the club, we're not just factoring in ability on the pitch and the performances, but also longevity and success.
Billy Liddell, Kenny Dalglish, John Barnes and Steven Gerrard are four names that always come up when discussing the greatest to ever represent the club. Kevin Keegan, Emlyn Hughes, Graeme Souness and Roger Hunt will get brought up as well, and all of them have strong cases. Greatness is hard to measure, but you know it when you see it. You watch Alisson, Virgil or Salah and you know that you are witnessing greatness.

But who's the best player among them? Who is the best, not greatest just best, player to ever play for the club? Who reached a level in a Liverpool shirt that nobody else has managed. Take away longevity, forget silverware and just focus on the performance level now. Who stands above the rest? It's completely subjective, it's completely personal. There are definitely wrong answers, but the 11 players already mentioned above would all be absolutely fine choices as would a handful of others.
My personal pick is not one those 11. It's not someone who won league titles or European Cups in the clubs name, his only silverware was a League Cup. It's not someone with longevity at the club, he only stayed three and a half years. But it is someone who, in my not-at-all-humble opinion, reached a level while playing for Liverpool that no player before, or since, has touched. Luis Suarez.
Suarez: The Street Footballer with an Unhinged Desire to Win
Arriving in January of 2011 as part of a new front pairing, with Andy Carroll, to replace the outgoing Fernando Torres, Suarez had a reputation as a maverick, a genius and a lunatic. In his time at Liverpool, he showed that all three tags were absolutely fair.
Suarez, in my view, managed to bring street football to a professional pitch in a manner that stayed closer to his roots than anyone else. His dogged determination, willingness to try anything and everything to simply beat his man, scruffy dribbling style and outrageous goals combined to create a perfect storm of football genius. When Suarez took to the pitch, winning was 99% of what mattered to him. The other 1% was not just to beat his direct opponent, it was to extract his soul from his body.
The outrageous turns and nutmegs that make up so many of the brilliant compilations that have been made of his career only tell half the story. Look what he did to defenders when they had the ball. Hassling them, chasing them, forcing them to panic. Rio Ferdinand who, according to Rio Ferdinand, would be a £140mil defender in the modern game, has never looked as confused as he was when Suarez continually chased him and stole the ball from him.
Influence of Suarez on the Liverpool Team and His Unprecedented Performance
When we signed him from Ajax he's already had one biting incident which had tarnished his name, but most people didn't pay much attention to the Eredivisie so it didn't bother the majority. What everyone knew of him, was the incident at the World Cup. Luis Suarez had crushed the dreams of not just Ghana, but all of Africa, with his goal-line handball to deny Ghana a blatant goal. He was a cheat.
We would find out that Suarez was happy to cheat if it helped his team win. He enjoyed a dive, wasn't shy of a sly handball and would push the boundaries regularly. Personally the Ghana moment was when I knew he was someone I wanted at the club. Any player who wouldn't be willing to do what he did, sacrifice himself for the country, isn't worth having. Suarez has an unhinged desire to win. And he puts all the pressure on himself. He was the best player at Ajax, at Liverpool and for Uruguay, and placed too much pressure on himself to win for his team.
The three biting incidents over his career all seemed to occur when the pressure got too much for him. Notably at Barca, where he played with a player better than him for the first time, he didn't seem to feel under as much pressure and there were no issues.
Obviously the Evra incident is a cloud over his time at Liverpool. I'm not here to relitigate it. He was banned, he served the ban and he paid a significant fine. It likely cost him far more than we know, in terms of the damage to his reputation.
When he played though, he was incredible. He started brilliantly, and the Kuyt-Suarez-Maxi front three with Raul Meireles behind was so much fun at the end of the 10/11 season. It's a shame Kenny didn't build on that, instead forcing Carroll into the team and adding sub-par players like Downing to the mix. Suarez struggled in the 11/12 season, seemingly growing increasingly frustrated with himself as his finishing touch deserted him.
When Rodgers arrived, things didn't click for Suarez straight away but he showed flashes of what we knew he could do. Everything changed when Daniel Sturridge and Phillipe Coutinho arrived in January of 2013 though. Those two, plus the emerging Raheem Sterling, gave Suarez the exact supporting cast he needed. He elevated each of them, and the rest of the team, to levels most had never been capable of before, and never got close to since.
From January 2013 until his departure in the summer of 2014 Luis Suarez was the best player on the planet. His 13/14 season remains the greatest individual season ever put together in the Premier League. He was unstoppable and, with Sterling, Sturridge and Coutinho all in flying form as well, Liverpool were formidable. That team, with the midfield made up of a well past his best Steven Gerrard and an inconsistent but suddenly consistent Jordan Henderson, and a defense that is better left unmentioned, had a no business competing for the title. But compete they did. Because of Luis Suarez.
Why Suarez Stands Out: The Unmatched Level of Excellence
Luis Suarez almost single handedly carried that team to the title. His brilliance, his selflessness, his undying will to win. The goals, the assists, the incredible work-rate, the tireless hassling of defenders. All of it was inspiring. He clearly inspired his teammates, and his partners in attack all put together impressive seasons. Had it not been for a terrible defense, and a manager who wasn't fit for purpose, he would have ended our title drought six years earlier than Jurgen Klopp finally did.
There's so many moments, so many goals, so many performances by Suarez that immediately come to mind. The outrageous goal against Newcastle where he controlled a 60 yard ball from Jose Enrique on his shoulder, the nutmeg and curled shot against Stoke in the League Cup semi-final, the shot against Arsenal – you know the one, and then, Norwich.
Luis Suarez must have had a favourite aunt who moved to Norwich and was mistreated, or perhaps he tried Colman's mustard once and was disgusted by it. Maybe he just really didn't like Alan Partridge, or Delia Smith. Whatever it was that the city and people of Norwich did to annoy Luis Suarez, he took it out on their football club. Suarez scored 12 goals against the Canaries in just six games. Seven of them came at Carrow Road, including two outrageous hat-tricks. His most memorable performance against them came at Anfield though. Four goals, and every one of them was special.
When Suarez departed England, John Ruddy and his team-mates likely threw the party of their lives. They had been terrorized over and over again by the manic Uruguayan but now they were free from him.
Suarez's departure was inevitable, he was too good to stay with us at that time. Had he come along a few years later, and gotten to play under Jurgen Klopp, it would have been different. Suarez deserved a team like the one Klopp built, and he deserved a manager like Klopp. Ultimately Liverpool failed to give him what he deserved, but it almost didn't matter in that 2013/14 season.
For me, he's the best player to ever wear the shirt. Not our greatest ever, because of the lack of longevity and serious silverware, but the best. I don't think we've ever had a player reach the level he displayed from January 2013 to May 2014. With Lionel Messi at his peak, Luis Suarez was, for 18 months, at worst his equal. That he did it in Red made it more special.
Players come and go, some hurt more than others when they leave, but the Suarez departure taught me one thing. Don't be sad that it ended, be happy that it happened. And with Luis Suarez, I could never get enough.