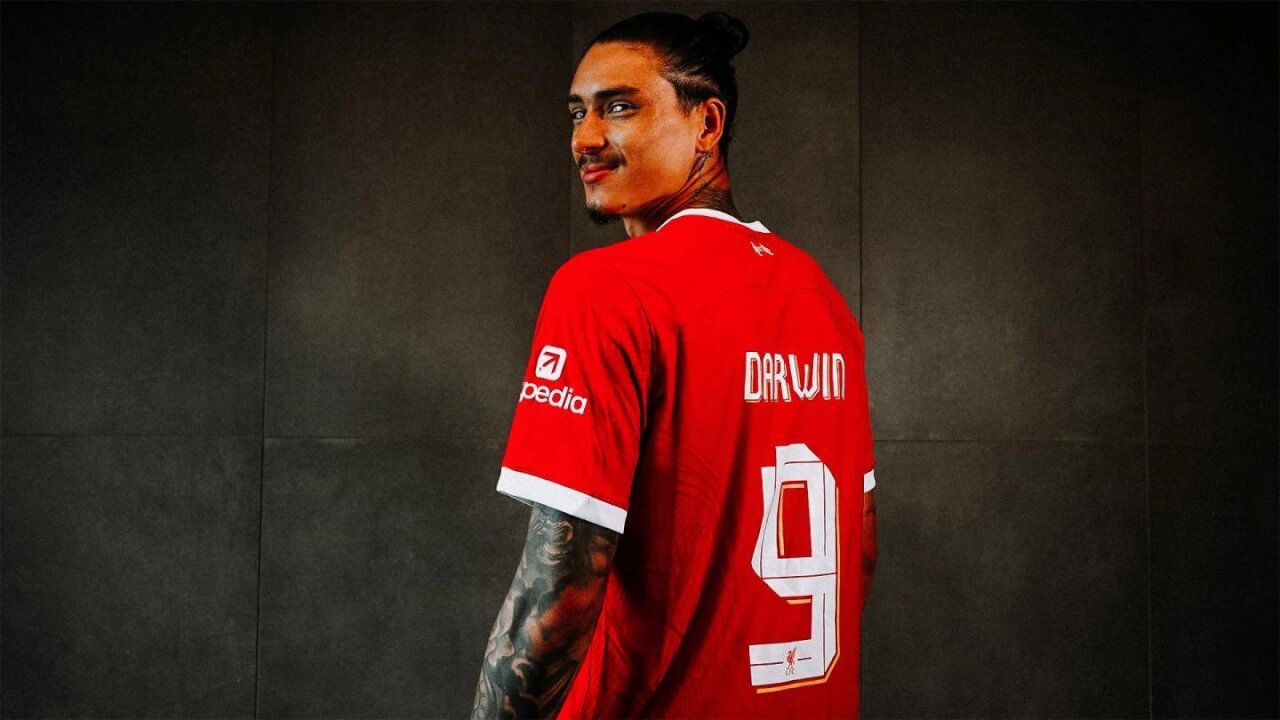 Darwin Nunez Bags Liverpool's Historic Number 9 Shirt
Darwin Nunez Steps into the Iconic Number 9 at Liverpool FC
The official Liverpool FC website reports a milestone moment for the Reds this morning. Darwin Nunez, the Uruguayan star, is trading in his old shirt for the iconic number 9 – a shirt steeped in the history of the Merseyside club.
With 15 goals and four assists from his 42 appearances in his first season, Nunez showed glimpses of brilliance on the Anfield pitch. Despite this promising start, his journey wasn't without its bumps, ending with a controversial public review from Jurgen Klopp.
There is, however, anticipation that Nunez will bounce back, returning from his summer hiatus not only more settled but with an enhanced grasp of the English language. The young striker is poised to solidify his place in the squad and his confidence shows through his latest decision.

New Season. New Number. @Darwinn99 9️⃣🤩 pic.twitter.com/zmty0kpPt5

— Liverpool FC (@LFC) July 13, 2023
A New Era in the Number 9
The number 9 jersey, formerly worn by Roberto Firmino, now belongs to Darwin Nunez. The 23-year-old, formerly the bearer of the number 27, didn't waste any time laying claim to the revered number, hinting at this intention even before his arrival.
In his previous tenure at Benfica, he donned the number 9, and his social media presence added to the speculation. Interestingly, his previous number 27 was thought to have been chosen as the digits added up to nine.
.@Darwinn99 will wear the No.9 jersey for Liverpool for 2023-24 🙌

Fans who have already purchased new 2023-24 home and away jerseys printed with the name 'Darwin' and the number '27' will be personally reimbursed by Nunez with a like-for-like exchange for a 'Darwin 9' shirt.

— Liverpool FC (@LFC) July 13, 2023
A Lineage of Football Legends
This celebrated number 9 shirt has seen a rich history at Liverpool, donned by some of the club's most illustrious strikers – including Fernando Torres, Robbie Fowler, and Ian Rush. But not every player to wear the number 9 has been a hit, with the likes of Christian Benteke, Rickie Lambert, and Iago Aspas representing a more mixed legacy.
The number 9 remains a symbol of greatness in the football world, especially in Liverpool. Nunez, with his determination and potential, aspires to join the ranks of the Liverpool legends that wore it before him.
Ever a thoughtful gesture, Nunez will personally reimburse the supporters who had already bought his previous number 27 shirt for the new 2023/24 season, following in the footsteps of Luis Diaz, who made a similar move with his change to number 7. As Nunez steps into this new chapter of his career, the Liverpool faithful await to see if the iconic number 9 shirt will once again be associated with success.