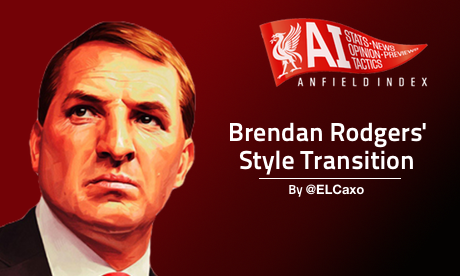 Brendan Rodgers' Style Transition
Brendan Rodgers was hired by John Henry because he was a manager with a definitive football style that was thought could take Liverpool forward; a possession based game modelled on Barcelona. This could be described as an over simplification but there isn't really much else to BR's base philosophy is there?. However after over a year in the job how much of the original style Rodgers implicated has remained and how much have players, resources and/or circumstance changed it?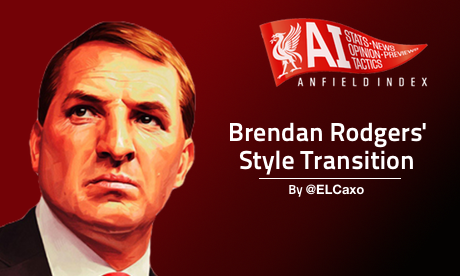 Swansea were a breath of fresh air when they hit the Premier League and not since Arsenal (Or Stoke? Don't worry, I'm joking) has a new brand of football really taken hold so well. Some credit has to go to Roberto Martinez for starting the revolution but Brendan Rodgers appeared to have perfected it. They wowed teams with their possession play and finished a very respectable 11th. When compared to Liverpool's start under BR's new style then the Swans come out on top and this can mainly be put down to the players. At the Liberty Stadium Rodgers had more time to mould his squad and the football he wanted to play had been seen even less in the championship. I think Rodgers arrival at Liverpool was viewed with cautious optimism. The drastic change of style without enough time to let the players acclimatise led to a very slow start to the season and things didn't really improve until the passing style mellowed a slightly into a combination of what Rodgers wanted and what suited Liverpool.

It's reasonable to assume that the position we're now in this season is an indication that Rodgers has begun to strike more substantial balance between possession and smooth attacking football. It has been said of Barcelona recently – especially after the Bayern debacle – that they have no Plan B. The varied combination of players we have available means that Rodgers can afford to be a little pragmatic and the ability to change a setup to suit different situations can only be seen as an asset. An on form Joe Allen is a fantastic midfield metronome whereas Coutinho excels at receiving the ball and moving it on or beating a man with speed.
So far this season we've seen quite a bit of 3 at the back but without comfortable wing-backs like Glen Johnson and Jose Enrique it hasn't been as effective as it possible. Another issue that Brendan Rodgers has is how to accommodate both Suarez and Sturridge. I would personally like to see a more interchangeable attack a little like that at Chelsea; Sturridge leading the line, getting in behind, working the channels with Coutinho, Suarez and a third man mixing it up behind him. As far as January acquisitions go I would maybe suggest a back up for Glen Johnson or go for a marquee signing in Nemanja Matic. He would cost upwards of 30 million but he's superb, would add serious competition, show some real intent and keep fair-weather fans happy.
A good summer transfer window with acquisitions across the pitch has left Liverpool in good stead for this season; our options at centre back could be very strongly argued as the best in the league and as soon as our attack moves up the gears we'll be extremely dangerous. Consistency and taking easy points will be our biggest hurdles but if we over-come these then personally I'm quietly confident of getting in and around those top 4 spots.