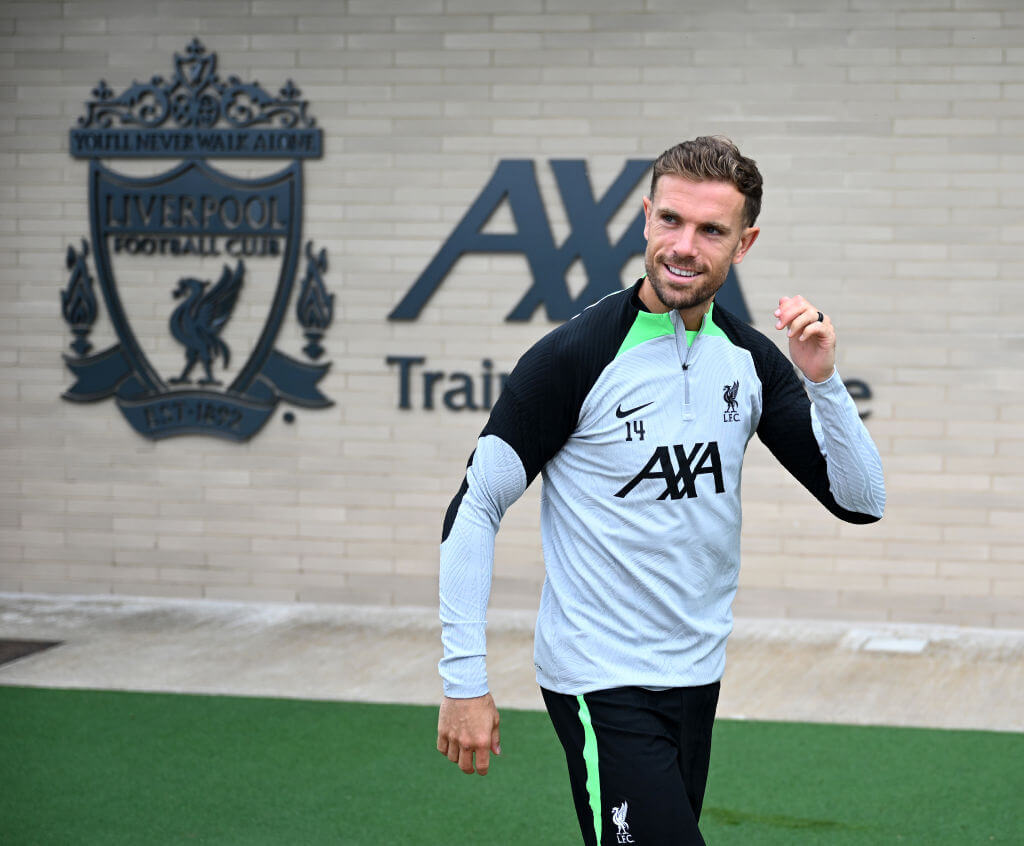 Report: LGBT+ Fans Henderson Outrage Over Saudi Arabia Move
Henderson's Potential Move to Saudi Arabia Sparks Outrage Among Liverpool's LGBT+ Fans
Liverpool's Captain Stirs Unease Among the Faithful
Liverpool's LGBT+ community of supporters express their deep unease and disappointment over club captain Jordan Henderson's possible transfer to Saudi Arabia. Their shock resonates especially due to Henderson's history of staunch support for the LGBT+ community.
The Atheltic's Caoimhe O'Neill reports that Henderson is inclined towards a move to Al Ettifaq, a Saudi Pro League side managed by his former team-mate Steven Gerrard. This has stirred up an understandable backlash, considering the hostile environment in Saudi Arabia towards the LGBT+ community.
Under Saudi Law: Homophobia and Transphobia
Being homosexual or transgender is against the law in Saudi Arabia. Those who identify as LGBT+ face the risk of severe penalties, painting a grim picture for Henderson's potential move.

Football is a game for everyone. No matter what. #RainbowLaces pic.twitter.com/wDLFgY2pp3

— Jordan Henderson (@JHenderson) December 5, 2020
Kop Outs Make a Stand
In response to the shocking development, Kop Outs, the dedicated Liverpool LGBT+ fans group, released a statement on Thursday voicing their concerns. The group has previously appreciated the allyship of Henderson, raising significant questions regarding his potential move.
The Kop Outs group's sentiment echoes: "We are appalled and concerned that anyone might consider working for a sportswashing operation for a regime where women & LGBT+ people are oppressed and that regularly tops the world death sentence table. (Steven) Gerrard's participation in this sportswashing is particularly galling given his previous support for LA Galaxy teammate Robbie Rogers (who came out as gay in 2013). When someone's made a fortune, should money tempt them to go to work? Maybe they should be asking themselves those questions."
The group places hope in Henderson to stay true to the values of the club that he has hitherto embodied and championed.
https://twitter.com/LFC_LGBT/status/1679430816500162560?s=20
Henderson: The Pro-LGBT+ Advocate
Henderson, 33, has been at the forefront of pro-LGBT+ campaigns, participating in Stonewall's Rainbow Laces initiative and proudly donning a rainbow-emblazoned captain's armband. The potential move to a country where homosexuality equates to "misery, isolation or, worse, death," as an interviewee told The Athletic's Adam Crafton in 2021, is seen by many as a staggering departure from the values he passionately espouses.
His staunch support for the LGBT+ community was acknowledged in 2021 when he, alongside manager Jurgen Klopp, was shortlisted for the Football Ally honour at the British LGBT awards.
Henderson's passionate views are clear in an interview with The Athletic from 2019 where he said:
"As long as even one supporter questions whether they are welcome or can enjoy football because of their sexuality, the campaign is important. It sends the message: you are welcome, we are on your side and the small minded idiots who make you feel uncomfortable have no place in football."
Liverpool's Connection with Saudi Arabia
Henderson's potential move isn't the first link between Liverpool and Saudi Arabia. Earlier this month, Roberto Firmino made a move to Al Ahli while ex-Red Robbie Fowler now manages second tier side Al Qadsiah. Meanwhile, fellow midfielder Thiago has attracted recent interest from the Gulf state and Al Ittihad are said to be gearing up for a £40m bid for Fabinho.
A Public Investment Fund's Vision for 2030
Saudi Arabia's Public Investment Fund (PIF) recently announced its plan to take control of four teams in the Saudi Pro League as part of the country's 'Vision 2030' project. The Saudi government's grand plans involve the development of sporting infrastructure, improving public health, and even hosting the 2030 men's World Cup.
The Athletic has shed light on the country's motives for this massive sporting expansion, which the Saudi government says is aimed at creating investment opportunities.