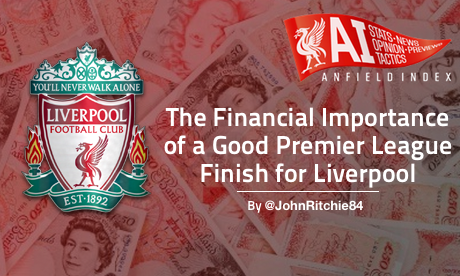 The Financial Importance of a Good Premier League Finish for Liverpool

In the critically acclaimed autobiographical book 'Fever pitch' Nick Hornby talked about his long love affair with Arsenal; it was a book that explored the fanatical way we all follow our clubs, the up's and downs and the nature of a fan following his childhood love.
Hornby explained:
 "I fell in love with football as I would later fall in love with women: suddenly, uncritically, giving no thought to the pain it would bring."
How right he is about relationships and football, they're both beautiful, fascinating and marvellous in their own right, but little can one appreciate in full, the almost Machiavellian natural cycle of both human relationships and what's meant to be the beautiful game.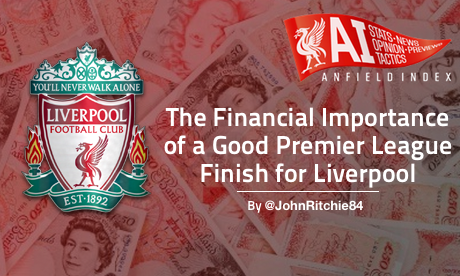 When it comes to football, regardless of which club you support, each defeat is felt to the core and every time you see a player never quite deliver their billing, it's another stab in the heart, especially when you invest so much time and emotional energy willing your team on to success.
In a famous Shankly interview, the great man once professed to have scored goals through sheer willpower on his part 'I'm sure I've put a few in the back of net myself, I've kept a few out of the other end too'. In many ways we can all relate to this; we pray every time there's an opposition set piece that it'll fly over the bar, we will the ball to go in the back of the net when the fans rise in unison as our team breaks forward to score a critical goal.
For Liverpool fans, we all know the this harrowing fact; It's emotional, its high energy and few things can deliver such nirvana; but the inevitable lows can get worse than a defeat, you start looking at matters off the pitch and realise there's huge ladders to climb if you really want success.
This year has seen premier league finances rocket with the introduction of a new TV deal; it's a massive increase in finances for all concerned. To put it into context, last year Manchester United won just short of £61m in premier league money for winning the title (this excludes cup runs and champions league football) and the relegated QPR won £39m from finishing in last place.
This year the champions will receive a 62% increase taking the total fund to an eye watering £99m, whilst the team who finishes bottom will earn more than last year's champions at an impressive £62m.
It's amazing really, from a business perspective if you were to tell an accountant that their business made a 58.9% increase in their core source of income, you'd normally be very happy and no doubt the various chairmen around the premier league are rubbing their hands in glee at such financial joy that awaits. But you tell any fan they'll be relegated and I'm sure there'll be anguish and fear that their club may never recover.
Here's how the money breaks down: 
Breakdown of Premier League Prize fund by payment type:
Total prize money available to clubs by league position in 2013/14:
The large proportion of money comes from overseas TV rights to the premier league, however teams are also rewarded for the more games they have live on TV which escalates depending on your league position. These live games and 'merit payments' are the differentiating factors when it comes to what you earn.
If you were to look at Liverpool who finished 7th  last season, you'll see that the same league finish this year will deliver a 55% increase in premier league revenue. However we all know that Liverpool are aiming for the top four this season, yet it's also been said in and around the Liverpool community that a 5th or a 6th  placed finish would also be signs of progress.
The question is, is 5th or 6th enough progress in by itself?
When analysed financially, you begin to see how the premier league starts to break into four segments when it comes to possible further revenue that can be achieved:
Red = Revenue from PL and then windfall payments from the league and minor sponsorship deals
Purple = Revenue from PL, better sponsorship opportunities, higher likely hood of longer cup runs, continued presence in the PL thus greater revenue.
Blue = Same as purple however increased revenue from Europa league
Green = As above however with champions league football and even further sponsorship opportunities, more games and access to additional revenue which includes prize money and
Of course other factors such as stadium revenue which are variable depending on games, competitions, pricing structures and the amount people spend whilst at the game itself, or average revenue per ticket.
So it's clear that whilst there are greater funds available, these funds are available to everyone, and the higher you go, the greater the reward.But what does this mean for progress? Surely if you finish a position or two higher then you're better off than last year and importantly not any worse off financially than last season? Well no, not really.
If we look at someone we could this season consider our direct rivals, then we can look to Tottenham who have somewhat gambled on a champions league finish. Whilst they made a net profit (which as a factor itself is largely irrelevant) due to the sale of Gareth Bale, Steven Caulker and Tom Huddleston they've added another seven signings and from the outside looking in, they do look like quality signings.
Spurs actually removed four wages, they've added a further three and one would take a guess (alas, there's no real way to know how much a player is paid) then you'd they've got similar issues to Liverpool in terms of stadium capacity, Spurs have finished higher than Liverpool in every season since 2010 thus accessing higher levels of funds over four consecutive seasons and at least one season accessing champion's league funds.
The other interesting point of note is that whilst Liverpool has the larger fanbase and worldwide appeal, Spurs has been prudently run by the levvy family for some time. They managed to only make a small loss of approximately £4m, even though they had built a new training ground which by all accounts is a first class facility and they also missed out on champion's league football in the previous financial year.
That's impressive form financially; it's also troubling should this upward trend continue, the gap between the two core revenue sources continues, the harder it becomes to break back into the top four. It's seems as if Levvy has for once in his life gambled, the question is will it work? The current book makers aren't so sure with recent form showing Liverpool's odd's shortening, whilst Spurs are drifting. Liverpool gambled before in recent times, unfortunately the £100m spending spree was spent on the wrong players, there's little sign Spurs have done that, but who knows.
More and more we are seeing a trend emerge that to succeed you need a  sound financial plan as well as a vision which you hope pays off in the end, something as Liverpool fans we can all be thankful that we seem to have. Yet what does that mean for this season? Do Liverpool really need to finish in the top four? Let's have at what may be available in terms of revenue.
*Assumes at least four wins and two draws or five in the group stages in the CL and then qualifies for the last 16
**Assumes at least four wins and two draws or five wins in the EL and then qualifies for the last sixteen.
Whoever gets into the top four, assuming that another domestic rival doesn't finish outside of it, and subsequently wins the champions league, then that means that there's a potential to access even more revenue; circa £24m more than whoever plays in the Europa league. Access the last eight then there's a chance to earn a total of £45m plus from the champions league depending on the size of the domestic TV pool.
It's clear to see why the owners want to see the club succeed
But why can't the owner's just stump up the cash for players? Well with Liverpool's wage bill, including club personnel salaries reportedly exceeding £126m and then total operating expense reportedly approaching £175m, then you can't plough money into a bottomless pit, there has to be an increase in revenue from somewhere and as we discussed earlier, the higher you finish, the better financial reward awaits of which sponsorship, or more appropriately, the level of sponsorship and investment is a key part.
With competition for places this season spread amongst Manchester City, Arsenal, Spurs, Manchester United, Liverpool, Chelsea and even with the likes of Everton in with an outside chance then you can see why there's such a bun fight when it comes to signing players in the transfer market.
There's a theme emerging in all of the figures we analyse; everything is becoming harder. Player transfers, qualification for the elite European tournament, and the gaps between the elite domestic clubs getting wider and wider. If Liverpool wants to keep up with the pace of the other big sides in the division, then I'd suggest they can ill afford not to qualify for the champion's league in the next two to three seasons.
Fail to do that then the gap in finances almost becomes impossible without a large injection of funds from outside the current contributors to clubs financial revenue, the less likely it becomes to see affordable ticket prices which still generates sufficient revenue for the club; if that wasn't bad enough then the clubs status as one of the biggest clubs in the world becomes a historical reference rather than a living fact.
In the end, who knows what this season will bring; but keep up the current form and who knows what will happen, here's hoping the pain of recent times becomes a distant memory in the near future. Here's hoping we can enjoy the beauty of the game, without the hurt and the pain as Nick Hornby so adequately wrote; unfortunately for us all, the two seem to go hand in hand.
Thanks to Sean Whetstone for the Premier League Awards information.