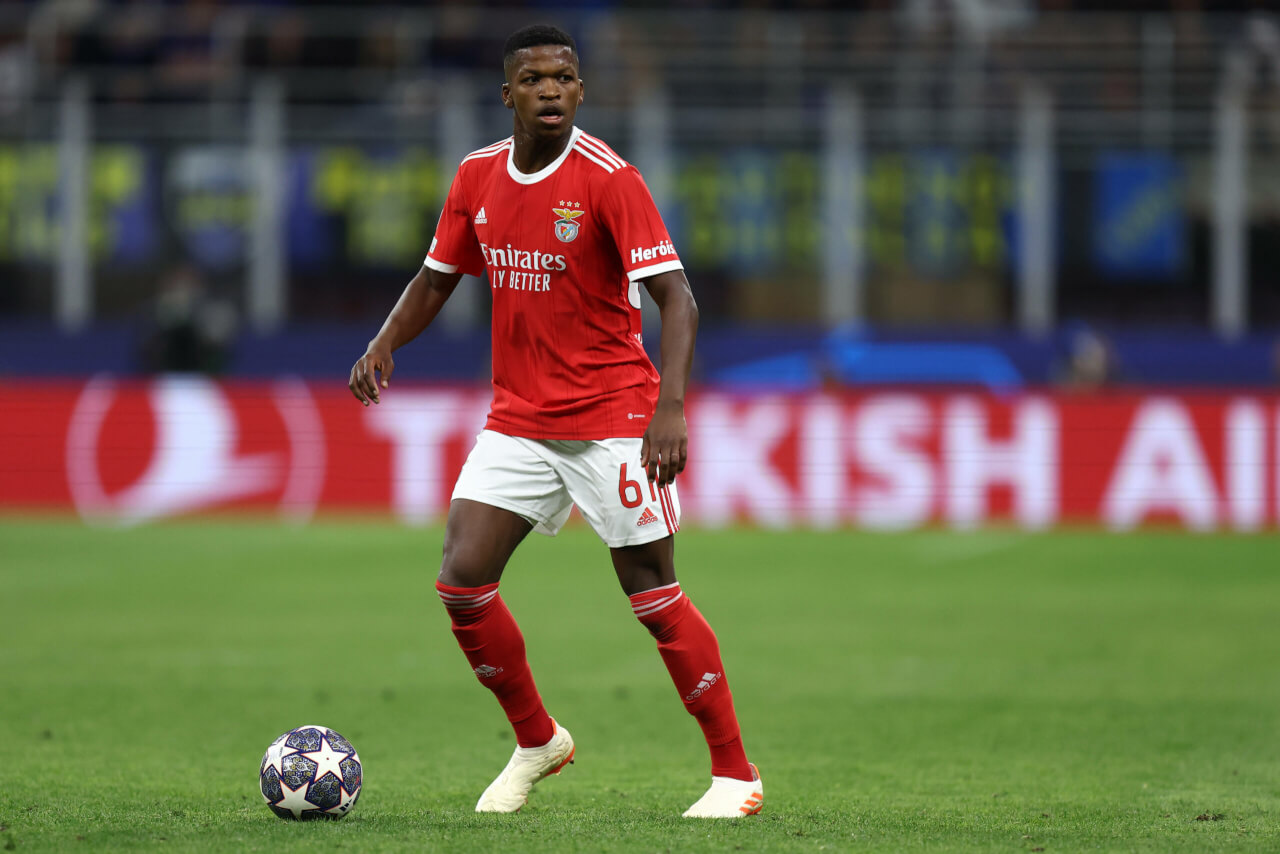 'Next Big Thing' Midfielder Heading to Liverpool? - Journalist
Benfica's Florentino Luis: Liverpool's Potential Midfield Ace
There's a whisper of a new talent circling around the halls of Anfield – a potential addition to Liverpool's midfield ensemble. That whisper carries the name of Benfica's Florentino Luis.
A 23-year-old defensive midfield maestro, hailing originally from Lobito, Angola; Luis seems to be the perfect answer for the gaping hole left by Fabinho in Liverpool's midfield line-up. But what makes him the ideal choice? Let's delve a bit deeper.
The Heart of the Rumour
The recent Anfield Index's Media Matters podcast saw journalist Neil Jones unveil Luis as the name to be etched in the minds of Liverpool faithful. Indeed, there have been murmurs about LFC scouts making their presence felt at a number of Benfica fixtures, keeping a keen eye on Luis and centre-back Antonio Silva.

Dipping into the archives, Portuguese media outlet O Jogo had previously reported Liverpool's curiosity in the young midfielder last October, suggesting a potential transfer on the horizon.
What Does Luis Bring to the Table?
If you're now furiously typing Luis's name into YouTube, prepare to witness a player mirroring the style of Fabinho. The front-footed tackles, sharp interceptions, and an uncanny knack of breaking up play are all reminiscent of a player Liverpool sorely missed last season.
Describing Luis's play, Jones offered a vivid picture on his 'Covering Liverpool' YouTube channel:
"He's the spitting image of Fabinho in terms of his role. A defensive midfielder who's not afraid to cover ground, puts in a strong foot, and displays fantastic defensive prowess."
With a strong reputation for tackling and intercepting coupled with an ability to play short, precise passes, Luis's gameplay fits Liverpool's tactical jigsaw just right.
The Price Tag Dilemma
The million-pound question, or in this case, the £103 million question, arises: what's the potential transfer fee? After penning a new contract last October amid interest from prominent clubs, Luis's release clause was set at this colossal sum. Undoubtedly, Liverpool would be eyeing a deal at a considerably lower price point.
Other football giants reportedly intrigued by Luis's potential include Man City and PSG.
If we could get Florentino Luis and Lavia for 90-100mil, that's probably the best outcome.

Two outstanding players. One is the elite of elite as a ball winner, the other has the POTENTIAL to become the best in the world in that position. They could play together too.

— Dave Hendrick (@MrTwoFooted) July 14, 2023
A Proven Talent at a Tender Age
In spite of his tender age, Luis has an impressive CV. With 12 Champions League outings, four Europa League appearances, and 86 caps for Benfica to his name, not to mention a loan stint at Monaco, his experience is striking.
His style has been compared to the likes of Julian Weigl, Boubakary Soumare, and Emre Can, with Fabinho as the clear standout.
Dominated by tackling, intercepting and passing, his strengths become evident. He's in the top tier for pass completion, interceptions, and combined tackles and interceptions.
Without doubt, Liverpool supporters and football enthusiasts alike should keep a keen eye on the progression of Florentino Luis, the potential jewel in Liverpool's midfield crown.