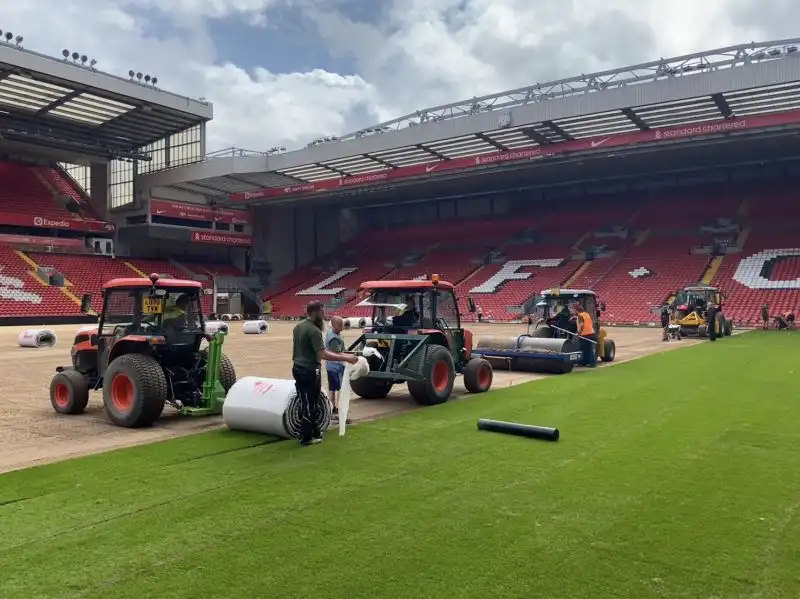 Anfield's Pitch Makeover: Liverpool's New Season Boost
Unveiling Anfield's New Turf: An Inside Look
The famous Anfield, the home ground of Liverpool FC, boasts a fresh pitch for the second successive season. Offering us a window into the process, the craftsmen behind the lush grass have shared some fascinating details.
Following the closure of last season, Anfield witnessed the imposing presence of cranes on the pitch for a month. These mechanical giants were facilitating work on the exciting new Anfield Road Stand. Consequently, the Reds required a fresh turf. Overseeing the creation of this new masterpiece was Hatko Hybridgrass. Their comprehensive operation, which involved three days of rigorous work, was centred at a secluded turf farm in Nottinghamshire.
Hatko's efficiency is impressive. They note:

"Within a few days of installation, the pitch is fully prepared to host its first game."
The pitch will be seen in all its glory when Liverpool kick-off their first home game against Bournemouth on August 19.
To perfect the new playing surface, a trio of specialist companies lent their expertise. Each contributed a crucial element: turf cultivation, hybrid grass creation, and installation.
What is Hybrid Grass?
Demystifying the term 'hybrid grass', Hatko states it:
"Combines all the benefits of a natural grass playing surface with the strength and durability of synthetic grass."
The pitch is a delicate blend of 95 percent grass and five percent artificial fibres. This system bolsters durability and aptly withstands the wear and tear of football, ensuring a world-class playing surface all year round. It appears the era of muddy pitches is firmly in the past!
The New Anfield: As Breathtaking As Ever
Anfield's classic pitch dimensions of 101 by 68 metres will be maintained for the upcoming season. However, onlookers will certainly spot a notable enhancement — the view of the newly polished Anfield Road Stand from the Kop. It is, in a word, sublime.
The internal scaffold of the new upper tier is no more. The seating is poised to be installed soon, and the stand will appear even more spectacular.
With less than five weeks until their first home game in front of the upgraded stand, Anfield anticipates the highest attendance since 1977. An exciting new chapter is about to begin for Liverpool FC.