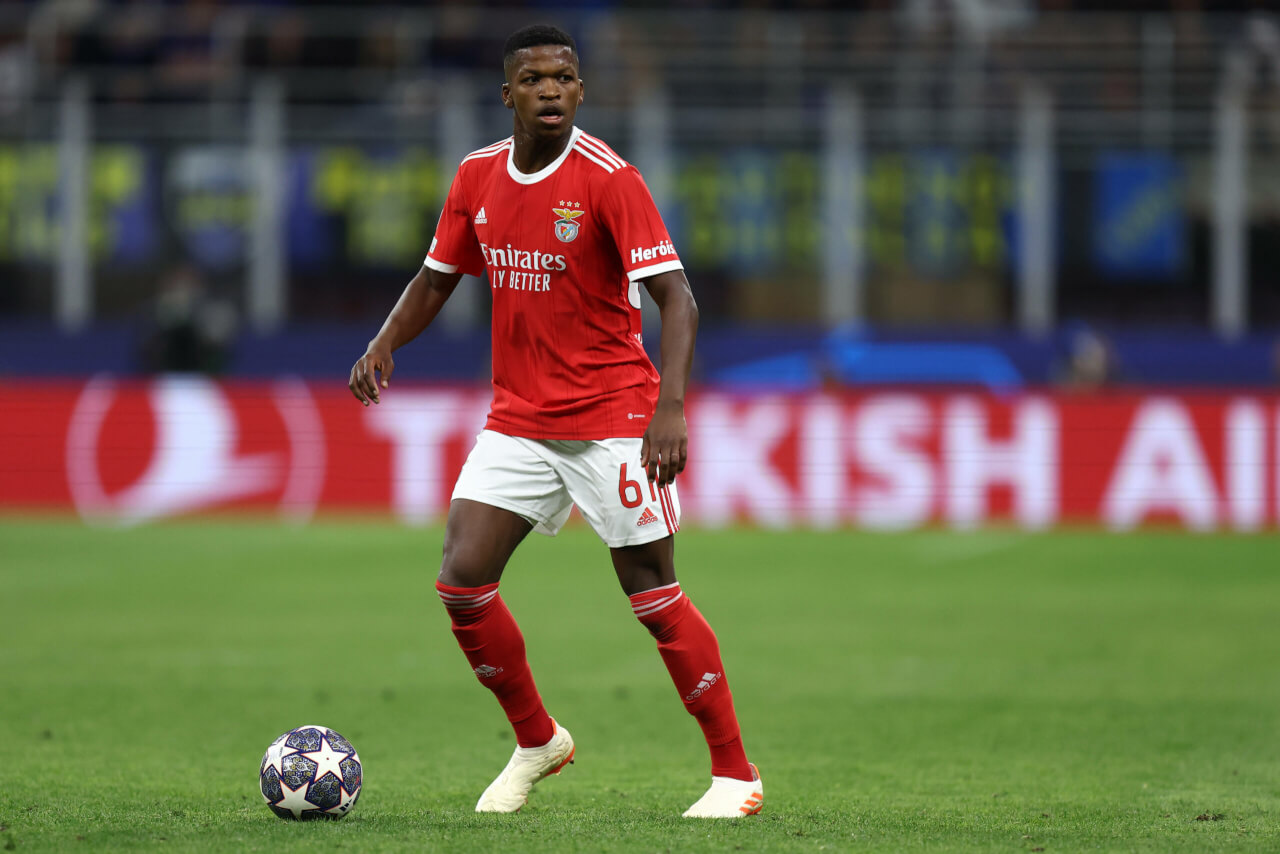 Rising Star Florentino Luis: Midfield Maestro in Making
Florentino Luis: A Scouting Report
Born on August 19, 1999, Florentino Luis, often referred to as simply Florentino, is a dynamic defensive midfielder, who first garnered attention while playing for SL Benfica's youth academy in Portugal. In recent years, he's become an increasingly prominent figure on the pitch and in the transfer market.
Performance Overview
According to the statistics provided by Understat, Infogol and FBref, Florentino is a player who combines robust defence with a cultured ability to maintain possession and pick a pass.
Florentino is renowned for his robustness and work rate on the field. He has averaged an impressive 4.6 tackles and 2.7 interceptions per 90 minutes in his last season. Furthermore, he has a successful tackle rate of around 70%, a metric that towers over many defensive midfielders in Europe.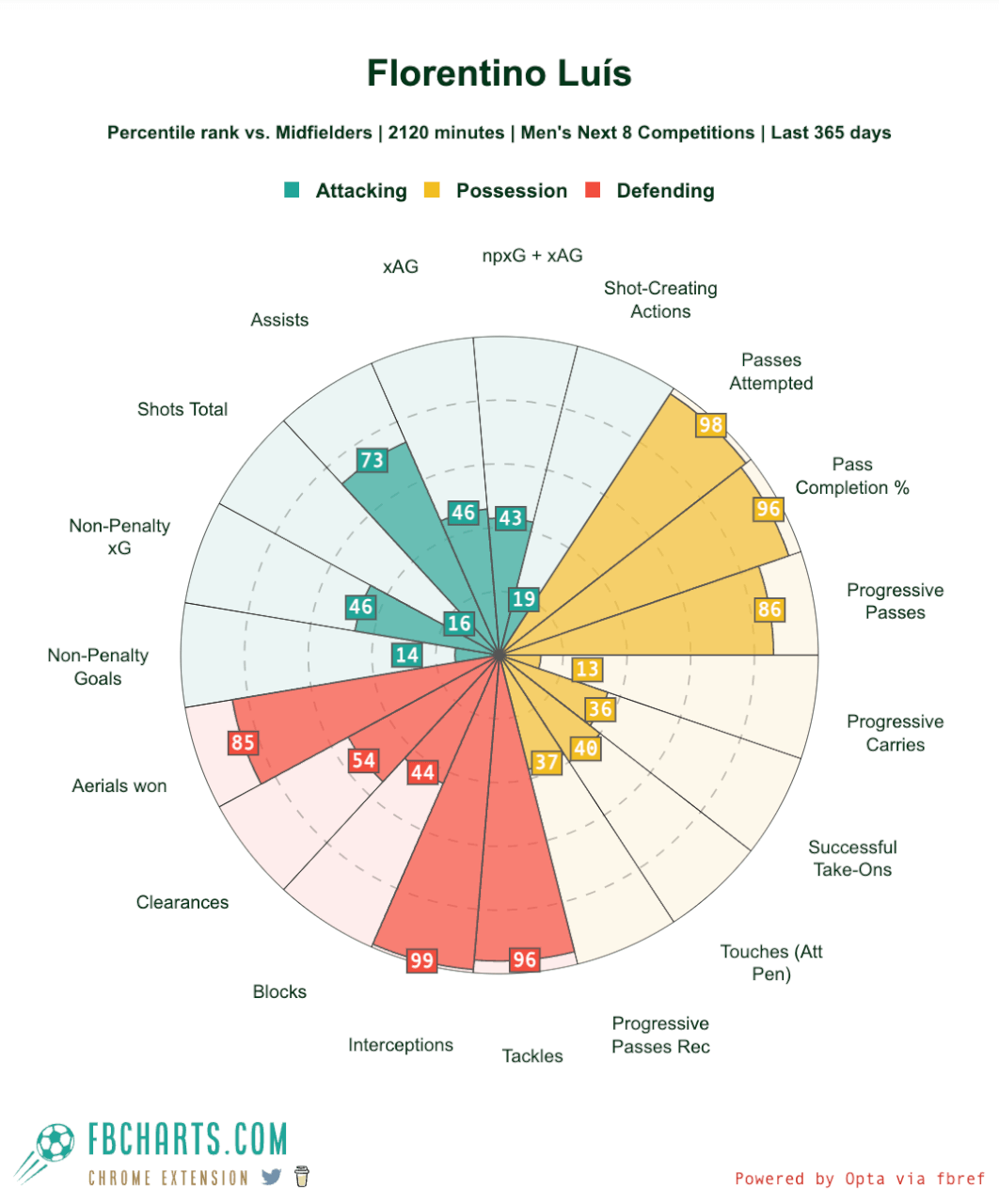 Florentino has an average passing accuracy of 88% over the past season, according to FBref. His ability to maintain possession and distribute the ball effectively provides stability to his team's midfield, a trait highly coveted in the modern game. This coupled with his vision and accuracy makes him an integral part of any build-up play.
At 6ft tall and with a lean but robust build, Florentino has the necessary physical attributes to thrive as a defensive midfielder. His height and athleticism allow him to contribute in aerial duels effectively, winning approximately 60% of these encounters, which is notably higher than the average for players in his position.
Detailed Statistical Breakdown
FBref offers a more comprehensive statistical breakdown that helps illustrate the unique qualities Florentino Luis brings to the game. A dive into these numbers reveals his impressive consistency and potential for growth.
High Pressure, High Reward
One standout statistic is Florentino's proficiency at applying pressure in the midfield. In the latest season, he applied pressure to his opponents over 20 times per 90 minutes, indicating a tenacious and high-energy style of play. In addition to his defensive prowess, Florentino also contributes significantly in transition. He averages 1.3 successful dribbles per 90 minutes, showcasing his ability to drive the ball forward when space opens up. In contrast, he's dispossessed only 0.7 times per game, indicating his composure and control even under pressure.
Florentino's stats suggest a player willing to contribute in attack as well as defence. He has averaged 0.9 key passes and 0.3 expected assists per 90 minutes over the past season. These numbers may not seem high for a defensive midfielder, but they underscore his willingness to involve himself in attacking plays when opportunities arise.
Florentino Luis's stats show a player at home in modern football. His ability to apply relentless pressure, win the ball back, maintain possession, and contribute to attacking plays underlines his comprehensive skillset. As the game continues to evolve, players like Florentino, who excel on both sides of the ball, will be in high demand. Given his age and the experience he's gained, his upward trajectory shows no signs of slowing down.
Professional Opinions
Florentino has earned the praise of managers, teammates, and pundits alike. Rui Vitória, his former coach at Benfica, once said, "Florentino Luis is an exceptional talent. He has the qualities that every coach would want in a midfielder: tenacity, intelligence, and technique."
His teammates echo these sentiments. "Training with Florentino every day, you see the quality he has," said Benfica's centre-back Ruben Dias. "He's so young, but so mature on the field. He's going to be a top player."
Meanwhile, pundit and former player Jamie Carragher extolled Florentino's talents, stating, "He reads the game so well for someone of his age. His positioning, tackling, and ball retention are all top-notch. He's definitely one for the future."
Transfer Prospects
Florentino has recently been linked with several major clubs across Europe. Reports suggest that Premier League clubs such as Manchester United and Liverpool have shown significant interest. Additionally, Spanish giants Real Madrid and Barcelona have also been rumoured to be monitoring his situation closely.
Conclusion
With his combative style of play, ability to read the game, and exceptional ball-retention skills, Florentino Luis is indeed a talent to keep an eye on. His age, experience, and remarkable statistics suggest that he could make a significant impact at any top European club. The interest he's generated among Europe's elite, and the high praise from managers, teammates, and pundits, speaks volumes about his potential. Florentino Luis's future certainly looks bright. As the transfer window approaches, all eyes will be on this young midfielder's next move.