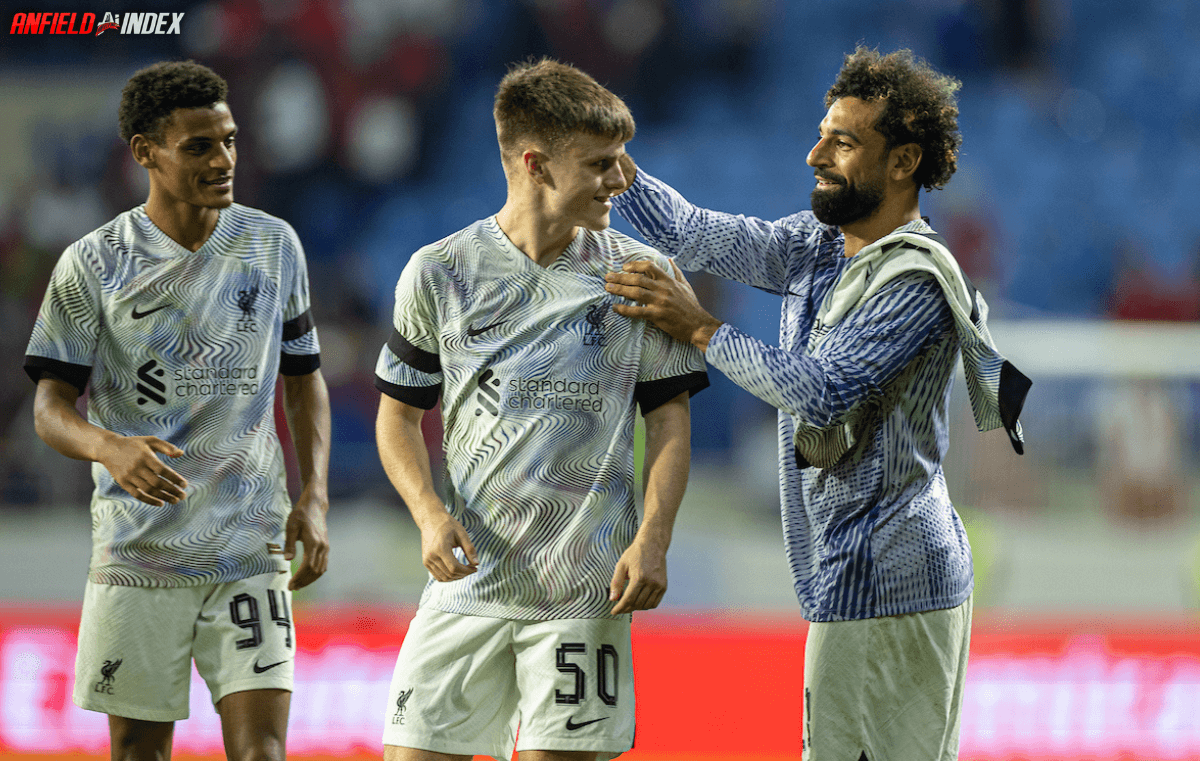 Rising Star Ben Doak Turns Heads at Liverpool FC Training
A Star on the Horizon: Ben Doak Impresses at Liverpool FC
During a recent Liverpool FC training session, the sparkling potential of Ben Doak, a 17-year-old Scottish winger, was put on full display, catching the appreciative eye of manager Jurgen Klopp.
Having transferred from Celtic, Doak is the latest addition to Liverpool's talented roster, and his commendable connection with fellow Scotsman, Andy Robertson, in a practice session prompted a delighted reaction from Klopp. "The present and future of Scotland. I can't believe it!" the Liverpool boss exclaimed.
Notably, Doak is among the youngest players to join the Reds on their pre-season tour, fuelling anticipation among fans that the teenager might play a pivotal role in the imminent matches against Karlsruher SC and Greuther Furth.

A Golden Opportunity Beckons
As Liverpool gears up for the UEFA Europa League, doors are opening for young Doak to be part of Klopp's first team in Europe. His promising performance in training and pre-season games is critical in gaining the trust and attention of the German tactician.
The recent behind-the-scenes footage only reinforces the belief that Klopp is already enamoured with Doak's skills. With the summer friendlies about to kick off, any playing time Doak gets could be decisive in his ambition to establish himself ahead of the new season.
Even at the tender age of 17, Ben Doak is proving to be an exciting addition to the Liverpool FC fold. Having been plucked from Celtic, the Scottish youngster brings a palpable sense of energy and dynamism, which could play a significant role in Jurgen Klopp's squad.
Doak, displaying a maturity beyond his years, is an embodiment of Klopp's footballing philosophy: dynamic, tenacious, and technically proficient. His innate understanding of the game, combined with his speed and precision, positions him well for success in Liverpool's offensive line.
Despite his age, Doak is showing no signs of being overwhelmed by the stature of his new club or the high expectations that come with it. Instead, the Scottish prodigy seems to be thriving, demonstrating an admirable work ethic and a burning desire to improve, traits that have not gone unnoticed by Klopp and his coaching staff.
A Battle for Game Time
The pre-season is just starting to hit its stride, and Doak finds himself facing a once-in-a-lifetime chance to make a lasting impression on his teammates and, crucially, Klopp himself. Regular appearances over the summer are instrumental in his bid to break into professional football in the upcoming campaign.
Knowing Klopp's tendency to switch up his line-ups, the Europa League will likely see a host of changes, with the Premier League standing as the club's top priority this season. For talents like Doak, this could mean a valuable opportunity to accrue some much-needed first-team experience against Europe's elite teams.