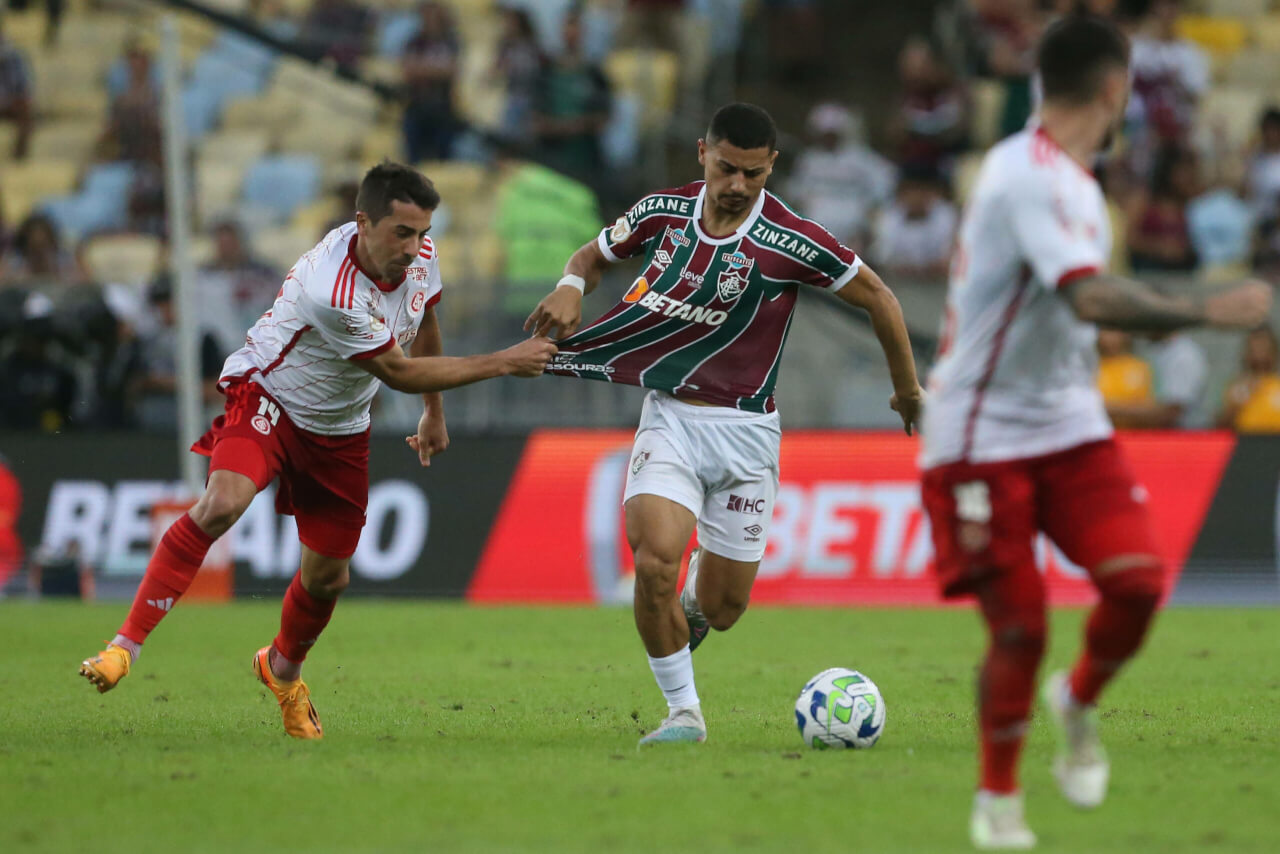 Liverpool Target 'Valuable Asset' André Trindade - Statistical Analysis
Brazil's Next Best Midfield Maestro
In the heart of the pitch, a player's influence can often be measured by the statistics they produce. André, the Brazilian midfield dynamo, is no exception. A key figure for Fluminense FC and the Brazil men's national team, his numbers speak volumes about his impact on the game.
Andre's Positional Play
Under the tutelage of Fernando Diniz, Andre has become a fascinating study in positional versatility. Diniz, a proponent of "positionless" football, fosters a fluid environment that demands his players to adapt to various roles on the pitch. Andre, however, is often found orchestrating play from the left-hand side of a double pivot in a 4-2-3-1 formation, at the base of midfield.
With 98 appearances as a defensive midfielder, it's clear that Andre is no stranger to the demands of this role. Yet, his adaptability shines through as he can also operate further up the pitch as an eight. In a recent derby against Flamengo, he even showcased his versatility by starting on the right-hand side of a midfield five.

A Different Breed: Andre vs Fabinho
Andre's style of play sets him apart from Liverpool's Fabinho. While Fabinho is known for his anchoring role, Andre, despite his tender age of twenty, covers an impressive amount of ground. His heat-map for the current league season paints a vivid picture of a player who is as comfortable in the heart of the action as he is venturing into the wider areas of the pitch.
In conclusion, Andre is a player of immense talent and versatility, honed in the competitive environment of Brazilian football. His potential addition to Liverpool's ranks could provide a fresh dynamic to their midfield, adding another layer of depth to an already formidable squad.
The Art of Pressing
André's pressing game is not just about quantity, but also quality. His ability to tackle opponents is exceptional, with 2.08 tackles per 90 minutes, placing him in the 52nd percentile among his peers. His success rate in tackling is 58%, a figure that places him in the 92nd percentile, demonstrating his effectiveness in dispossessing opponents.
The Distributor
André's passing ability is a key aspect of his game. He attempts 76.07 passes per 90 minutes, with a completion rate of 93.2%. His ability to distribute the ball effectively is further highlighted by his total passing distance of 1124.58 meters per 90 minutes, and a progressive passing distance of 323.99 meters. This shows his ability to move the ball forward and create opportunities for his team.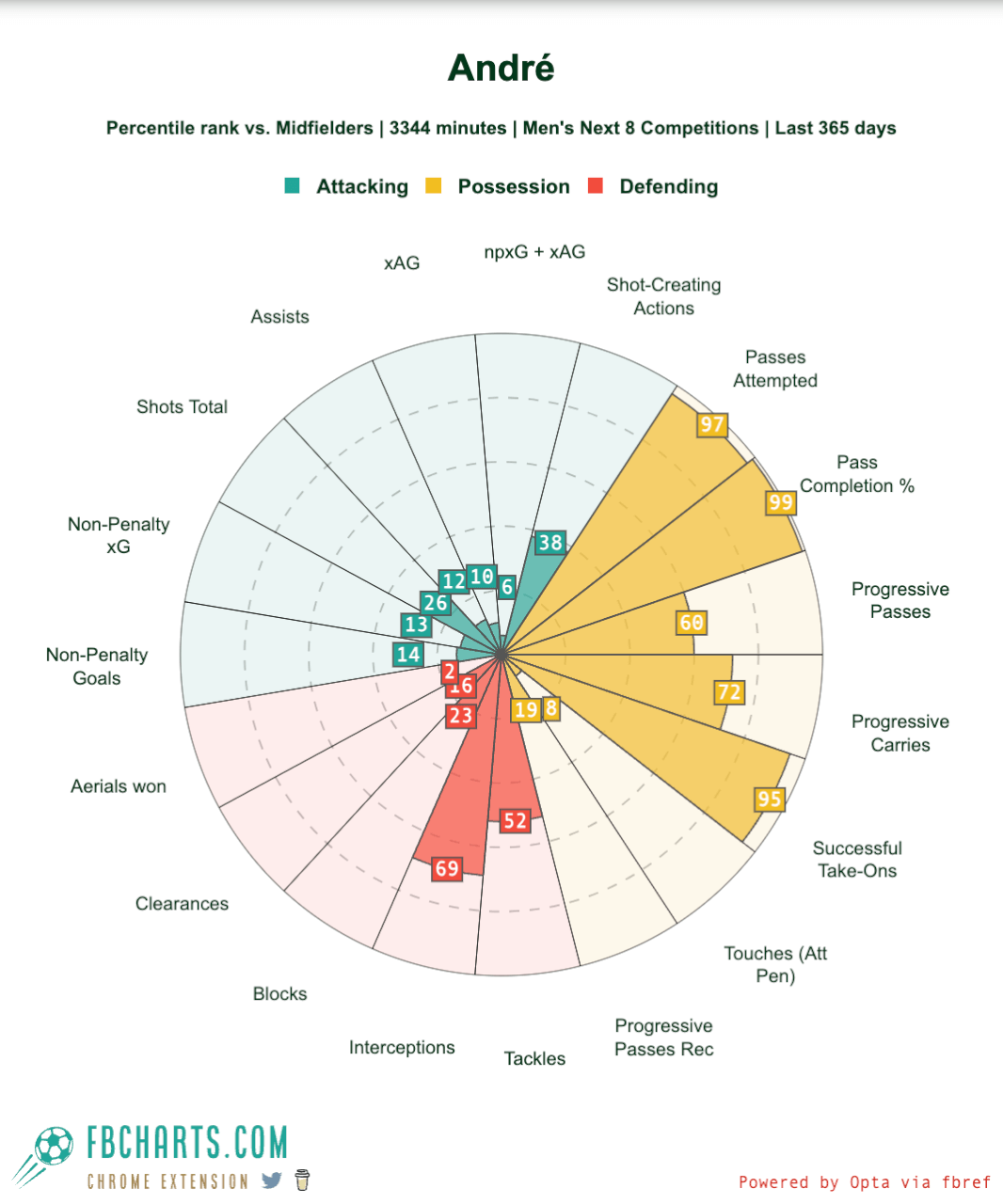 The Ball Carrier
André's ability to carry the ball forward is another crucial aspect of his game. He attempts 1.68 progressive carries per 90 minutes, demonstrating his ability to drive the team forward. His total carrying distance is 295.31 meters per 90 minutes, with a progressive carrying distance of 175.49 meters, further highlighting his ability to penetrate opposition defenses.
The Defensive Shield
André's defensive contributions extend beyond pressing. He makes 1.30 interceptions per 90 minutes, placing him in the 69th percentile. He also makes 0.89 blocks and 0.67 clearances per 90 minutes, demonstrating his ability to disrupt the opposition's play and clear danger.
In summary, André's statistics underline his all-round abilities as a midfielder. His pressing, passing, ball carrying, and defensive contributions make him a valuable asset for any team.
A Word from the Wise
"André's ability to read the game is second to none. His understanding of when to press and when to hold is a testament to his footballing intelligence," said his current coach Fernando Diniz, "his work rate is incredible. He's always the first to press and the last to stop."
Transfer Talk
Recent transfer rumours have linked André with a move to the Premier League. Liverpool, Manchester United and Chelsea have reportedly shown interest in the Brazilian, with the former believed to be in pole position to secure his services. His performances in the Série A and Copa Libertadores have caught the eye of many top European clubs, and it seems a move could be on the horizon.
In Summary
André's statistics paint a picture of a player who excels in both offensive and defensive aspects of the game. His passing ability, combined with his pressing and defensive contributions, make him a valuable asset for any team. As the transfer rumours continue to swirl, it will be interesting to see where André's future lies.