 Analysis - Liverpool's Attack Will Have An Intriguing New Dimension in 2023/24
The Rise of Analytics in Football
The rise of analytics in football has changed the sport forever. Shrewd use of data has enabled clubs to overhaul and improve their scouting, with Liverpool having proven themselves to be the smartest people in this all-important room.
Numerical information helps on the pitch too. The data team at Liverpool can pinpoint which opposition player is most susceptible to being successfully pressed, knowledge which will have been manna from heaven for Jürgen Klopp and his cabal of pressing monsters.
The Impact of Data on Shot Distance and Chance Quality
Perhaps the most significant impact of data in football has been how the numbers have changed thought processes surrounding shot distance and chance quality. A recent article on driblab highlighted that goal attempts have been trending closer and closer to goal with every season across the top European leagues.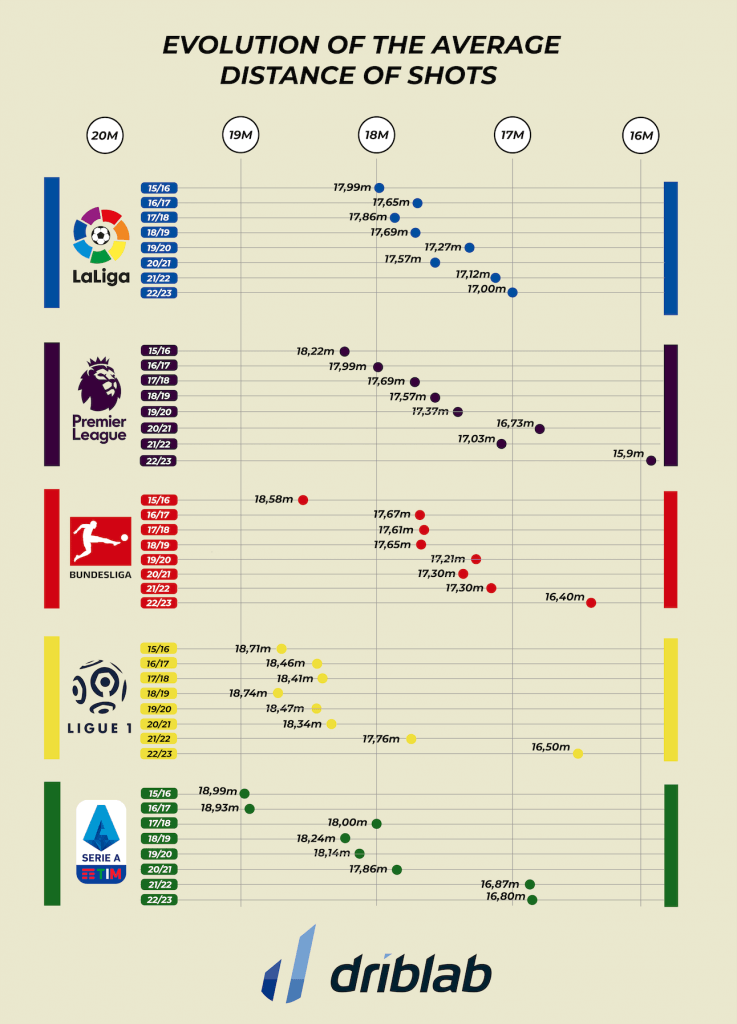 As you would assume, the Reds have largely followed this pattern too. Per FBRef, the average distance of a non-penalty shot taken by a Liverpool player in the Premier League in 2017/18 was hit from 17.7 yards out.
Liverpool's New Recruits: A Shift in Strategy?
The squad collectively had 635 shots that season; teams have had more attempts in the years since, and others have had a longer average distance, but no club has matched the Anfield class of 2017/18 on both fronts. And for good reason, as that is not a recipe for goal scoring unless you've got Mohamed Salah having a legendary campaign.
The Reds have moved closer to goal ever since. Last season, their average shot distance was a much healthier 16.2 yards. There have been nine instances of a team hitting that level or closer in the last six Premier League seasons but none of the others had at least 601 efforts like the Liverpool side of 2022/23 did. The combination of Klopp and analytics steered the club from one extreme to the other and in the best way possible.
However, it is going to be fascinating to see how the Reds' latest recruits fit into this picture. The data for Alexis Mac Allister and Dominik Szoboszlai shows they are still partying like it's 2017.
The former Brighton man took 80 non-penalty shots in the English top flight last season from an average distance of 22.5 yards. His new teammate didn't take as many in the Bundesliga (58) but they came from even further out (23.2 yards).
Szoboszlai provided one of just 64 instances of a player hitting his marks for shot total and distance in the last six seasons across England, France, Germany, Italy and Spain. Mac Allister's numerical efforts were even rarer, occurring just 22 times. The duo won't have as many shots for Liverpool, as nobody who isn't a full-time forward has for the club has had at least 58 in the last six years. Will that simply make them even more desperate to have a pop from distance when that is often not the best option to take though?
The concern from a Liverpool perspective is that their new signings haven't proven to be particularly effective from long range, each player scoring three times in their big league careers (as denoted by the green marks on the below charts). Half of their combined total came from direct free-kicks too; an excellent skill to have, but one also emphatically possessed by Trent Alexander-Arnold.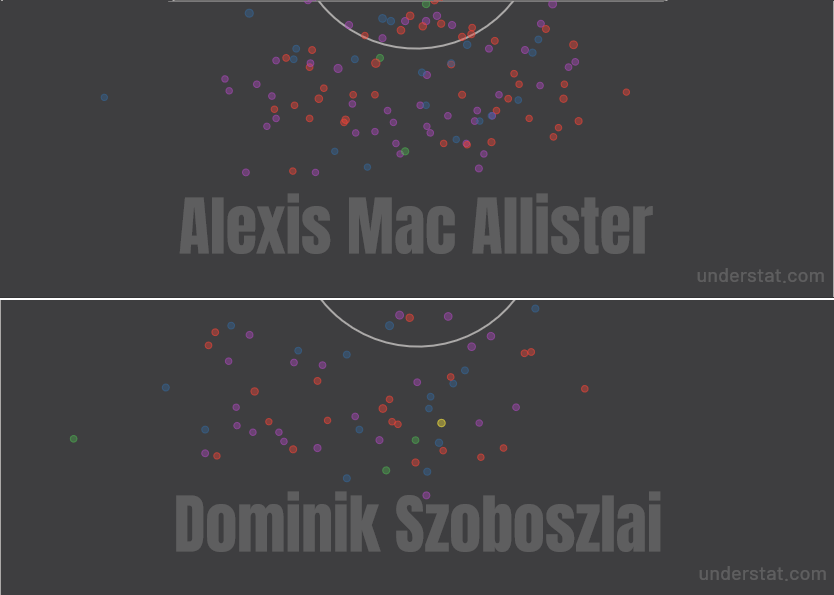 We shall have to see how this difference in approach plays out. One thing is for certain though, things rarely happen by accident at Liverpool. There will be a plan and the new midfielders may be deployed to make the Reds' attack a touch less predictable.
In 2022/23, 28.6 per cent of Liverpool's Premier League shots were hit from outside the box; only seven times in the last 14 seasons has a team had a lower proportion (and none with as many efforts in total).
This is undoubtedly positive overall, but it leaves opposing sides safe in the knowledge that the Reds won't fire off attempts from distance that often. Enter Mac Allister and Szoboszlai, who surely will.
The Potential Threat: A New Evolution in Attack
And here is where it gets interesting. Remember our sample of players with an average shot distance of at least 22.5 yards? There are over 1,000 examples from the last six campaigns, but there aren't many who do so with the chance quality of the Liverpool new boys.
Mac Allister had a non-penalty expected goal per shot average of 0.09 last season. Only he and Wahbi Khazri in 2018/19 have had at least 80 efforts of that quality or better and with an average goal attempt distance of at least 22.5 yards in a single campaign. Across his two seasons with RB Leipzig, Szoboszlai had 98 shots from 23 yards out on average and he too had a 0.09 chance quality.
So, what does this all mean? Well, shots from outside the box are worth 0.036 xG on average, so for players to take lots of long-range efforts while also maintaining a much higher chance quality, they also need to have plenty of decent opportunities in the box.
Liverpool's latest midfield recruits have proven they can do this while offering a potential threat from distance. The latest evolution in the Reds' attack looks like it will have opposition defences guessing when Mac Allister and Szoboszlai have the ball.