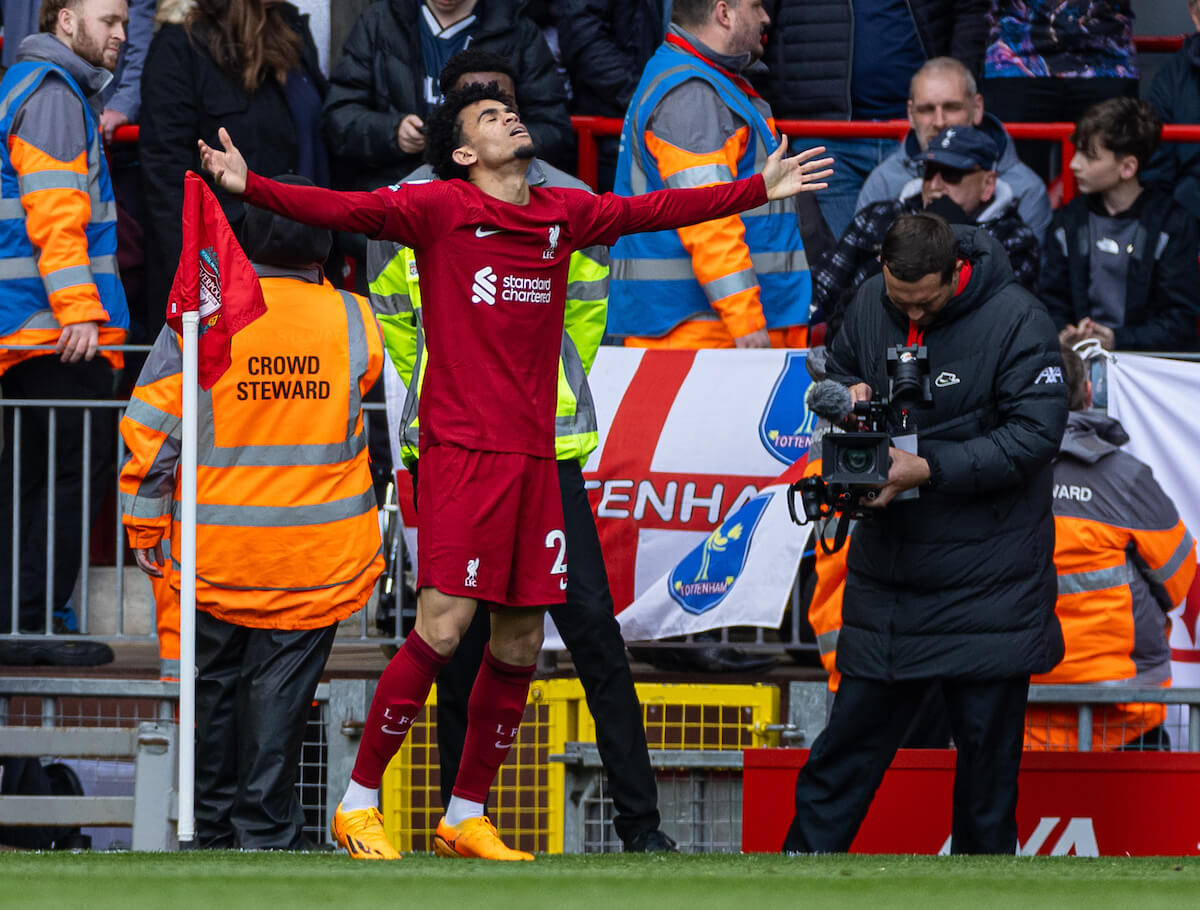 £50m on the Table: Al-Hilal Pursue Liverpool Winger
Liverpool forward Luis Diaz is reportedly subject to interest from Saudi Arabia club, Al-Hilal, with the club only willing to offer £50million for the winger.
The deal is currently seen as a non-starter for the Reds, with the club captain Jordan Henderson and Fabinho already in negotiations over a move to the Saudi Pro League.
Diaz only signed for the Reds in January 2022 for a fee of around £37million, and is valued at considerably more than the £50million being proposed by Al-Hilal.

Transfermarkt currently value the 26-year-old at £75million, with his current contract at Anfield not expiring until 2027.
The interesting thing for me about this proposition from Saudi is the fee compared to what is being paid for other players in the same window.
For example, this summer we have seen the likes of Kai Havertz, Christopher Nkunku and Mathues Cunha all complete moves for a fee worth more than £50million.
We have even seen Mason Mount, who only had one year left on his contract at Chelsea, move to Manchester United for more than that sort of money.
Comparatively, Diaz is arguably a much more talented footballer than the players mentioned above and is also likely more important to Liverpool than those players were to their clubs.
🚨 The interest of #AlHilal 🇸🇦 in Luis Díaz (26) is real. However, no offer has come to #Liverpool, but at the moment the club has no intention to sell the player. Info with @_pauljoyce 🔴🇨🇴

👀 In addition, the 'Reds' consider that £50M would be a very low offer for him pic.twitter.com/IoQrkmYLwi

— Pipe Sierra (@PSierraR) July 18, 2023
Why is Diaz so important to Liverpool?
Since his move to Liverpool from Porto in January 2022, Luis Diaz has been a regular fixture in Jurgen Klopp's team selection unless the 26-year-old has been injured.
It's not just his attacking efficiency that is so valuable to Liverpool, but also his immense creativity and hard-working mindset, which sees him work endlessly to secure a positive result for his team.
In 47 appearances for Liverpool across all competitions, Diaz has scored 11 goals and assisted 8.
Although those numbers may not hit the heights that Sadio Mane set prior to the arrival of Diaz, the numbers don't tell the complete story behind his effectiveness.
Diaz is Liverpool's best outlet when it comes to beating a man and getting into possible chance-creating positions.
In terms of successful take-one per 90, Diaz averages 2.56 which is more than 88% of wingers currently in the Premier League.
This is especially impressive when compared to the 0.90 per game of Darwin Nunez and the 1.03 per game of Diogo Jota, who both regularly feature on the left-hand side of Klopp's attacking three when Diaz was injured.
Another major strength and dynamic that Diaz offers is his positioning in terms of creation and goal scoring opportunities.
Diaz averages 6.47 touches in the opposition's penalty area per 90 minutes, which is better than 94% of wingers in the Premier League currently.
Diogo Jota only averages 5.75 per 90 minutes, whilst Darwin Nunez averages 8.12 but obviously spent most of the season playing as a number nine.
Finally, Diaz has a pure talent for getting on the end of progressive passes from the midfield area by using his speed and intelligence.
The Colombian averages 10.67 progressive passes received per 90 minutes, whereas Darwin Nunez averages just 9.97 and Diogo Jota averages just 8.33 per 90 minutes.
If the Al-Hilal interest in Luis Diaz is real, what would it take for you to sell?#LFC #LuisDiaz #SaudiProLeague

— AnfieldIndex (@AnfieldIndex) July 19, 2023
Summary:
Overall, I think it would take a huge offer from Al-Hilal for Liverpool to even consider letting Luis Diaz leave the club.
The reported fee of £50million would be nowhere near enough in the current market for the Reds to even consider selling the Colombian.
I think it would take a fee upwards of £80million for any sort of thought to go into the possibility of selling Diaz this summer, which Al-Hilal aren't expected to do.
Liverpool fans should expect to see Luis Diaz feature regularly in the 2023-24 season in Jurgen Klopp's front three, likely alongside Cody Gakpo and Mohamed Salah.