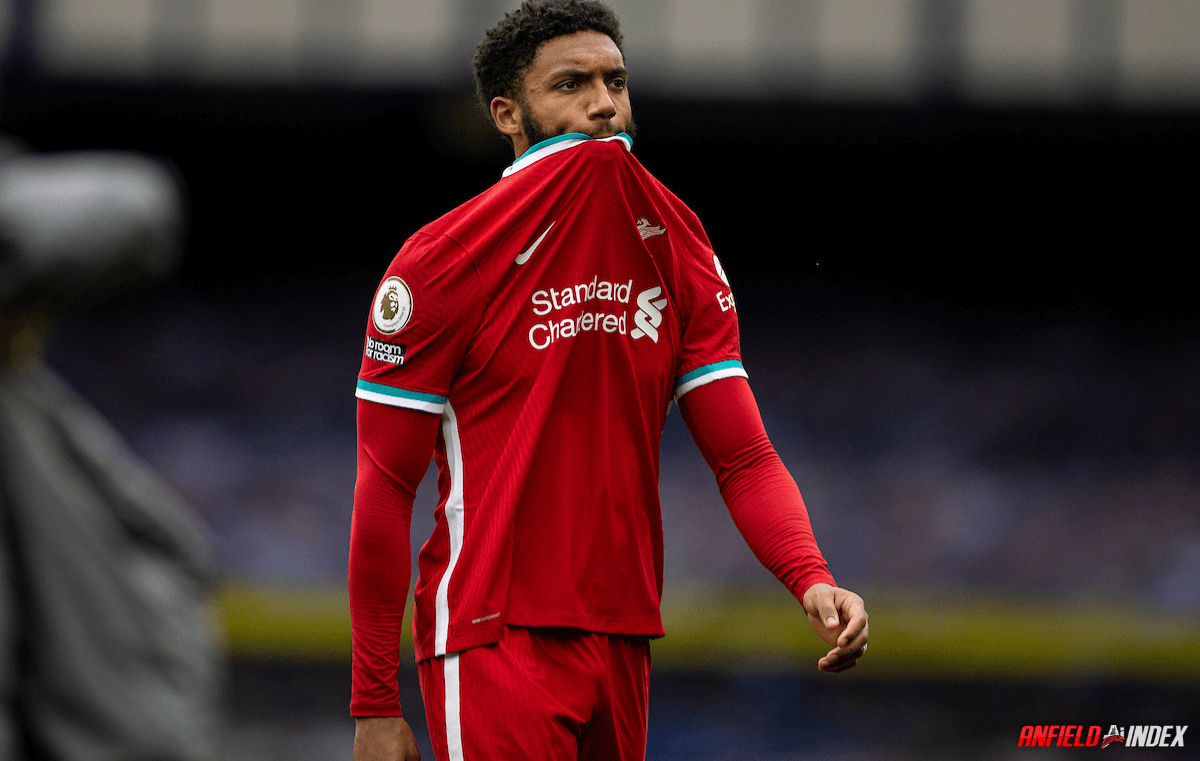 Could This Be the Season That Joe Gomez Bounces Back?
Gomez's Potential Resurgence
Amidst the drama surrounding both Fabinho and the captain moving to Saudi Arabia, all the attention has thus far been focused on the red's midfield regeneration. Though our recruitment team have clearly been keeping their eyes on a new left sided central defender, it does appear that this addition will not see anyone other than Nat Phillips moved on. My idea is to see a versatile left footed defender brought in, so that the transition from 3-4-3 to 4-3-3 can be carried out as required. Andy Robertson is a fine squad player and still a very good left back, he just is not a flanking centre back. This scenario would allow greater flexibility and assurance to our back line whilst simultaneously raising the energy within the midfield back to its previous standards. The final ten 10-game run of last season was entertaining and refreshing, however, much of the blueprint was a hand drawn sketch on some crumpled-up tracing paper.
The alteration and changes became a necessity due to the failings of our structure and many members of the squad. Jürgen Klopp's bespoke system of play was failing time and time again, as teams hunted and overcame his high line approach and attempts at limiting space. After that promising end of season run, our world class manager appears to have become rejuvenated and excited about rebuilding this Liverpool side, with Alexis Mac Allister and Dominik Szoboszlai already signed to add creativity to the Germans team. I am certain that with two more senior players set to leave in this next week or so (Hendo & Fab), it will prompt Jörg Schmadtke to pull the trigger on two more recruits. It is vital that a duo of defensive minded midfielders is brought in to enable an overwhelming force within that zone of the pitch.
New Midfield Signings Vital
The recovery of possession will be key to releasing our creative assets, though offering support, and nullifying the threat posed against our rearguard is equally important. This last part was our main failure last season, as even the world class credentials of Virgil van Dijk were brought into doubt. With a summer of solid additions, this can allow others far less stress in their overall game. For most of the 2022/23 campaign, Liverpool played without any midfield force or aggression. This tired group was constantly bypassed, with the reds defense left to cover multiple avenues and oncoming personnel. At different stages of that torrid campaign, every defensive piece was brought into question at one time or another. If not for the otherworldly heroics of Alisson Becker, Jürgen Klopp's team would have been far closer to 12th placed Chelsea in the final Premier League standings. Despite the levels and reputations of many of our star-studded squad, one player had even more obstacles to contend with. Joe Gomez needed last season to continue his recovery from the horrific injury he sustained in the 2020/21 season.

That patella injury is something that halted the former Charlton man in his charge to become England's best defender, as well as the established club partner for Virgil. At the time of that incident, there is little doubt that he was outplaying every single English centre half, which makes the timing and scale of the breakdown so awful. Despite coming back to fitness during the 2021/22 campaign, it was always going to be a slow road back to his previous elite levels. The mental strain probably matched the physical ailments at times, especially given the high-pressure games we are routinely experiencing. The faltering displays of last season were not all due to the failure of the sides structure, though I do believe the added weight and pressure on our back line aided in some very poor performances. I believe this issue is about to be corrected and aid in the resurgence of a man that has 173 appearances for the club. Regardless of whether the majority fanbase would prefer to offload and replace the 11-cap international, our German manager cannot go overboard in this summer's regeneration.
Gomez Deserves Another Chance
As it stands, it is plausible that our entire midfield roster is going to be shaken up and added to with new parts. I believe that one more season should be awarded to the 6ft 2inch Gomez, especially given his ability to offer coverage to whole of the backline. In an orthodox four, there is little doubt that he would offer superb strength as the right fullback. As it stands, Trent is continuing to explore this new hybrid position. Despite this, there will surely be times when he is either unavailable or merely drafted into a constant midfield slot, thereby giving opportunities to others. To have a powerful 26-year-old Gomez locking down that RB position would solve so many deficiencies on that flank, whilst taking the strain of both our number 2 and 66. So much of our earlier to mid-season criticism was aimed at these two players, which can now be averted (next season) with positional adjustments that can protect any frailties. As the coaching staff iron out the strategic details of this on ball back three, positional reliability is something that Gomez can offer across all spots.
To back up the outside positions would make more sense, with a vocal and dominating sweeper always inside him. What also must be considered, is that last season's RB and RCB were constantly left unguarded by the failures or limitation of either Jordan Henderson or Harvey Elliott. This coincided with how much Fabinho struggled to marshal the central zones of the pitch, which created huge amounts of space for opposing teams to exploit. What we can all see this month is a window of change unfolding, that will see a combination of killers and gladiators thrown into the first team squad. If rumours are to be trusted, then we will also be dropping a specialist left sided defender into the group, who can further assist our defensive shape. Ultimately, I (like Koop) am not ready to throw the towel in on Joe Gomez and believe he can become a valuable part of what comes next. The current stock of the man means that his valuation is probably half of what it was pre-injury, therefore I see no purpose in dispensing with such a gifted and highly regarded member of the squad. As with any injury (mental or physical), time and therapy can bring back the physical and mental requirements that once took him to the top of the game. Only time will tell how the career trajectory of Joe Gomez will transpire. I just hope he can have that bounce back season we longed to see from Alex Oxlade Chamberlain, or this truly will be his last season at Anfield.