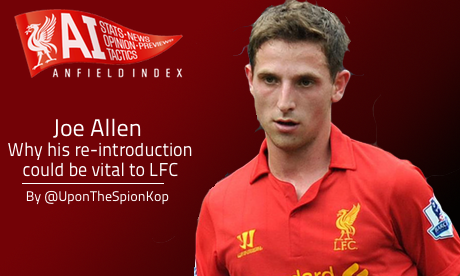 Why Reintroducing Joe Allen Could Be Vital For Liverpool's Season
You'd be doing well to find a Liverpool supporter out there who doesn't have a strong opinion on midfielder Joe Allen. He is definitely one of the most divisive players currently on Liverpool's playing roster. Some think he's a complete waste of space and that he doesn't supply much more than his "back and sides" nickname suggests (a nickname of poor taste I might add). However, many fans can see beyond the cold hard statistics that many people take as gospel. The fact that the young Welshman supplies neither tonnes of goals nor bucket loads of assists means little to the cultured eye of an open minded football fan. Although I acknowledge that everyone has an opinion I will attempt to explain the reasoning behind my faith in Joe Allen, the "poster boy" of Brendan Rodgers.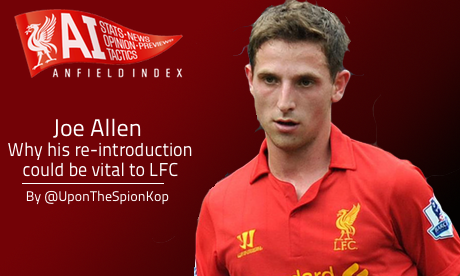 Control
The diminutive midfielder gives Liverpool exactly what they have been lacking so far this season: precision passing and an air of composure. Liverpool have enjoyed brief stints of control in games – most notably the first half at Villa Park – with Gerrard, Lucas, Henderson, Coutinho, Agger and Johnson able to keep the ball well under pressure, but this has failed to materialise far too often, particularly when the Reds have taken the lead and surrendered territory to their opponents.

Realistically, once the Reds went 3-0 to the good against Crystal Palace they should have passed the Londoners to death and scored at least one more goal in the second half, but they became lazy and took their feet completely off the gas – giving Palace plenty of the ball and therefore plenty of opportunities to hit Liverpool's defence, against a better team this would have been fatal despite the brilliant first half showing. If you have the ball the other team cannot attack and Allen would bring this ethos back into the team – at the moment, everything is happening at one hundred miles an hour, possibly because Steven Gerrard is the current midfield dictator and that's the speed at which he loves to operate, Allen would help bring back last season's footballing ethos.
In addition, Allen's cool head would help prevent these situations when teams come back at Liverpool in the second half of games – simply because Allen would be comfortable (and knowledgeable enough) to keep the ball without the need to drop to the edge of the eighteen yard box. Keeping the ball and ticking down the clock might be boring to the neutral and hot headed fan, but it's sensible and teams that choke the life out of football matches, whilst they're in a winning position, are the successful ones. Rodgers knows this.
The Midfield Dilemma
It's no big secret that Liverpool are in desperate need of a mobile defensive midfield player, and while Allen is not this type of player in a complete sense he is mobile (ish) and he can get around the pitch much quicker than both Steven Gerrard and Lucas Leiva – Liverpool's current first choice central midfield pairing. His relative pace is similar to that of Jordan Henderson's and that makes him one of Liverpool's faster midfield players – although he's no Ramires (of Chelsea), it does give Liverpool more mobility in the middle of the park than a pairing of Lucas and Gerrard would, which has been a real problem so far this season particularly with Liverpool enjoying less possession than last season and therefore having to complete more defensive work such as pressing – which is obviously much easier if you're a quick, mobile midfielder with young legs carrying you. The Welsh international could be Liverpool's key to maintaining their usually impressive pressing game through the entire ninety minutes – and with Liverpool having to make-do until the January transfer window it's a safe bet he'll be called upon once he's fully fit.
Performance
Brendan Rodgers has spoken candidly in recent weeks about Liverpool's failure to produce the performances he desires. Stating that he isn't just happy with results but that he also cares about performances on the whole – meaning he wants fresh and vibrant football accompanied by good results. If Rodgers wants a very specific type of football, namely possession based attack which pushes and pulls opposition defences from one side of the pitch to the other accompanied by strong and powerful counter attacks away from home or during periods of sustained opposition pressure, then he's going to have to reintroduce Allen because that style will be much more effective with a player who's truly comfortable playing it. Performances are just as important for results for the Ulsterman and bringing Allen back in may be his only chance to get both.
Certainly with Allen in the team Rodgers has the potential for clever and patient possession ticked off and with Gerrard by his side in a 4-3-3 or 4-2-3-1 he also has the potential to fling a ball quickly forward to set up a lightning quick counter attack – this would be particularly effective with Sturridge's pace – thus, combining the two clearly gives Liverpool more strings to their proverbial bow.
This of course raises the issue of how Lucas Leiva fits into such a system – with many Liverpool supporters questioning if Lucas has what it takes following his major injury problems in the last couple of years, least of all @DaveHendrickTLW.
Allen & Coutinho
Joe Allen and Philippe Coutinho are easily the two most comfortable Liverpool players when in possession of the ball. They are also the two best players when it comes to playing the ball around on the turf. Whereas Gerrard loves the Hollywood, over the top, raking pass, Allen and Coutinho stroke the ball around on the floor with consummate ease and, as Liverpool supporters, we are left wondering what this combination could produce on the football pitch.
Since Coutinho signed during the winter transfer window, the Brazilian and the Welshman have played just a handful of games together and we are still wondering what their partnership could be like as Liverpool's chief passers and creators. I suppose, by the same token, we are wondering if they will compliment each other at all with Allen probably operating at a slower pace than Coutinho but it remains to be seen. In my opinion, these two players are in Liverpool's strongest available XI and having the strongest available XI playing for as many weeks as possible is key to a successful team. Especially if they can hit it off in a consistent run of games together. 
A Victim of Faith
Much has been said about the infamous documentary series which took cameras behind the scenes at Anfield, Melwood and Liverpool's pre season tour of America; "Being Liverpool". Not only did this series place huge pressure on the, then, new manager Brendan Rodgers, it also piled the pressure on Joe Allen. When Rodgers playfully named Joe Allen (signed during a day in which the cameras were rolling) the "Welsh Xavi", he had done exactly the opposite of what he had intended. He had tried to make Allen feel completely at home in his unfamiliar new surroundings but the playful nickname only served to heighten expectations beyond the Welshman's control. Immediately, Allen had an expecting fan base and a cruel media with a stick to beat him with. Everyone now acknowledges that the nickname, and the documentary, were a mistake but I hope that over time people will come to realise that Joe Allen is a real asset for this football club.
On Twitter: @UponTheSpionKop