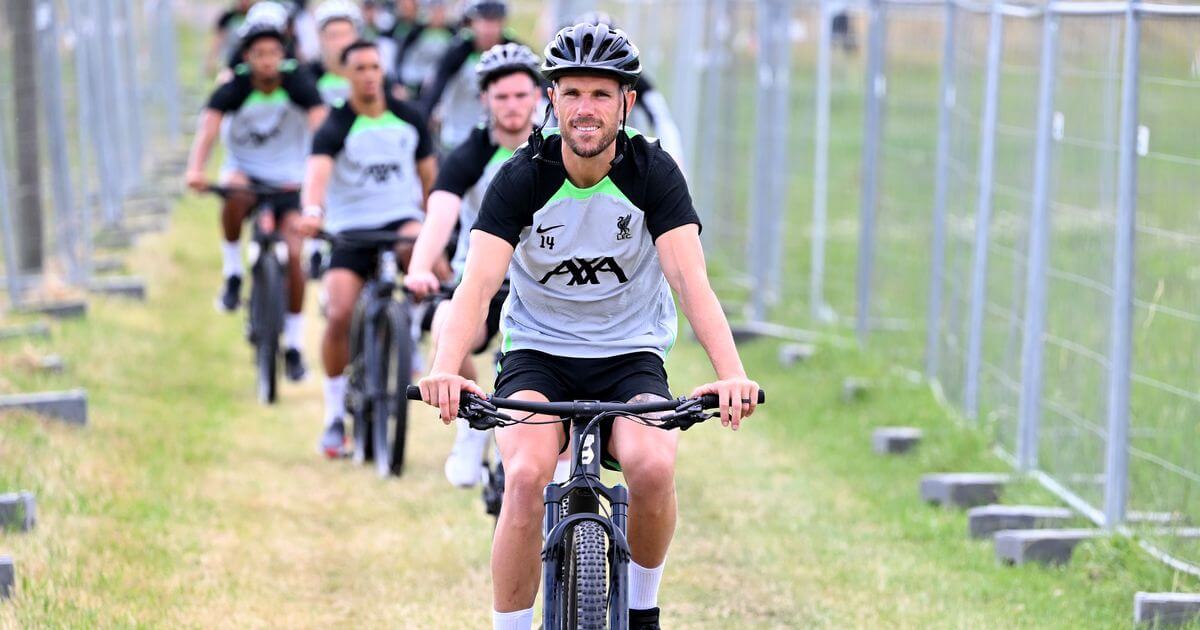 Henderson's U-Turn, Liverpool Left Stunned - Journalist
Ben Jacobs Explains Jordan Henderson's Saudi U-Turn
Liverpool's heart and soul, Jordan Henderson, has recently sent shockwaves across the football community with a surprising decision surrounding his future at Anfield.
Unexpected Twists and Turns
Liverpool's iconic captain, Jordan Henderson, who once stood firm in his commitment to the club, has now taken an unexpected turn. Initial reports suggested that Henderson would continue his tenure at Anfield, bolstering his chances for a stellar performance at Euro 2024. Yet, a renewed offer from Saudi Arabia's Al Ettifaq seems to have reshaped his perspective.
"Henderson spoke with the Liverpool 'hierarchy' after rejecting a first proposal from Al Ettifaq."
This comment, as reported by journalist Ben Jacobs, paints a picture of a dedicated player ensuring the Anfield hierarchy was well informed about his decisions and intentions. Henderson's devotion to Liverpool seemed unshakeable, with the captain highlighting the merits of staying with the Reds for the upcoming season.

However, football is a game as unpredictable off the pitch as it is on. A subsequent offer from Al Ettifaq emerged, presenting Henderson with an opportunity that seems to have swayed his stance.
Ettifaq executives are in London & Liverpool going by what some Saudi Reds have been saying. It seems there is a will to sort the Henderson file. Hopefully it gets done soon so everyone can move ahead. Season not too far https://t.co/yz4GA9Neld

— Moby (@Mobyhaque1) July 19, 2023
Manager's Trust
Jurgen Klopp, Liverpool's enigmatic manager, is no stranger to tough decisions. His trust in Henderson's professionalism remains steadfast, regardless of transfer rumours.
"Klopp is claimed to have had 'no issue' in including his captain for the current pre-season camp in Germany."
Despite Henderson's potential move, Klopp remains convinced of his captain's integrity, highlighting the mutual respect between player and manager. Henderson, known for his leadership and work ethic, would undoubtedly maintain his professionalism, irrespective of his future at the club.
Saudi Arabia's Tempting Proposition
It's an intriguing situation. Henderson initially rebuffed Al Ettifaq, seeing Liverpool as the optimum environment to nurture his England aspirations. But with the entry of another enticing proposal from Saudi Arabia, the tables seem to have turned.
The broader question remains: would a switch to a league, considered by many to be of a lower stature than the Premier League, jeopardise Henderson's position in the England squad? Gareth Southgate, England's coach, has shown unwavering support for the £20m midfielder. However, a move to a nascent league might alter this dynamic.
Charting the Future
Henderson's desire for more game time is palpable. With unparalleled energy and drive, he's eager to showcase his prowess on the field.
However, there's a broader narrative at play. While no one can fault Henderson for wanting to explore new avenues, particularly with lucrative contracts on the horizon, one must wonder about the message it sends.
Jordan Henderson has been a stalwart for Liverpool, embodying the spirit and passion of the club. Regardless of his ultimate decision, his contributions remain etched in the annals of Liverpool's history. Yet, as with all choices in life and sport, only time will truly reveal if this was a masterstroke or a momentary misstep.