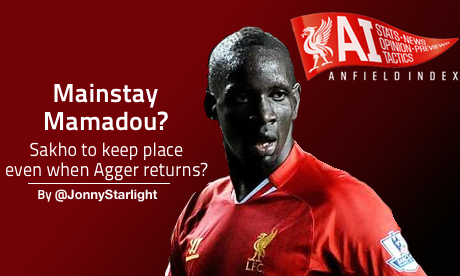 Mainstay Mamadou?
Going into the 2013/2014 summer transfer window a huge question mark for Brendan Rodgers' squad was the depth at  centre-back. Rodgers' quickly added Premier League veteran Kolo Toure on a free transfer from Manchester City, but with Kolo being 32-years old he shouldn't be considered a long term option. On deadline day the Red's secured the signature of 23-year old French international and PSG defender Mamadou Sakho, as well as Tiago Llori a 20 year old defender from Sporting Lisbon. Llori has seen time in the U-20's and probably has some developing to do before making an impact in the first team. Sakho who's been a powerful presence in Paris St Germain's defence since 2010 has stepped into LFC's first team since making his debut against Swansea City.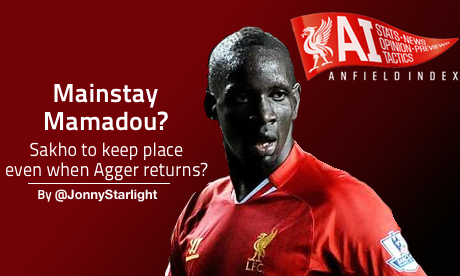 Mamadou, who's been nicknamed "Killer" by Rodgers has quickly transitioned into the fast physical style 0f play the Premier League features and has been quoted saying his English is improving everyday. I think it's safe to say Sakho has also benefited from the changing of formations at Liverpool featuring three at the back. Rodgers has hailed his work ethic during training calling Sakho "an absolute monster in training", shortly after his arrival. Sakho looks very comfortable when he finds himself on the ball and his passing in his first six appearances has been superb. Some will read the last sentence and argue, "but all of his passes are five to six yards and his completion percentage should be in the upper 90's", which has some truth to it, but you can't down play the importance of building from the back especially in a Rodgers ran system. He completed 40 out of 43 against WBA and was only unsuccessful in one tackle attempt.

He also knows when to take a few touches before feeding the ball to a teammate. Sakho plays very aggressively and also with pace and when he can't out run an attacker, he can use his strength to hold off players. His height could also be used on set pieces both offensively and defensively, which Liverpool struggled with mightily last campaign, that is still yet to really develop on Merseyside.
Looks can be deceiving, but can looks be intimidating? I would say in the case of Mamadou, yes they can. He always appears to have this fierce, intense crazed look in his eye. Although most professional footballers will say there is no intimidation factor going up against any player, but I would never want to walk down a dark alley way with Sakho's eyes peering down on me.
I think attackers across the Premier League will have their hands full with Sakho, especially as he continues to grow in a new system. Daniel Agger will soon be returning from injury and Rodgers recently mentioned in a roundabout way that the players in form will be the players that play, and with Skrtel, Toure, and Sakho forming a nice partnership over the past couple of matches it will be interesting to see if any changes in the rotation are made.