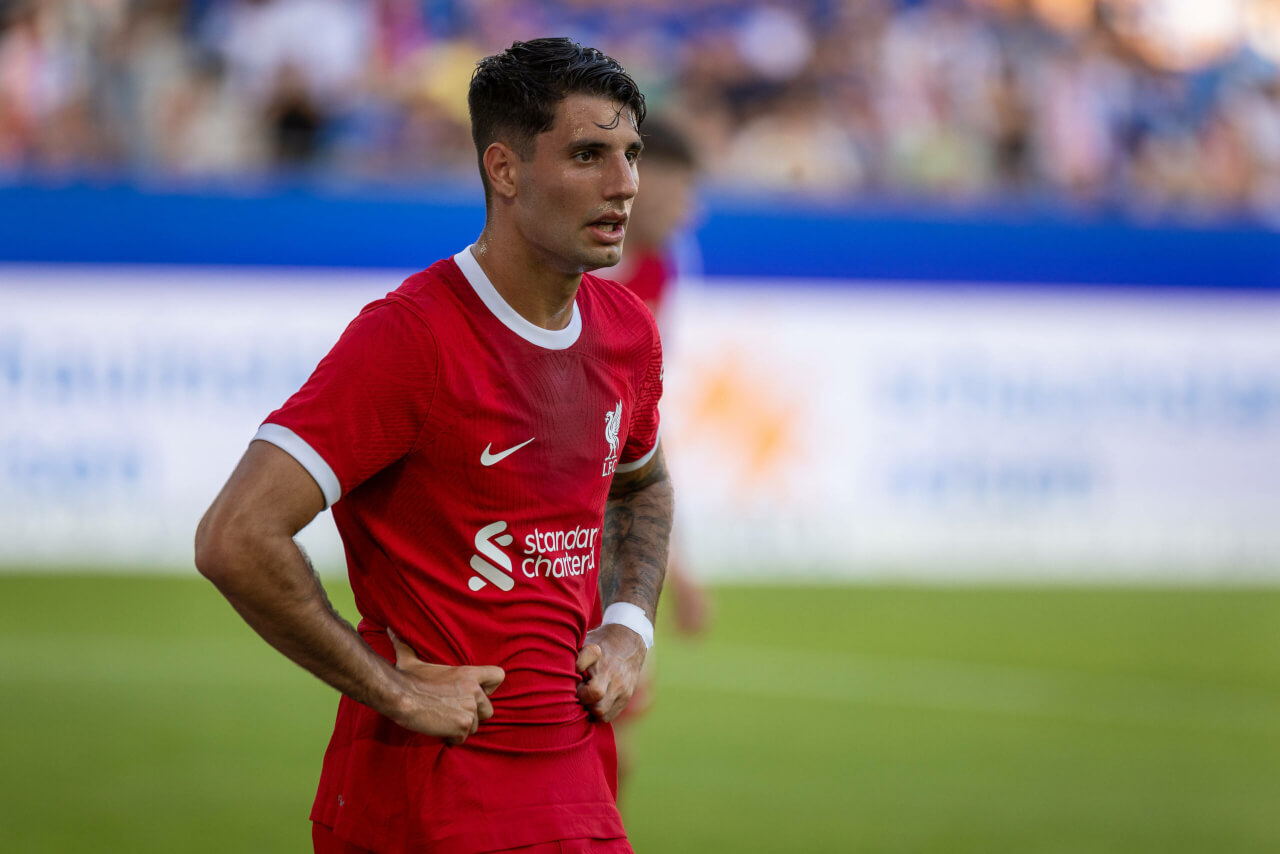 'Intensity like never before', Szoboszlai on Liverpool Start
Dominik Szoboszlai Opens Up – Liverpool Journey So Far
It's not just any pre-season. It's the Liverpool pre-season.
Dominik Szoboszlai has quickly discovered what it means to wear the red shirt, even before the Premier League campaign officially kicks off.
Following his switch from RB Leipzig for a whopping £70 million, the Hungarian playmaker took his first steps on the field in Liverpool colours against Karlsruher SC. The outcome? A 4-2 victory for the Reds.

Sharing insights from his debut, Szoboszlai expressed to Nemzeti Sport:
"People already know I'm not the nervous type. I was simply elated to present myself, and it felt amazing winning my inaugural Liverpool match."
Klopp's Guidance: Clear but Not Overbearing
Jurgen Klopp's managerial prowess is renowned, but how did he guide the newest addition to his squad? Szoboszlai elucidated:
"Klopp provided general instructions about what my role should entail. I feel we adhered well to his directives. Yet, it's worth noting it was just our initial training game – the Premier League is a different beast altogether."
Having featured on both the left and right side of the midfield, he remarked, "I'm comfortable in either role. My primary focus is to give my all when on the pitch."
Intensity Like Never Before
But it's not all about the matches. The training sessions at Liverpool, known for their intensity, have been a novel experience for Szoboszlai.
"I'm no stranger to hard work, but Liverpool's regimen is unparalleled. Three training sessions in a single day? And of such intensity? It's been an eye-opener," he stated, a hint of amazement evident.
He continued, "Despite the demanding routine, I cherish these sessions. The camaraderie, the energy, the vibe – it's all exceptional. The atmosphere is electrifying, and I'm genuinely thrilled to be here."
Under Klopp's Tutelage
A player's rapport with his manager is often deemed pivotal for his growth and performance. On this front, Szoboszlai couldn't be more pleased. Reflecting on his interactions with Klopp, he mentioned:
"In one word: outstanding! He's undoubtedly among the world's elite coaches. The way he motivates, the way he moulds his strategy, it's all commendable. I foresee an exhilarating season ahead with plenty of challenges."
Liverpool's acquisition of Szoboszlai is clearly more than just a transfer – it's a statement of intent. As the Reds gear up for the forthcoming season, fans will undoubtedly be eager to see how this new midfield dynamo shapes their campaign.