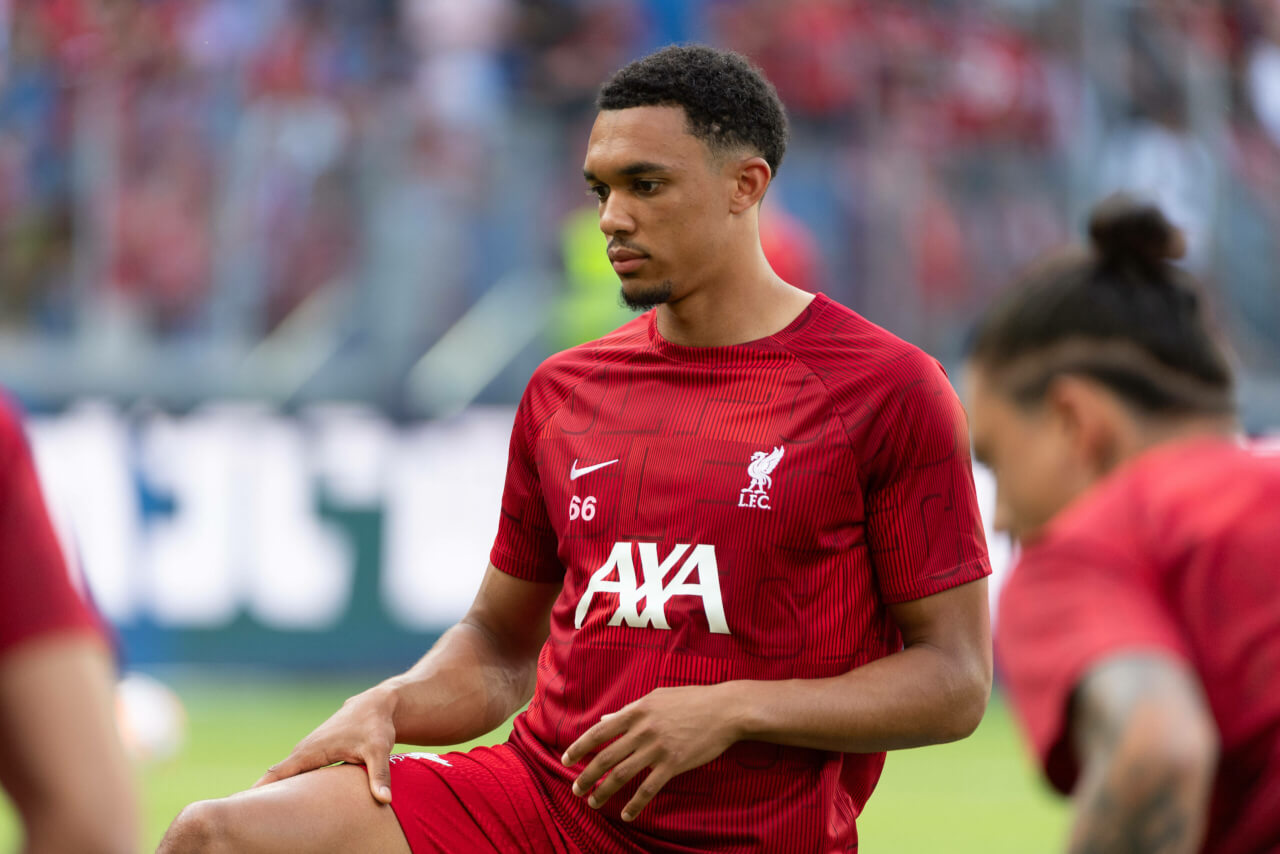 Next Liverpool Captain: Time For Trent - Journalist
Liverpool's Next Captain: The Case For Alexander-Arnold
Rebuilding Liverpool: An Unexpected Summer
In an article by Simon Hughe in The Athletic today, he delves deep into Liverpool's puzzling summer.
"This off-season has seen The Reds at a crossroads, with unexpected offers for key players shaping the club's trajectory," observes Hughes.
His coverage sheds light on Jurgen Klopp's evolving blueprints, emphasising the essence of leadership within Anfield's hallowed halls.
Hughes highlights the intriguing trajectory of Jorg Schmadtke.

"Brought on board during June for a supposed straightforward transfer role, Schmadtke's summer rapidly morphed into navigating potential departures of the midfield linchpins – Henderson and Fabinho."
Contract Talks and the Bigger Picture
Drawing upon his in-depth LFC knowledge, Hughes notes the shifting dynamics of player negotiations.
"Modern football sees a kind of 'two-year contract rush', with teams scrambling to secure their assets."
He cites Mohamed Salah's lengthy contract talks as a glaring example, which culminated in Salah's ascent to Liverpool's highest-earning player bracket.
Hughes ponders: "With Mike Gordon wielding the financial scepter, how will the backstage negotiations evolve, especially when the overarching influence of Fenway Sports Group is considered?"
Discussing the impending contract talks of key players, Hughes writes, "Virgil van Dijk and Trent Alexander-Arnold are on the cusp of pivotal career decisions. Their undeniable influence might just see them matching, if not surpassing, Salah's financial stature."
Hughes doesn't shy away from emphasising Trent's unique position. "While the futures of stalwarts like Salah and Van Dijk might be clouded by age and market dynamics, Alexander-Arnold, who will be nudging 26 when his current contract runs its course, represents a beacon of promise. Alexander-Arnold has showcased moments that mirror Liverpool legends at their zenith. Who can forget that audacious corner against Barcelona in the 2019 Champions League semi-final?"
The Captaincy Debate
Diving deep into Liverpool's traditions, Hughes remarks:
"Liverpool's two-decade leadership, primarily steered by just two captains, is a testament to their emphasis on enduring leadership. Gerrard's transition from Sami Hyypia set the stage for an era of dominance and influence."
In what seems like a foreshadowing, Hughes hints at the future: "Pep Lijnders' 'Intensity' almost prophesied Alexander-Arnold's potential captaincy. If the past captains, in their varied styles, shared characteristics of unparalleled ambition and intensity, Alexander-Arnold isn't far behind. He's shown that he's not just the future of Liverpool but potentially its leader too."
Endorsing such a perspective from someone like Hughes offers a lens into the unfolding drama at Anfield and positions Alexander-Arnold as a pivotal figure in its next chapter.