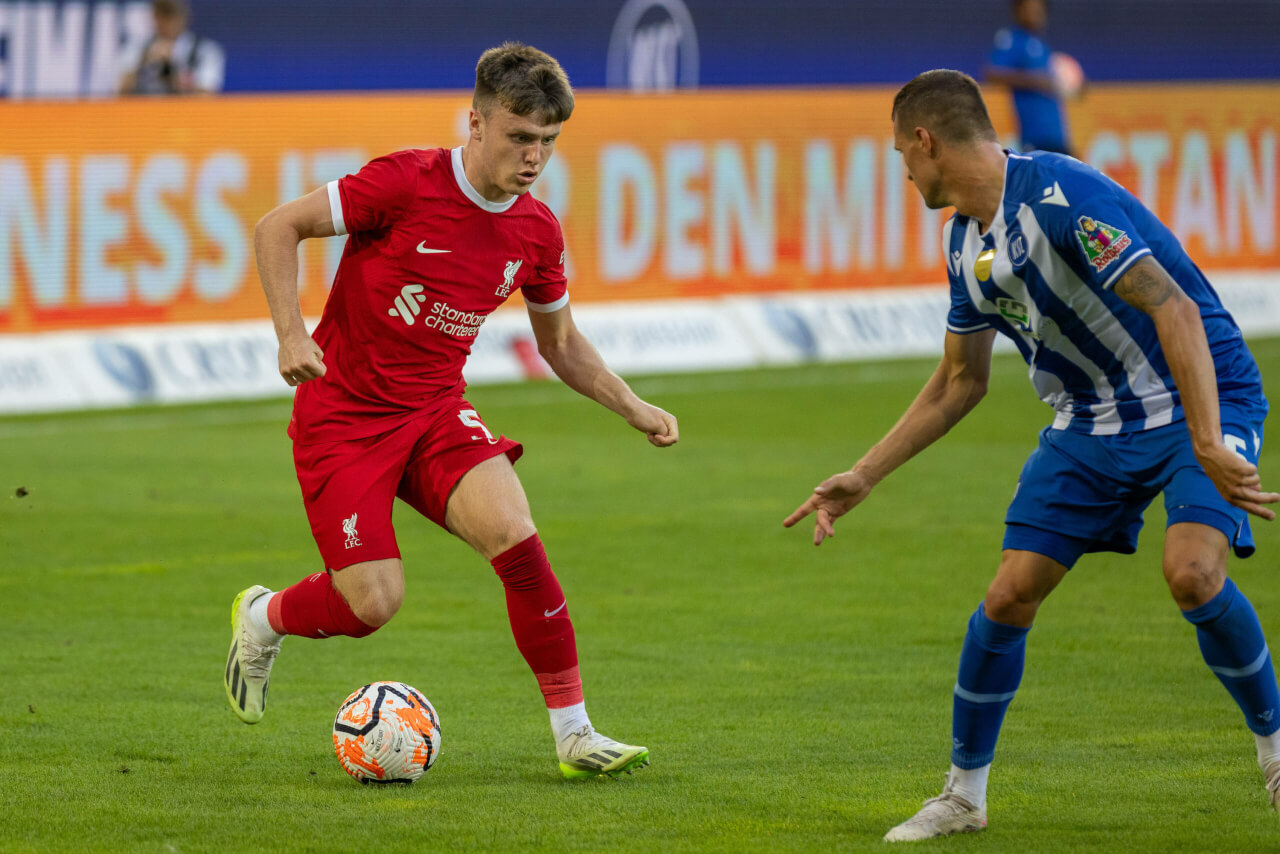 'Joy to watch', Klopp in Sheer Amazement at 17-Year-Old Winger
The Meteoric Rise of Liverpool's Young Star: Ben Doak
From the misty landscapes of Glasgow to the legendary fields of Anfield Road, the journey of Ben Doak, Liverpool's 17-year-old prodigy, has been nothing short of astounding.
In yesterday's interview with  the 'We Are Liverpool' official club podcast, Jurgen Klopp couldn't help but express his admiration and sheer amazement at Doak's growth and brilliance.
"Ben Doak, still 17, but he is just a joy to watch!" he exclaimed. "With all the little struggles he has with losing the ball here & there, but the bravery, speed and the power is so cool to see."
Such words, coming from the Liverpool boss, are testament to Doak's exceptional talent.

Unexpected Surge to The First Team
It's not every day that a talent like Doak graces the academy. While many young talents have passed through the gates of Liverpool's training grounds, few leave a mark as distinct as Ben's. Despite his age, Doak radiates a maturity and prowess that caught even the most seasoned of eyes at Anfield.
When Liverpool saw him weaving magic up at Celtic, they envisaged a path for him. Yet, even their ambitious plans couldn't predict the rapidity of his rise. Moving seamlessly from U18s to the senior squad, Doak has not only defied expectations but has set new benchmarks for upcoming talents.
The Road Ahead: Opportunities and Challenges
Jurgen Klopp's evident favouritism towards the young Scot suggest some exciting times ahead. With the Europa League on the horizon and Mohamed Salah's temporary absence during AFCON in January, Doak could very well step into the limelight and solidify his place. The young winger's propensity to seize opportunities suggests that the world will hear much more of him in the coming seasons.
In football, while talent is a great asset, perseverance and the ability to constantly evolve is what distinguishes the good from the great. As Doak continues on this trajectory, the future not only looks promising for him but for Liverpool as a whole. In Klopp's words, the excitement is palpable and well-deserved. The journey of Ben Doak is just beginning, and the world waits eagerly to witness the chapters yet to be written.