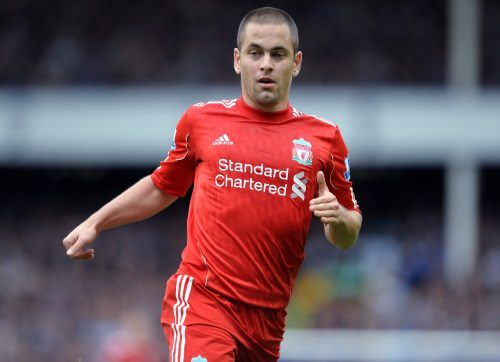 Joe Cole - a central midfielder?
During the transfer window there were rumours flying about that Joe Cole would be heading out of Anfield on loan to Spurs.  Those rumours may have been wide of the mark but you can see why there might have been more than a little bit of truth in them, given that Harry Redknapp tried to sign him in the summer and is a keen admirer.
Joe Cole didn't leave and he's a Liverpool player for the foreseeable future, the issue now is where does Kenny play him?  Joe Cole is clearly lacking the confidence that saw him burst into the England side and make the problem left midfield role his own, which was no small feat given the obsession from mainstream media that England needed a left footed player to play there.  When Joe Cole joined Liverpool he went on record in saying that he was keen to play more centrally and it seemed Hodgson was eager to play him there too, but Hodgson's exit, the emergence of Raul Meireles and the signing of Luis Suarez look as though his desire to play more centrally will have to be put on the back burner for a while, or will it?
First off, let's compare Joe Cole to another player who came to Liverpool with designs on playing through the middle, Dirk Kuyt.  Kuyt has outscored Joe Cole 4 to 1 this season and has 4 assists compared to Joe Cole's 1, Kuyt has hit the target with 71% of his shots which is way ahead of the 42% achieved by Joe Cole.

There are 2 metrics where Joe Cole outstrips Kuyt, one which probably won't come as a surprise to many Liverpool fans, one that probably will.  Joe Cole has a better pass success than Kuyt, Kuyt's passes find their target 71% of the time, which doesn't measure up to the 79% achieved by Joe Cole whose passing success rate peaks at 89% against United and 94% in his cameo against Wolves, pretty impressive for a player playing at the sharp end of the pitch.
The second metric and probably the more surprising one is that Kuyt has won 34% of his tackles, which is significantly less than the 50% of tackles won by Joe Cole, not bad considering the team average is 54%.  That may come as a surprise to many but won't come as a surprise to those that saw Joe Cole plying his trade at West Ham, talk to a West Ham fan and the majority will tell you (at length) that Joe Cole's best position is central midfield, that he's not only about tricks and running at players, but he also has the desire to get involved in the less glamorous side of the game with lung busting runs to put in a tackle, but then a conversion to being a wide player at Chelsea and for England because Jose Mourinho didn't trust him in the middle has seemingly nullified that part of his game
So back to the question, where does Kenny play Joe Cole, playing him central midfield would be ridiculous wouldn't it?  Maybe not.
Well let's not compare him to Poulsen who has had a torrid time despite the odd decent game and one defence splitting pass, let's compare him to one of Liverpool's best performers this season, the perpetual motion, energy and concise passing of Lucas.
Lucas' pass completion stood at 83% under Hodgson which is only marginally in excess of Joe Cole's 79%, but we need to take into consideration their relative positions on the pitch, Lucas will often have the luxury of a simple 10 yard pass, that luxury isn't afforded to forward players as often and as such, if Joe Cole was playing a little deeper he could well exceed Lucas' levels of successful distribution.  Lucas has also won a greater proportion of his tackles, but only 7% more than the 50% won by Joe Cole, again, their relative position on the pitch can often make it easier for a defensive player to win a tackle in a part of the pitch that is heavily congested.  So for the stats that Lucas has perceived to have been a shining light for Liverpool this season, Joe Cole isn't too far behind him.  A great example of Joe Cole's ability to pass the ball in deeper areas is taken from the 2 – 0 defeat to Everton and the 2 – 2 draw with Sunderland.
A player who is supposed to be a wide man playing in central midfield isn't exactly beyond the realms of imagination, Bastian Schweinsteiger has been a revelation since moving into a the middle and Liverpool have hardly been shy in converting wingers into the creative lynchpin in the past, with Callaghan and Barnes having plied their trade there towards the end of their careers.
I'm not suggesting that it's time to drop Lucas to accommodate Joe Cole, but the recent injury to Gerrard could have seen him playing instead of Poulsen or Aurelio.
If it works out half as well as it did for Cally or Digger, he could count himself as a free transfer in the mould of Gary McAllister rather than Andriy Voronin.