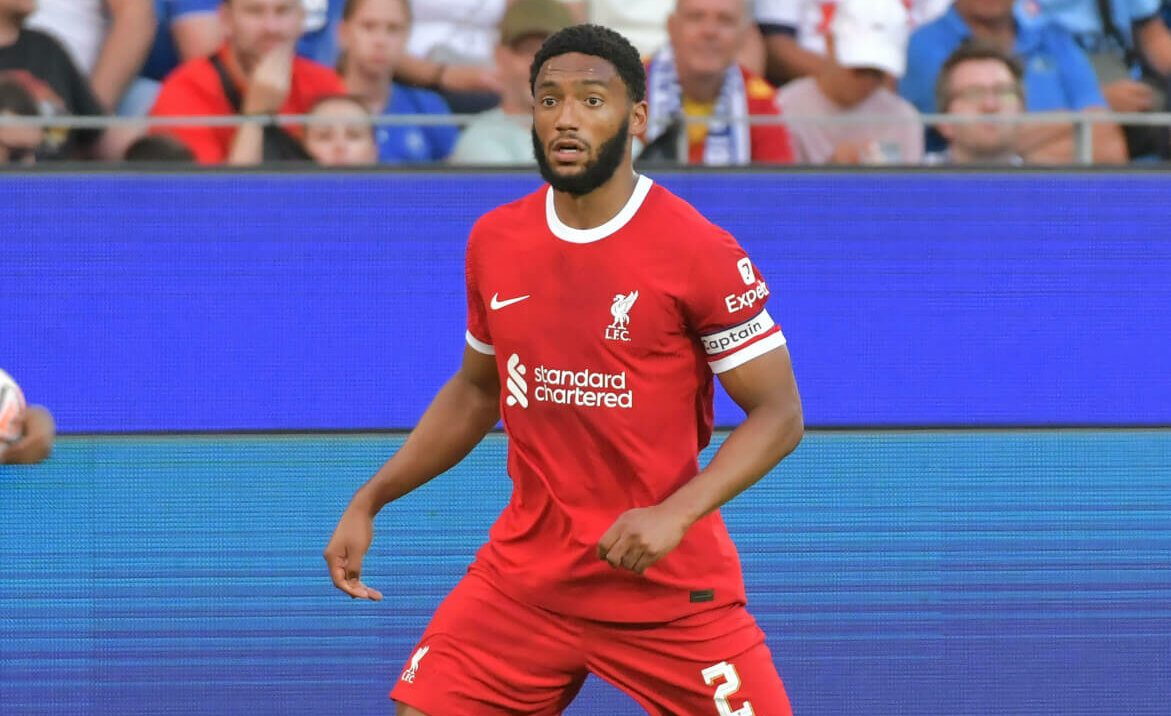 'Lazy', LFC TV pundit concerned about Liverpool defenders
Liverpool's Defensive Dilemma: Exhaustion Looms Over Gomez and Matip
A Pre-season Performance Raising Concerns
Liverpool's pre-season activities led to a pulsating 4-4 draw against German second-tier team, Greuther Furth. Yet, instead of celebrating an eight-goal thriller, eyebrows were raised, most notably towards Joe Gomez and Joel Matip. Both central defenders exhibited signs of fatigue, which brought about a conspicuous drop in their performance.
Jason McAteer, a former Liverpool player turned analyst, offered a critique on LFCTV. His observations about the pair's noticeable exhaustion after merely one half of football could have rather significant implications as the anticipation for the new Premier League season grows.
McAteer, assessing the pair, noted:

"I looked at Joe Gomez and he looked like he was labouring there, decision making, it's not sharp. When does Joel Matip try and play a ball inside his own box with the outside of his foot? It's lazy. It's just tiredness."
A Concerning Contrast: Liverpool's Starting Duo and the Back-ups
Evidently, Liverpool has an established starting duo for the centre-back department: Virgil van Dijk and Ibrahima Konate. However, the perceived drop-off in performance and stamina from the starting duo to Gomez and Matip could be a concern.
The unremarkable display from Gomez and Matip, particularly in the face of such a lively and aggressive German side, has given rise to serious questions about their ability to compete for a starting position. With sloppy defensive plays leading to the concession of four goals in the second half alone, their performance was, quite frankly, worrisome.
An Unexpected Eye-opener
The Bavarian encounter with Furth offered more than just an exciting game of football; it provided a stark reality check. Liverpool, normally resilient at the back, showed a worrying level of vulnerability. This defensive lapse could prove to be a real problem when the whistle blows to kick off professional football.
Question of Squad Depth and Future Signings
One glaring takeaway from the tie was the realisation of the difference in quality between Liverpool's central defenders. The dip in performance from Konate and Van Dijk to Gomez and Matip was all too clear, a potential problem Jurgen Klopp may need to address before the transfer window closes.
With a considerable discrepancy between the performance levels of the starting and backup central defenders, a new signing may be required. The recruitment of a player to bridge this gap might just be the catalyst Liverpool needs to reclaim the Premier League title.
We need an LCB now, for the system to work.

But we also need to replace Gomez and Matip. We won't do that this summer.

We could also do with a backup for Trent. Again, unlikely this month.

But two midfielders and an LCB in the remaining 38 days of the window is doable.

— Dave Hendrick (@MrTwoFooted) July 24, 2023
In conclusion, the display in Bavaria brought to light Liverpool's defensive frailties, particularly surrounding Gomez and Matip's fitness. Liverpool's ability to compete at the highest level may rely on addressing this gap in quality, either through strengthening the squad in the transfer window or finding a way to reignite the performance levels of Gomez and Matip.