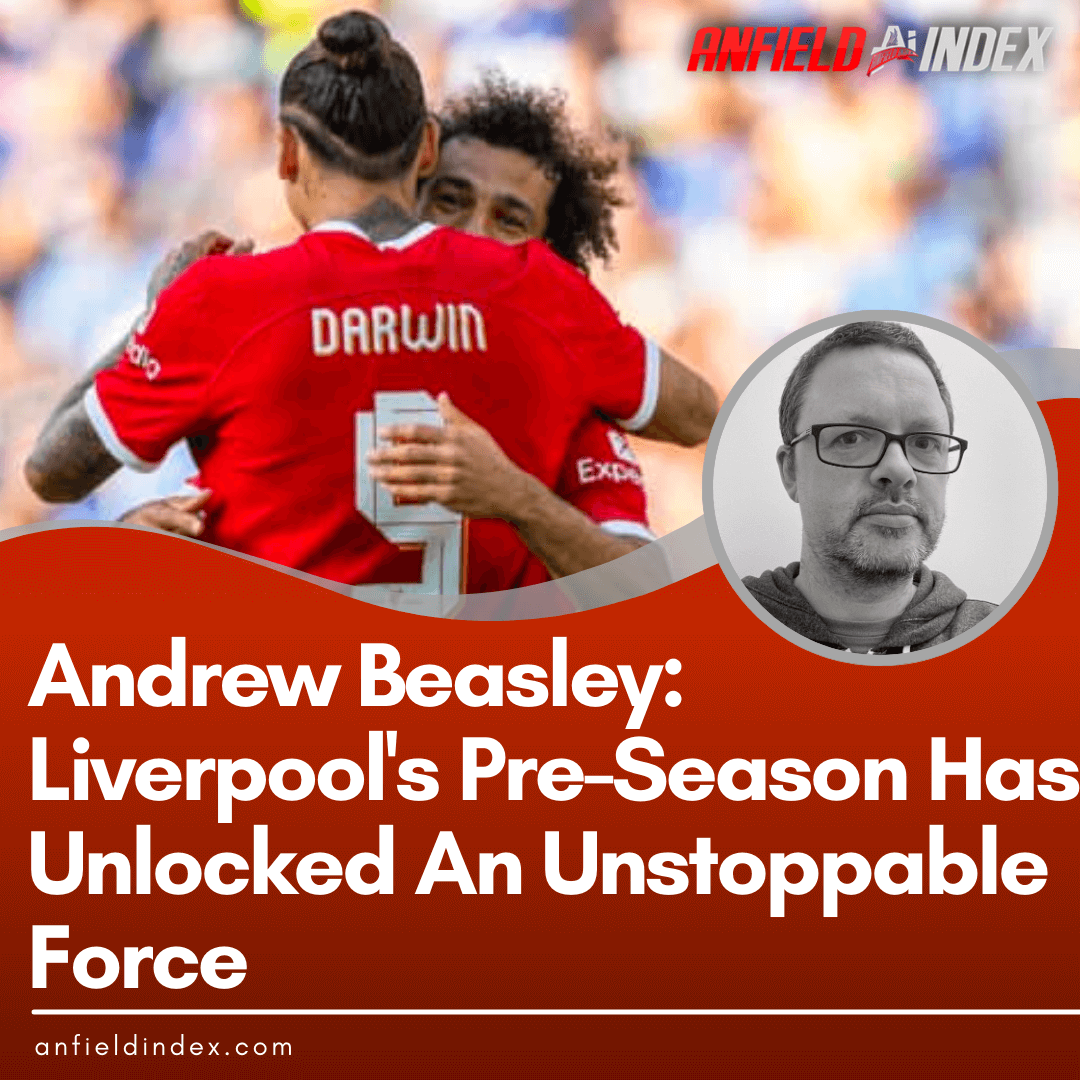 Liverpool's Pre-Season Has Unlocked An Unstoppable Force
Klopp's Forward Selection Conundrum
Liverpool's attack has been in fine form during the early weeks of pre-season, even if some of the defending has clearly been below the required standard. Jürgen Klopp has five senior forwards from which to select his front three, and the quintet all registered a goal and/or assist this summer by the 22nd minute of the second friendly.
With five obviously unable to go into three, this leaves Klopp with 10 potential combinations for his front line. Or it would if Mohamed Salah were not a guaranteed pick (for the league, at least; the European and Carabao Cup matches this side of Christmas less so).
Choosing Companions for Salah
The Egyptian's undisputed ownership of the right berth means there are six combinations possible from Luis Díaz, Cody Gakpo, Diogo Jota and Darwin Núñez for the two slots to Salah's left. The data, both from 2022/23 but also this summer, is making a very firm case.

Now that both Sadio Mané and Roberto Firmino have left the club, their final Liverpool figures are in place. Their statistics can be written down in pen, carved into stone. Alongside Salah, they are the front three to which almost every trio in world football should aspire. We will be lucky if we see their like at Anfield again in our lifetimes.
Analysing Past Combinations
They unsurprisingly make up the top four assist-scorer combinations of the Klopp era, with Firmino top of the chart with the 21 goals he set up for Salah. It may be that the latter never gets close to such heights with his current teammates – time is not on his side for one thing – but there are genuine grounds for optimism.
In the Premier League, Firmino directly linked up with Salah to create a chance (in either direction for the key pass and shot) every 81 minutes, with their partnership generating an average of 0.178 expected goals per 90 minutes and a total of 22 goals. They were a shade ahead of the output offered by Mané and Salah, who had combination figures of 86, 0.173 and 22 respectively.
(We're getting close to developing a baseball-style 'slash line' for football here. Firmino and Salah had a chances/xG/goals per 90 line of 1.106/0.178/0.187 while Mané and Salah were at 1.051/0.173/0.163. It'll never catch on, but you heard it here first if it does).
Due to the years rather than months of playing together, the statistics Salah amassed with his now-departed colleagues are far more robust than anything he has compiled with the Reds' current crop of forwards. However, there are two of the present quartet with whom he has been producing even more than he did with Firmino and Mané on a pro-rata basis.

Gakpo and Salah: A Potent Duo
Gakpo has only made 21 league appearances alongside Salah yet they have already generated 21 chances as a pairing, and linked up to find the net in wins against Newcastle, Manchester United – goal of the season, anyone? – and Leeds. With further high value opportunities carved out at Crystal Palace, Leicester and Southampton, the Egyptian-Dutch alliance is churning out almost a quarter of an expected goal every 90 minutes.
That is huge. If we ignore their first four games together as a grace period for the sake of argument, Gakpo and Salah have generated 0.271 xG per 90. But as stunning as that is, it still does not reach the heights Liverpool's number 11 has scaled when partnered with Núñez.
They hit it off immediately. In the Community Shield, Salah crossed for his new Uruguayan teammate to take a header which led to a handball and a penalty. At Fulham in match week one of the 2022/23 Premier League season, they effectively created a goal for each other (though Salah didn't receive an official assist as his pass to Núñez for his strike was deflected).
All four assists which the Reds' summer 2022 signing from Benfica accrued in his debut campaign were for Salah goals too, as were half of the Opta-defined clear-cut chances which Núñez laid on. The creativity which flowed in the opposite direction was truly ablaze though.
Goals and Opportunities
Liverpool's right forward created 10 big chances for Darwin, a total last topped by any combination at the club when Trent Alexander-Arnold provided 12 for Firmino in 2019/20. The Salah-Núñez pairing only generated a single assist which is remarkable for two reasons:
With even average rates for clear-cut chance xG value and shot conversion, a player would be more likely to score six times than once from 10 big chances; and:
The one goal which was scored occurred against Real Madrid at Anfield. Having squandered a variety of routine one-on-ones and close-range chances from Salah, Núñez converted one which required a sublime back-heeled flick past one of the best goalkeepers in the world.
Such is life with finishing, it's fickle and always will be. Yet we're now seeing this partnership flourish further in pre-season. Nunez scored once against Karlsruher and twice against Greuther Fürth, with Salah providing the assist each time. The combination worked in the opposite direction for a goal in the latter match too.
Goals in friendlies against relatively weak opposition prove nothing. The 2022/23 data for the Salah-Núñez axis showed they were already firing, though, it's just the final output that was lacking. Everything is pointing towards the duo having a much more productive campaign together in output terms this season, with the goals in the warm-up games potentially unleashing a monster.